October 2016
First glimpse at Eurostar's London-Amsterdam timetable...
OV Magazine has published details of Eurostar's proposed London-Amsterdam service, expected to start in December 2017, www.ovmagazine.nl/2016/10/antwerpen-mist-aansluiting-naar-londen-1328 - in Dutch, just use Google translate. There will be two trains each way on Mon-Fri, one or two trains each way on Saturdays & Sundays. Journey time from London to Amsterdam just 3h50, although it's slightly longer in the other direction as trains will spend half an hour being checked at Brussels. These trains will also call at Rotterdam and Schiphol, and (in the outward direction only) Antwerp.
European train bookings for 11 December...
The new European rail timetable period begins on 11 December. The usual 60/90/120 day booking horizon is never maintained properly over such a change, and this year is no exception.
French Railways SNCF will open bookings for dates 11 Dec onwards on 13 October.

German Railways DB will open bookings for dates 11 Dec onwards on 18 October.

Austrian Railways bookings already open, except for their night trains.

Italian Railways Trenitalia has started loading trains in blocks, so you'll see some trains open for booking and other trains missing. I'm already getting the usual emails from worried travellers 'Are they cancelling all trains before 11:00 in December?" etc. etc... No, of course not, just the timetable change data loading issues. Again.
European timetable change from 11 December...
The new timetable across Europe from 11 December will bring its usual crop of changes and alterations. Biggest is DB German Railways withdrawing its City Night Line sleeper trains, mitigated by ÖBB Austrian Railways taking over many routes under the new brand name NightJet.
Amsterdam to Munich & Zurich are withdrawn.

Cologne to Warsaw & Prague are withdrawn, no replacement.

Zurich-Prague taken over by ÖBB, but routed via Linz not Dresden.

Hamburg-Munich taken over by ÖBB and extended to Innsbruck.

Hamburg-Zurich & Berlin-Zurich replaced by an ÖBB sleeper Hamburg-Berlin-Zurich.

Munich-Venice & Munich-Florence-Rome taken over by ÖBB with some slight re-routing.

Unaffected: Munich-Budapest, Munich-Zagreb, Berlin-Budapest, Berlin-Vienna.

New ÖBB sleeper Dusseldorf & Cologne to Munich & Innsbruck.
In addition...
The new Gotthard Base Tunnel will open, cutting 35 minutes off Zurich-Milan times, at the expense of putting the most scenic part of one of Europe's most scenic main lines underground.

The Belgrade-Sofia overnight couchette train is discontinued, leaving just the daytime train on this route.

Paris-Moscow Express reduces from 3 per week to once per week.

The Prague-Linz (for Salzburg) route gets a makeover: 2 or 3 direct trains per day become 5 per day, speeded up by up to 45 minutes.
Odds & Ends this month...
The swish new Chinese-built cars come into use in Thailand on key routes in November and December. I have placed an update underneath each relevant timetable on the Thailand page.

In Istanbul, metro line M4 has been extended a couple of stops to Pendik. Although it's still a 22-min walk or 5 min taxi ride from Pendik metro station to Pendik TCDD mainline station (being used as temporary terminus for the YHT high-speed trains to Ankara and Konya), this makes getting to Pendik from central Istanbul a bit easier. Advice on the Turkey page updated and Pendik metro station added to the location map.

Europeanrail.com has become www.traintours4u.co.uk.

In Tanzania, a new trains with new or refurbished carriages has started running between Dar es Salaam and Kigoma.

In Uzbekistan, a Talgo 250 high-speed Afrosiyob from Tashkent to Samarkand has been extended to Bokhara, I have now added it's timings to the Uzbekistan page.
September 2016
Captaintrain.com is now Trainline.eu...
The excellent ticket retailing website founded by three young French entrepreneurs to sell French train tickets better than SNCF themselves has now been acquired by UK's Trainline. This evening, on 6 September, it switched to its new name and URL, Trainline.eu. It's still the same site, there is still no booking fee, and it's still separate from the UK domestic site trainline.com. But I expect we'll see some big changes in the future!
Odds & Ends this month...
I have updated the Venice Simplon Orient Express & Eastern & Oriental Express pages with the 2017 departure dates.

There's (yet another) new timetable in Malaysia, but with only minor changes.

On the Vietnam page, I've been able to add some detail about the elusive Hanoi-Halong train including a photo or two, thanks to traveller Ferry Quast. And a new premium soft seats car has been attached to the Saigon-Phan Thiet train.
August 2016
New videos...
I've added several videos to the site after recent trips, including Belfast to London by ferry & train, Dublin to Belfast on the newly-refurbished (and excellent) Enterprise, Berlin to Prague and Prague to Munich. They appear on the relevant pages, or see them all on the seat61 YouTube channel.
Online sale of tickets to London International CIV to cease...
A backwards step... There's a range of special fares from most British stations to a destination called London International CIV, designed use with Eurostar journeys to or from Europe. Indeed, they can also be used in conjunction with SailRail tickets via Harwich-Hoek. These fares have better terms & conditions than regular tickets to London, and often more generous time restrictions so you can travel affordably in the peak hours if you have to catch a morning Eurostar. These tickets also ensure that the international conditions of carriage (CIV) are applied throughout your journey, so for example if your UK train is late and you miss your Eurostar, you are legally entitled to be rebooked on a later Eurostar at no charge.

Loco2.com are currently able sell tickets to London International CIV separately, so you can buy them online after you have bought your tickets to Europe, which is really useful: For example, you might need to book Eurostar 4 months ahead before booking for UK domestic trains opens. Or you may have bought your Eurostar and onward European tickets from a source such as Bahn.de or B-Europe.com which doesn't sell UK domestic travel, so you need to buy a domestic ticket separately.

However, ATOC - the Association of Train Operating Companies - is going to stop Loco2 selling these fares except as part of a through booking to or from Europe, because they worry about people abusing them. Once you have your Eurostar tickets, you'll only be able to buy these special add-on UK fares in person, IF your local station has a staffed ticket office, only at times when it's open, from staff who are often unfamiliar with these tickets. Ticket machines don't sell them either - I used to buy mine online and collect them from the machines, even for immediate departure. It saves an argument at the ticket window with staff who deny their existence!

Eurostar usually honour the CIV in practice, guaranteeing people's onward travel if their UK train is late and they miss their Eurostar, even if they have a regular ticket, which is good. But with Eurostar's own cheaper UK add-on fares no longer available separately as Eurostar closed its domestic travel office a few weeks ago, it's becoming harder to combine UK domestic travel with onward European travel, unless you are very careful about when and where you book, making sure you book as one cumbersome through booking.
Odds & Ends this month...
Cutbacks to Milan-Marseille Thello train. It seems that from 1 October, the Thello train between Milan and Marseille will be cut back to Milan-Nice on 4 days per week, only extended to Marseille on 3. I have updated most of the key affected routes (such as Italy-Barcelona) on the site...

Captaintrain.com is to be rebranded as Trainline in September, after Trainline bought them a few months ago. It is to be hoped that they don't start adding fees...

Turkey: It seems there may now be a train running between Kapikule (Bulgarian border) and Halkali, 25km west of Istanbul, in addition to the rail replacement bus laid on by Turkish Railways between Kapikule and Istanbul Sirkeci. The train even shows up on bahn.de. But as usual, things are as clear as mud. Reports suggest the timings in the bahn.de database are wrong, and that the train leaves Kapikule at 07:00, so you'd have to hang around a border station from 1am to 7am to use the train rather than the bus!

More Turkey: I have updated the Train Travel in Turkey page to reflect the part-closure of Ankara station for rebuilding. There is bustitution of trains to eastern Turkey between Ankara and Irmak, 70km east of Ankara.

Malaysia: Another new timetable with some extra KL-Butterworth trains started in Malaysia in July and has now been updated.

Vietnam: The policy on child fares has changed. It's now a 25% discount on sleeper fares, 50% on seats fares, instead of 50% on all tickets. Livitrans has started a private sleeping-car Saigon-Nha Trang, in addition to the Golden Trains one.

Trans-Siberian: As even the main Moscow-Vladivostok Rossiya has now adopted Russian Railways RZD corporate red and grey instead of its special red, white and blue, I have changed the photos on the Trans-Siberian page to reflect this, thanks to traveller Nick Stone.
July 2016
The big push on the Western Front happened 100 years ago. 20,000 British soldiers were killed on the first day. Fast-forwarding to London in the early 1990s, I had just taken over as Station Manager for Charing Cross, a patch which also covered Waterloo East. All the litter bins had been removed during the IRA campaign and those at Waterloo East had been placed in The Morgue. This was (and presumably still is) a glory hole underneath the footbridge ramp onto platform B/C. The door is at track level in the ballast at the Charing Cross end. Whenever we needed to make something disappear, we'd 'Stick it in The Morgue'. I must have had other things on my mind, it was months before I finally asked the bleedin' obvious question. "Why do we call it The Morgue?". I was duly told. The WW1 ambulance trains came up from Dover and offloaded at Waterloo East for St Thomas Hospital, before running empty into Charing Cross. Some of the wounded didn't make it. No prizes for guessing where their bodies were put. And it's still called The Morgue today. You see, railwaymen never forget. And nor should we...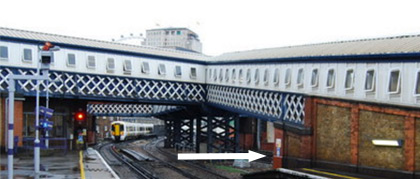 Odds & ends this month...
Vietnam extends visa-free trial for UK citizens for stays up to 15 days, until 30 June 2017. The trial period was originally up to 30 June 2016.
June 2016
Normal train service resumes in Vietnam...
A bridge was damaged by a barge on 20 March, and passengers have been bussed around it since then. The bridge has now been repaired and normal Reunification Line train service resumed on 25 June.
Warsaw to Vilnius by train: Possible again, at least at weekends...
A weekends-only Bialystok-Kaunas train started on 17 June, over the first section of newly-constructed standard gauge Rail Baltica line which will ultimately link Warsaw, Vilnius, Riga & Tallinn. Using this, it's again possible to travel from Warsaw to Lithuania by modern air-conditioned train, see the Lithuania page.
Private rail cars not so special in Vietnam?
It's been reported by several people now that the private cars operated by the likes of Fansipan & Livitrans between Hanoi & Lao Cai (for Sapa) and Hanoi & Hue are no longer specially-remodelled specially-branded cars superior internally to the regular DSVN (Vietnamese Railways) sleepers. Instead, they appear to be using leased DSVN sleepers, identical internally & externally to the regular DSVN sleepers next door, just with a 'Fansipan' sticker in the window, their own staff and a few hand-out toiletries & snacks. Yet they are still charging $40 rather than the regular DSVN soft sleeper fare of $14.
More engineering work in Turkey, Ankara station closing from July...
It seems that from 10 July, Ankara station will be closed for 18 months for reconstruction work in connection with the high-speed lines. Trains to/from the East will start/terminate at Kayas, east of Ankara, while all trains to/from the west will start/terminate at a suburban station called Sincan. If they can't do the work less disruptively, I begin to wonder why they don't just shut the whole network down for 10 years and reopen it when they are good and ready to run it properly! For more details see https://railturkey.org/2016/06/02/last-train-to-ankara-station-on-10th-of-july.
Gotthard Base Tunnel opens...
Sort of. More correctly, it has been completed and handed over from the builders to the Swiss Government. After 5 months of testing, most passenger trains currently using the Gotthard route will be diverted through the tunnel from the timetable change on 11 December, including the Zurich-Milan EuroCity trains. Unfortunately, this means the most scenic of all the mainline Alpine routes with curves, spirals and snow-capped mountain views will be buried underground, for the sake of saving half an hour. Local trains will still go over the top, but that's little consolation to Zurich-Milan international passengers.
European timetable change on 12 June...
The June timetable change isn't usually as major as the December one, but here are several key changes:

The 3 daily Paris-Milan TGV trains will each leave Paris earlier on various dates in June, July & August, see the Paris-Milan TGV page for details. Notably the 10:41 Paris-Turin-Milan TGV will leave at 09:41 on certain dates, breaking its connection with the 05:40 Eurostar from London - which in fact won't run on most dates in July & August when the business travellers are all on holiday...

The 15:31 Marseille-Milan Thello train will leave 4 hours earlier, at 11:31, on Mondays-Fridays from 4 July. It makes same-day connection son to Venice, Florence & Rome possible. It remains at 15:31 at weekends.

There will be changes on the Paris-Strasbourg-Stuttgart-Munich axis from 3 July when the final section of TGV-Est high-speed line opens, postponed from 3 April after the test train accident in November.

A direct Berlin-Wroclaw train is reinstated, just at weekends, see the trains from Berlin page.
May 2016
Eurostar at short notice from £25: Eurostar Snap...
Eurostar has made it possible to buy tickets from just £25 7-30 days before travel, using a new Eurostar Snap mini-site, see full details on the Eurostar page.
Timetable change on 12 June: Some trains still not open for booking...
A few European trains still aren't loaded and open for booking for dates after the 12 June timetable change - as happens every year. The last trains still not loaded are Trenitalia regional trains plus a few odd long-distance InterCity and sleeper trains, and most trains on the Czech (www.cd.cz), Hungarian (www.mavcsoport.hu), Polish (www.intercity.pl) systems - no surprises there! In some cases, judging from previous years, trains will only open for booking in late May or even at the beginning of June.
April 2016
Direct Eurostars London-Amsterdam from 'late 2017'...
Eurostar CEO Nicolas Petrovic has said that test-running of their new e320 trains between London and Amsterdam is likely to start next month, with public service from 'late 2017'. He said passport and security formalities will definitely take place at Amsterdam on the London-bound run, with no need to detrain at Lille.
Thessaloniki-Belgrade cancelled until June...
The Thessaloniki-Belgrade train has been cancelled until June - and is likely to be cancelled again in the winter months while major trackwork takes place in Serbia south of Nis. No, it's not the refugee situation! this time!
New low-cost Izy trains, Paris-Brussels...
Following the success of Ougo in France, Thalys has created a low cost subsidiary called Izy to offer fares from €10 between Paris and Brussels, with a couple of trains per day, see www.izy.com. They'll use the classic non-high-speed line within France, so take 2h10 rather than the regular Thalys 1h22, and have airline-style baggage restrictions so read the small print carefully. I haven't quite decided if Thalys is trying to compete with itself before someone else does - like Baldrick of Blackadder feeling safer if he owns the bullet with his name on it - or trying hard not to compete with itself, by imposing unattractive journey times and baggage restrictions on Izy that will put off all but the hardiest passengers used to long-distance buses.
Odds & Ends this month...
Norway: I have added the option of taking the Fjord Line ferry direct from Hirtshals in Northern Denmark to Stavanger & Bergen, by-passing Copenhagen, Sweden & Oslo. Thanks to traveller Geoff Wad for pointing this out.

Malaysia: It looks like the changes postponed from 1 March will happen on 9 May. The Rakyat Ekspres will be discontinued, only ETS electric trains operating over the modernised section Gemas - KL - Butterworth - Padang Besar, with diesel intercity trains relegated to connecting JB Sentral - Gemas.

India: As from April 2016, children aged 5 to 11 inclusive must pay the full adult fare if they travel in a reserved seat or berth - They only pay half fare as before if they travel without any seat or berth of their own - something I don't recommend! A bit harsh, I think.

Albania: After trains briefly stopped running altogether in March due to unpaid invoices and fuel shortages, they are up and running again, but with a reduced service. For example, 7 daily trains Durres to Kashar (for Tiranë) are now just 2. I have updated the Albanian timetables to show this reduced service.

Eurostar: I've added a much-requested tip on how to tell if any given Eurostar is an e320 or not, see the Eurostar page. Also, the 06:50 London-Brussels is retimed earlier, to 06:13 every Monday from 4 April onwards, so I have updated that throughout the site.

In Vietnam, a temporary timetable is in operation after the bridge was damaged by a barge last month. I have put details of the temporary timetable on the Vietnam page.

In Serbia & Montenegro, a landslide has blocked the Belgrade-Podgorica-Bar line at the northern end. The daytime train is cancelled, the night train partly diverted and leaving earlier. Update: Now open again.

In Zambia, things are not going well for the Kapiri Mposhi-Lusaka-Livingstone line. The Golden Jubilee Express is reportedly not running at all, and the ordinary train may now just be once a week. The situation is unclear...
March 2016
Train service resumes in Botswana after 6 years...
Captaintrain merges with Trainline.com...
Captaintrain.com, the excellent French train tickets site, has been acquired by Trainline.com, the UK train tickets retailer which wants to expand into Europe. Both companies will continue to exist with separate HQs in London and Paris, it remains to be seen what synergies will emerge. More at https://blog.captaintrain.com/en/.
Vietnam: Barge demolishes bridge between Nha Trang & Saigon
Trial train service revival in Cambodia - a start, at least...
Odds & Ends this month...
In Albania, it's reported all trains have stopped running due to unpaid invoices and lack of fuel. This only lasted a short while, trains are now running but with reduced service.

In India, the Darjeeling Himalaya Railway has cut back its main daily train linking Darjeeling with the railhead at New Jalpaiguri (for connections to Calcutta & the Rest Of The World in General) to just 3 days a week.
February 2016
All but 3 SNCF sleeper trains to disappear from July...
With the Germans planning to pull the plug on their City Night Line sleeper trains from December this year, the French have announced they will do the same for their intercités de nuit as from 1 July 2016. The sole remaining intercités de nuit will be Paris-Briancon, Paris-Rodez and Paris-Latour de Carol, as these three routes are deemed socially necessary.
Changes to Malaysian intercity trains postponed again...
Trains 1/2 and 20/21 JB Sentral-KL-Butterworth have been living on borrowed time, as KTM plans to switch over to all-electric ETS trains on its modernised Gemas-KL-Butterworth-Padang Besar main line, with just a diesel shuttle JB Sentral-Gemas to connect. The big changeover was due on 1 March, but as these trains are now open for booking beyond that date it looks as it their demise has been postponed again. It may also be that train 35/36 (Butterworth-Bangkok) will continue even after these changes, if so that's very good news. But as ever with KTM, everything is as clear as mud.
In Malaysia, Jungle Line reopened...
It seems that the flood damage to the Gemas-Tumpat Jungle Line has been repaired sooner than expected, and at least according to the online booking system, an intercity sleeper train has been restored from JB Sentral all the way to Tumpat near Khota Bahru. See the Malaysia page.
SJ to restore direct Copenhagen-Stockholm trains from 1 March...
Some good news at last from Sweden. Swedish Railways (SJ) will restore direct trains between Copenhagen and Stockholm from 1 March 2016, having cut them back to running just Stockholm-Malmo when Sweden imposed border controls on 4 January. SJ has arranged to have a dedicated platform set aside at Copenhagen so that passport control can be done before passengers board. SJ asks passengers to arrive at Copenhagen 30 minutes before departure.
Austrian Railways' (ÖBB) confusing changes to online sales...
It's been a confusing time for those of us trying to book Austrian train tickets, or international tickets to or from Austria. ÖBB's cheap sparschiene fares mysteriously disappeared from their normal online tickets system, leaving only expensive standard fares. An easy-to-miss note at the top of the tickets page https://ticketing.oebb.at/inet/pub/en/ticket tells people that Sparschiene tickets are now only available at their new site https://tickets.oebb.at/en/ticket, shown as still in Beta. It's just bad luck if you don't know that Sparschiene means the cheap advance-purchase tickets that are probably the ones you want - or just miss the note and carry on using their regular online tickets system as you have done in the past! Sparschiene may be an intuitive word in German (it means saver ticket), but for English speakers the failure to translate it into 'advance-purchase tickets' has probably lost business for ÖBB. The situation is temporary, I'm sure, while they switch to the new system, but a simple change to the wording would make things to much easier.
I have updated booking instructions for using oebb.at on the most relevant pages of seat61.com, but as the situation is temporary and likely to change further, I will only do a complete overhaul of oebb.at booking instructions when the dust settles...
Odds & ends this month...
I've added a new page: Czech Railjets from Prague to Vienna.

I've had confirmation that in Sudan, the weekly train between Khartoum & Wadi Halfa (for the ferry to and from Aswan) is still up and running, see the Sudan page...

I've kept up with another timetable change in Malaysia, but a major change is still expected at some point, possibly as early as the end of February, when only ETS trains will run over the central section between Gemas, KL & the Thai border.

Deutsche Bahn is still due to discontinue all it's City Night Line trains at the end of this year, but rumours about that it could all fall apart earlier than that. Watch this space...

I've now created a new Train travel in Switzerland page and new page about the train ride up the Jungfrau.

I've added more detail about train travel in Belgium, including the Weekend Return ticket and the Senior Ticket for anyone over 65.
January 2016
TGV-Est Phase 2 now opening 3 July...
The final section of the TGV-Est line was due to open on 3 April, but this was postponed after a test train crashed in November. The new opening date has now been confirmed as 3 July 2016. It will knock another 30 minutes off the journey time from Paris to Strasbourg, Frankfurt, Stuttgart & Munich. In spite of the test train accident - caused by overspeed on a curve not yet fitted with overspeed protection - TGV retains an enviable safety record, with not a single passenger killed in any TGV accident since the first TGV line opened in the 1980s.
Eurostar fares revised again...
Eurostar has revised it's fares again. The starting price has increased from £41 to £45 one-way on any day of the week, but the return fare has decreased from £72 to £69. But before you get too excited, this cheapest £69 return price level will in future only be found on off-peak trains, meaning trains leaving between midday on Monday and Thursday midnight, or between midday Saturday and midnight Saturday night. At other times, the cheapest fare rises to £79 return. It's an odd move - I'm not sure I can see the point in having peak & off-peak fares when Eurostar is fully-yield-managed and they can control the price on any individual train. Nor is it something passengers need to know - like choosing a budget flight, they just see the price on each train and click accordingly. We already know it'll be cheaper avoiding busy Fridays or Sundays...
Regina Line's attempt to restart UK-Denmark ferry postponed again...
They have already postponed the start of service once, from 2015 to 11 March 2016, but now it seems problems getting hold of the ship they had planned to charter have caused the start to be postponed again, with no set date. A great shame. See www.reginaline.dk.
Temporary glitch with London Spezials...
Due to a glitch, London Spezial (cheap fares from London to anywhere in Germany from €59) can't be booked either online or by phone with DB. It's being worked on, DB say they expect to fix it by 15 January. Update 15 January: It's now fixed westbound, but still not working eastbound - a report suggests these will now be fixed by 19 January. Update: Now all fixed as at 19 January.
Border controls in Scandinavia...
Sweden re-imposed border control on 4 January, with a (hopefully not permanent) cessation of through Copenhagen-Stockholm trains by SJ Swedish Railways until further notice. Denmark is likely to follow, which could screw up Hamburg-Copenhagen trains plus others. I have tried to put updates on the relevant pages, but the situation is pretty fluid.
Changes afoot in Malaysia & Thailand...
Also fluid is the situation in Malaysia. KTM is shortly (15 February?) to introduce a new all-electric ETS train timetable over the now-modernised Gemas-KL-Butterworth-Padang Besar section, with diesel-hauled intercity trains no longer allowed to operate over this section. When this happens, trains 1/2, 20/21 & 35/36 will be discontinued. Instead, in the south a diesel-hauled Intercity connection will be provided between JB Sentral and Gemas, connecting with ETS trains. In the north, a twice-daily State Railways of Thailand diesel shuttle will link Padang Besar with Hat Yai, connecting with the ETS trains - indeed, this started on 22 December.
Odds & ends this month...
London Spezials renamed Sparpreis Europa London by DB German Railways. Catchy little name, that...

The visa-free trial period has ended for Mongolia. UK & EU citizens now need a visa again.

SailRail prices have changed between Britain and Ireland via Holyhead - but it seems zones have also changed, with no information available publicly.
December 2015
Following a recent trip to the Holy Land, I've been able to revise and expand the Train Travel in Israel page, complete with an account of the train ride from Tel Aviv to Haifa & Akko, and create a new Tel Aviv to Jerusalem page about taking the historic Jaffa-Jerusalem Railways from Tel Aviv to Jerusalem. All constructive comments gratefully received!
City Night Line trains to be discontinued from December 2016...
It's now official. German Railways (DB) will discontinue all City Night Line sleeper & couchette trains from the timetable change in December 2016. Austrian Railways may take over some (e.g. Munich-Florence-Rome) and DB say they will co-operate with other railways that want to run sleeper trains into Germany. Details -as far as is currently known- at www.railjournal.com/index.php/main-line/db-to-withdraw-all-remaining-sleeper-trains.html.
Now for Swedish train nightmare as Schengen collapses in Sweden...
All advance ticket sales for the Oresund trains Copenhagen-Malmo and SJ's Copenhagen-Stockholm trains has been stopped for dates after 4 January due to the likely start of border checks between Denmark & Sweden brought about by the refugee situation. Passengers are being advised to turn up and buy tickets on the day. See www.oresundstag.se/en/faq/infosidor/traveling-from-denmark/.
Major changes to Malaysian trains likely in January...
KTM (Malaysian Railways) say that all trains over their core electrified section Gemas-KL-Butterworth-Padang Besar will be fast new electric ETS trains from January, no more diesel locomotive-hauled Intercity trains. Of course, they haven't provided an actual timetable, or said what this means for sleeper trains. It's understood the KL-Hat Yai train 20/21 & Butterworth-Bangkok train 35/36 will be discontinued, but connections will be provided at Padang Besar. Watch this space...
Changes to European train times from 13 December...
Highlights & lowlights of the new timetable starting on 13 December include:
The direct Lille-Geneva TGV-Lyria is discontinued, see the news item from October. Passenger loadings have sadly not met with expectations.

There remain 4 direct TGV trains a day between Paris & Barcelona in summer, but the departures which run all year round change from (southbound) 07:15 & 14:07 to 10:07 & 14:07 and (northbound) from 09:25 & 16:25 to 09:25 & 13:20. Bunched up only 4h apart!

The Russian Railways Paris-Berlin-Moscow express will be increased from once or twice a week to 3 times a week all year round.

A direct high-quality air-conditioned Russian sleeping-car is reinstated between Moscow, Budapest, Belgrade & Sofia, although via Belarus rather than Kiev. It now forms an excellent top-quality daily sleeper service between Budapest, Belgrade & Sofia which can be booked online at the Russian Railways website. I have added this useful option to the relevant sections on the site.

The direct Budapest-Sofia train Serdica has its timetable radically altered, from an evening departure and evening arrival next day, to a morning departure (sadly far too early for connections from Vienna or Munich even by sleeper train) and early morning arrival. But the new daily Russian sleeping-car forms a better quality option with more convenient timings!

The Belgrade to Sofia daytime train makes a welcome return after a break of several years. This conveys the Moscow-Budapest-Sofia Russian sleeping-car, which can even be booked for this daytime sector, as a modern air-conditioned alternative to elderly Bulgarian or Serbian carriages!

The final section of TGV-Est high-speed line opens in the new timetable period, but in April rather than with the timetable change in December. This will cut 30 minutes of the time from Paris to Strasbourg, Stuttgart & Munich.

A Warsaw to Lithuania train was due to start running, using the first section of new standard-gauge Rail Baltica link, but this has been postponed. It could still happen in the first quarter of 2016.

The Warsaw-Moscow Polonez will become run by the Russians every day, using their brand-new sleepers, rather than Russian coaches one day and Polish cars the next.

A daily all year-Ljubljana-Pula train service is reinstated, through finally co-ordinating the times of the three local trains involved.

The Alleo Paris-Frankfurt/Stuttgart/Munich high-speed ICE & TGV trains will no longer offer free snack/meal boxes in 1st class, but the lead-in 1st class fare will be cut from 'from €69' to 'from €49'.

From the timetable change, all Milan-Switzerland EuroCity trains will be operated by the newer and very swish bullet-nosed ETR610 trains. The older and less reliable ETR470 trains previously deployed on the Zurich-Milan route will no longer be used.

Another 11 minutes is cut off the Vienna-Prague Railjet train journey, thanks to improved speeds between Prague & Brno. The journey has already been cut from 4h45 to 4h10, and is now cut again to 3h59.

Vienna's new Hauptbahnhof becomes fully operational and all international trains will now use it - the Westbahnhof is relegated to handling mere regional trains, the Munich/Zurich-Salzburg-Vienna-Budapest trains will no longer reverse at the Westbahnhof, saving 30 minutes.

There's a new direct overnight sleeping-car between Warsaw & Lviv, making it easier to get to this great Ukrainian city.
Odds & ends this month...
The Auckland-Wellington Northern Explorer will switch from using the modern, central Britomart Transport Centre to using a special KiwiRail Scenic platform at the old derelict 1930 Strand Station, 1km away. See the Northern Explorer page.
November 2015
Eurostar launches e320...
On 20 November, Eurostar put the first of its excellent new e320 trains into public service on a couple of London-Paris runs.
Rail Europe travel centre in Piccadilly closing down...
Voyages-sncf UK (the former Rail Europe) are closing down their London travel centre at 193 Piccadilly as from Saturday 21 November. Tickets will have to be booked online or by phone (or at the TrainsEurope desk at St Pancras). UK Voyages-sncf are also planning to close their longstanding UK-based telesales centre at West Malling. Calls to a UK number will be handled by a call centre located in France.
Poor timetabling for the Paris-Barcelona TGVs from 13 December...
Under the new 2016 timetable there remain 4 direct TGV trains between Paris & Barcelona in summer, nicely spaced at 07:15, 10:07, 14:07 & 16:07 southbound and at 06:10, 09:25, 13:20 & 16:25 northbound. If they all ran all year round, there'd be no problem. However, only two departures run all year, and unfortunately Renfe-SNCF have changed their minds and decided to make these the 10:07 & 14:07 southbound (previously 07:15 & 14:07), and the 09:25 & 13:20 northbound (previously 09:25 & 16:25). Bunched up in the middle of the day just 4h apart. And whilst the third train ran April-August in 2015, it's cut back to run just June-August this year.
So for 9 months of the year the earliest arrival in Barcelona will be 16:34, with no departure from Paris later than 14:07. Nor is any departure possible from Barcelona later than 13:20. Parisians can no longer take the 07:15 south on a Saturday and 16:25 back on Sunday. Residents of Barcelona can no longer take the 16:25 train on Friday night for a weekend in Paris. For longer-distance non-fliers, the 10:07 is too late to connect with the afternoon train to Cordoba, Seville & Malaga, which leaves Barcelona at 15:50. Similarly, the 13:20 northbound leaves too early to connect off the morning train from Seville, Malaga & Cordoba arriving Barcelona at 14:25. So same-day journeys between Paris & Andalucía will no longer be possible, except in high summer.
So if the new timetable is poorly-timed for short breaks, either in Barcelona for Parisians or in Paris for the Spanish, and connections are broken for longer distance travellers between Paris and Andalusia, a major tourist area of Spain - what market are Renfe-SNCF trying to attract? Did they think through the changes at all? Is it being operationally-led instead of customer-driven? I'd like to think they are responding to those who'd like a more leisurely breakfast before their journey south, or an arrival back in Paris northbound that's not quite as late - but does this really override the need for schedules which allow time-effective short breaks without losing half the day? And even if that was the reason, wouldn't 09:07 & 15:07 southbound, 09:25 & 15:25 northbound fit the bill better? Shouldn't there really be early, lunchtime and late trains (at least) all year?
There are also problems with the shorter-distance service between Barcelona and Perpignan. Until April, the first TGV train of the day from France arrives in Barcelona at a ridiculously late 12:38. And the last TGV back from Barcelona to anywhere in France leaves ridiculously early at 16:45, arriving Perpignan at 18:06. Far too early for anyone with an all-day meeting or even just an all-day visit. A part-time service run by part-time management? I'm convinced the France-Spain TGVs have massive potential if properly timed and priced - but I remain unconvinced that this potential is being realised.
The overnight couchette trains between Paris & Barcelona - either via Perpignan or via Latour de Carol - are suddenly looking very appealing to make the most of that short break, see details of overnight options here. Perhaps the direct Elipsos sleeper trains should be brought back!
Eurostar relents & reverses its change in bike policy...
I'm delighted to say that Eurostar has listened to cyclists and has reversed its decision to cease carrying bikes unless they are semi-dismantled and placed in a bike box - see previous news item. You can continue to book your fully-assembled bike onto the same Eurostar as yourself between London and Paris, Brussels or Lille for £30 each way. I have updated the bikes by train page accordingly.
City Night Line: 4-berth & 6-berth couchettes to become all 5-berth...
German sleeper trains run by City Night Line will cease offering 4-berth couchettes from 13 December, only 6-berth. Which it claims will only ever be filled to 5 people. So a family of 4 will need to book 5 berths in a 6-berth to get a 4-berth (eh?). See (in German) www.bahn.de/p/view/angebot/fernverkehrsmittel/city-night-line/liegewagen.shtml. Update: I'm now told that the online system will be updated from 13 Dec to show 5-berth explicitly, with an easier option for those who want exclusive use for less than 5 people. I will update the site once the new system is in.
Rocky Mountaineer in Canada 2016...
I've updated the Rocky Mountaineer page for 2016. The cheapest £500-a-pop Red Leaf service has been replaced with £800-a-pop Silver Leaf on all routes, so a Rocky Mountaineer just got 60% more expensive. Also a shame is that the useful affordable 5-days-a-week Vancouver-Whistler train is discontinued from 2016 in favour of extending the main Whistler-Quesnel-Jasper train to/from Vancouver for the megabucks long distance tourists, no locals travellers allowed!
European train bookings for dates after 12 December......
As happens every year, the timetable changes on the second Sunday of December all across Europe. And as every year, train operators totally fail to maintain the usual 90 day booking horizon and bookings open late. Right before Christmas, when passengers want to book further ahead, not closer to departure!
Bookings for Eurostar are already open. How do Eurostar do it, when others can't? Good for them!

Bookings for German trains for travel from 13 December onwards will open on 13 October. Update: A temporary glitch means London Spezials to/from Germany and a few other international routes to/from Germany won't open until this Friday 16 October, or perhaps early next week.

Bookings for French trains for travel 13 December to 4 February will open 15 October.

Bookings for some Italian trains are already open, including the Paris-Venice Thello sleeper, others won't open until around 5 November including the Thello day trains to Nice..

Spanish trains will probably open early November or even later - Tip for any private open-access operators entering the Spanish market: You can easily take 90% of Renfe's market share within a matter of weeks, simply by opening bookings... well, simply by opening bookings.

Eastern European bookings may not open until early December! Hungarian bookings should open late November.
Odds & ends this month...
I've updated the section about how to use Renfe.com to recognise Renfe's totally revised website & booking process. If anything, it's less easy to see what the choice of class and fare is now, than under the old system!
October 2015
Eurostar's direct south of France service proves a success...
Eurostar are very pleased with bookings on their direct train from London to Lyon, Avignon & Marseille (see the Eurostar to Marseille page for details). From its launch on 1 May until October the train carried 110,000 passengers, exceeding their expectations, with the unknown quantity - Marseille as a short break destination - proving surprisingly popular with us Brits. That's no surprise to me, it's a great city. Even so, the direct Eurostar will be tricky to keep filled in the depths of winter - the train now won't run on 5 particularly low-volume winter Saturdays, and I have amended the timetable accordingly.
Paris-Moscow train 3 times a week from December...
Russian Railways (RZD) will increase it's once or twice a week Paris-Berlin-Warsaw-Moscow train to 3 times a week all year round from the timetable change on 13 December. Clearly, the change from a day-night-day operation to a night-day-night timing has provided successful, providing a Paris-Berlin sleeper option. See the Paris-Moscow Express page.
End of Lille-Geneva Lyria TGV...
It was a great idea. London-Lille-Geneva in 6h18, with just one easy change and no need to cross Paris. Unfortunately, the Lille-Geneva TGV didn't meet Lyria's commercial aspirations and it is being discontinued as from the timetable change in December 2015. A great shame...
Eurostar changes its bike policy......
Eurostar sorted out its bike policy in 2012, finding a successful bike-friendly policy to much applause. It's great when a company gets something right! So of course, it's now time to scrap all that. You now can't take bikes on Eurostar without semi-dismantling them and boxing them up - yet you still have to pay £30 each way.
But hang on, if you semi-dismantle your bike and bag it up, shouldn't it then go free of charge as regular luggage, as was the case on Eurostar pre-2012, and as still is the case on just about all European trains, including TGV, Thalys, TGV-Lyria, in fact all services operated by Eurostar's own parent company French Railways SNCF? Eurostar say they'll provide a bike box for you for free, but it still isn't clear to what extent the baggage people will help you dismantle your bike, and to what extent you now need to be a mechanic and carry a toolbox. The revised official Eurostar bike page is incredibly vague, and I'm guessing it's a work in progress. It's not clear what you have to do with your bike, it's not clear if you need to pre-book or not. It's not even specific about the price, wavering between £10 and £30. The bike page refers you to the registered luggage page which then talks about luggage only being available within 24 hours of arrival. Does this rule out everyone with same-day onward connections?
I have updated the bikes by train page as best I can, given vagueness of the Eurostar site and its inconsistency with news snippets from cycling organisations, I'll update it further as more accurate details emerge as to what Eurostar want you to do with your bike- other than take it by ferry instead.
You may wish to find alternative ways to France, using train and ferry - I've added more info about the ferry alternatives on my bikes by train into Europe page - an overnight London-Paris journey via Portsmouth-Le Havre looks very appealing!
European train bookings for dates after 12 December......
As every year, the timetable changes on the second Sunday of December all across Europe. And as every year, train operators totally fail to maintain the usual 90 day booking horizon and bookings open late. Right before Christmas, when passengers want to book further ahead, not closer to departure!
Bookings for Eurostar are already open. How do Eurostar do it, when others can't? Good for them!

Bookings for German trains for travel from 13 December onwards will open on 13 October. Update: A temporary glitch means London Spezials to/from Germany and a few other international routes to/from Germany won't open until this Friday 16 October, or perhaps early next week.

Bookings for French trains for travel 13 December to 4 February will open 15 October.

Bookings for some Italian trains are already open, others won't open until early November I expect.

Spanish trains will probably open early November or even later - Tip for any private open-access operators entering the Spanish market: You can easily take 90% of Renfe's market share within a matter of weeks, simply by opening bookings... well, simply by opening bookings.

Eastern European bookings may not open until early December!
Odds & ends this month...
I've given the London-Montenegro information its own page, rather than including it on the London-Belgrade page. I've also expanded the Belgrade-Bar information into its own page, as this is one of the most scenic trains rides in Europe.

Stena Line Harwich-Hoek free WiFi: This is no longer available in the cabins, only in the public areas on deck 9. I've updated the Netherlands page accordingly.

The Vietnamese Railways online booking site now has an English version, Vietnam page updated accordingly. But it still only accepts Vietnamese credit cards as far as I can tell!

Mongdratzerl restaurant in Munich Hbf closes... It seems this Bavarian restaurant will be replaced with a pizza and pasta chain, just what you want in Bavaria. If anyone has any new restaurant recommendations for eating near the Hauptbahnhof between trains, I'd be very happy to hear!
September 2015
Latest update: People power has won: Press release from Renfe-SNCF, evening of 24 September: "Following a technical problem detected today in the booking systems available to its retailers, Renfe-SNCF notes that incorrect tariffs have been offered for journeys between France and Spain. Renfe-SNCF, which runs these trains, is taking immediate measures to correct this unusual situation and a return to normal is expected by next Tuesday, 29 September, at the latest." You may think it was all an "error", I couldn't possibly comment... But the important thing is that the situation is resolved. Correct pricing for the France-Spain TGV trains will apply again from next week on all retailers. Now we can get back to the key task of promoting train not plane between France and Spain....
For the record, here is what I wrote on the morning of 24 September, obviously now fortunately rescinded...
1. €59 fare available through a French retailer, in this case Captaintrain.com: Correct price.

2. €100: Passengers overcharged by €41 at non-French retailers, in this case voyages-sncf.be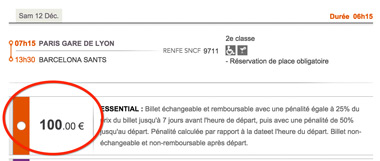 What's happened? Fares for the Paris to Barcelona TGV trains start at €59. Prices vary like air fares with limited availability at each price level. But as from September 2015, it seems that Renfe-SNCF (the joint Spanish & French management of the France-Spain TGV service) have imposed discriminatory pricing. From now on, only French or Spanish train ticket retailers will be allowed to sell the complete and correct fare range from €59 upwards. Ticket retailers based anywhere else are no longer permitted to sell any fares below €100, even when a €59 ticket is available. This means that many consumers will be overcharged by up to €41, unless they switch to buying from a French-based retailer - or are simply dissuaded from using these trains by the unnecessarily high prices.
Described by one retailer as 'outrageous', it brings Renfe-SNCF into disrepute. I suspect it could well be illegal under EU law.
Illegal under EU law? Unbelievably. this discrimination even extends to different versions of French Railways own site (voyages-sncf.com) serving other EU member states. As I write this, a €59 fare is available on the 07:15 Paris-Barcelona on 12 December on www.voyages-sncf.com, SNCF's main French-language site, and on private French-based retailer www.trainline.eu. But if you innocently click the flag on the top right of voyages-sncf.com to switch it to English, German, Dutch and so on, you are switched to uk.voyages-sncf.com for the UK, voyages-sncf.de for Germany, voyages-sncf.nl for the Netherlands (etc.) and on these versions of their site it's a whopping €100 for exactly the same train - or £76 on UK-based uk.voyages-sncf or Loco2.com. Are there any lawyers or EU commissioners awake out there?
So for the first time, the price on French Railways own website www.voyages-sncf.com may be significantly cheaper than on their own UK subsidiary's website, uk.voyages-sncf.
What does this mean for consumers? Well, it should be obvious. To avoid being overcharged you must now buy your Paris-Barcelona tickets (and Toulouse, Perpignan or Lyon to Barcelona tickets) from a French-based retailer such as www.trainline.eu which has the correct prices from €59, has an English-language version, accepts worldwide credit cards and provides a print-at-home e-ticket. Whether you are British, Belgian, German, Dutch, American, Canadian or Australian, wherever you live, www.trainline.eu is now pretty much the only remaining correctly-priced option to book these trains unless you want to be overcharged, or are happy to use voyages-sncf in French, tip-toeing through the minefield of its Machiavellian redirects to its more expensive subsidiary sites. Or want to grapple with www.renfe.com's strange English translations and fussy credit card acceptance. Using any retailer based outside France or Spain means you may be overcharged.
I feel particularly sorry for the excellent www.loco2.com, who have spent time and money integrating with UK, French and Spanish ticketing systems, allowing you to buy your train ticket to London, your Eurostar ticket to Paris, Paris-Barcelona TGV ticket and onward Spanish tickets all in one place. Now through no fault of their own they can't sell the cheaper tickets for the Paris-Barcelona sector so you'll need to check that there isn't a cheaper fare available on Captaintrain.
An example of private enterprise integrating European rail ticketing, only to have it dis-integrated again by a misguided train operator. As usual, the train operators are their own worst enemy.
The Man in Seat 61 says: "I have not seen discrimination on this scale by any European train operator before, and against other EU member states, too. From the start, I don't think the pricing on the relatively new Paris-Barcelona TGV route has been properly managed. Fares appear set with total disregard for those of competing airlines and indeed it's often significantly cheaper to buy two separate train tickets, Paris-Perpignan and Perpignan-Barcelona for the same train. After this latest example of mismanagement, it's my professional opinion that Renfe-SNCF seriously needs to replace their Elipsos pricing manager, and soon. The Paris-Barcelona TGVs need fresh eyes and competitive, dynamic pricing worthy of the 21st century. Not desperate Machiavellian tactics worthy of the 16th."
Note that currently this problem is confined to the direct France-Spain TGV/AVE trains run by the joint Renfe-SNCF management. But it needs to be stopped now, before the practice spreads.
Ljubljana - Sezana (- Trieste - Venice) line finally reopened...
They've been bustituting all or part of the line between Ljubljana and the Italian border at Sezana/Villa Opicina for almost two years now after a bad winter damaged the overhead electric wiring. I'm glad to say it's now fixed, and train+tram+train is once again a great way to travel between Ljubljana & Venice, see the Ljubljana-Venice page.
Capitainetrain becomes Captaintrain
The French website Capitainetrain, started by three young French entrepreneurs originally just to sell SNCF train tickets faster and more easily than SNCF themselves has been renamed Captaintrain. It's a sign of how international that site has become, after being started with just the French domestic market in mind - it's now a better way to buy French train tickets than many overseas agencies as all the cheapest prices are shown, all SNCF's products including the likes of Forfait Bambin and Espace Privatif are available. https://blog.captaintrain.com/en/.
The refugee crisis: A traveller's first hand report...
It's one thing to watch it on the TV. Traveller Tim M came face to face with the migrant/refugee crisis on a train to Munich and posted this on my Facebook page. It's a gritty account. He uses the 'f' word a lot. I don't blame him. Language notwithstanding, it's probably the most moving account of the human issues I've read...
"Language not to everyone's taste, but a few notes on what happened this week leaving Vienna. 3 hours later and I'm now part of it. My connection in Salzburg has been cancelled. Clueless as to why, but the atmosphere tells me something's afoot. The constant stream of people being ushered from my train, and others, down one elevator, before hanging a sharp right up to the next platform now includes me. FFS, this is surreal. I'm English, not a f***g migrant. Why can I never remember a truly 'British' put down when I need one? Something David Niven-esque. But f**** rude. It sounds like I'm in a souk, not Salzburg. There's the little scrotes trying to shove their way around when, to be fair, everybody else is queuing patiently. The family who were opposite me on the last train are so again on this. The 4yr old daughter has had her eyes on my sandwiches n crisps for long enough, so they are keeping her quiet for now. Her mum is making sure I'm near to ask me questions, and to make sure they get to Frankfurt. Frankfurt?? Yeah right. You're asking a Yorkshireman to make sure you get to Frankfurt? I'm not Bradshaw or Baedecker, I'm on f**** holiday... It's kinda hard not to agree though, whilst trying to be all nonchalant, like, otherwise I'll really be in the shit. Yup, told yer, now there's a queue of blokes asking me to ring numbers back home on my fone to let families know, numerous 'how do I get to so n so' questions. Poor bastards think I'm a local, something tells me the bastard locals had a tip off... Regardless, had to throw my hands in the air on that one, I'm neither Rothschild nor the fucking Red Cross. So I'm going to Munich whether I like it or not. Along with a few hundred others who don't care, they just want to feel safe. And hopefully they'll want a bath, cos the place hums already. Standing room only for any poor bewildered who gets on at the forthcoming stops (not that they did, funnily enough!) and there's kids all over the place. Noise? F*** sake. At the last stop local guys ran on with bottles of water to share out. Gratis. Free. Because they cared. Imagine that happening in the UK? A non punter allowed on the platform to run onto trains giving out free stuff? Funnily enough I didn't qualify for a bottle... Although I'd feel guilty drinking it somehow. Depending on the state of Munich hauptbahnhof I might just f*** this leg off and find other means on towards Frankfurt cos this ain't no holiday, soldier. The family who've befriended me/trusting me to make sure they get to Frankfurt etc (times are hard, yeah?) have removed any escape plans tho. For one, turns out she's a single mum. Cue radar- cheeky bitch playing that card on me? Talking, she says she wants to go the Rhineland as it looks so pretty. Now, that's awkward. That's where I'm going. Same town. Mainz. Hmm, as coincidences go, I'm getting kinda pissed off here. Turns out her husband died fighting in June. In the army, so I'm not sure whether that makes him good or bad to be honest, but I switched the radar off. Anyway, Syria is f***ed folks, straight from the horses mouth. Done. Flat. No water, no leccy. No homes, no medical supplies, jobs, services or infrastructure. It's taken her and her daughter a month to get this far. A f***ing month of not really knowing what the hells going on. Makes the fact it's unlikely there'll be any hotels left when I get to Mainz seem kinda minor. Ok, I relented at that point and let her use my fone. Call to America! FFS, but nothing surprises me anymore. Her brother in L.A. can speak English, unlike the one meeting her in Frankfurt, so between the 4 of us, and no doubt a pending written warning about roaming from Vodafone, everyone learns a bit more. Polizei are lining the platform in Rosenheim. All armed and square chinned. Sounds eerily like a history lesson - bunch of Germans waiting for a train to rock up. They all certainly need a bloody shower. Surely this is f*** all compared to what must be down the road at the last stop? No one got off. No one got on. Plenty folk saw the contents of the train from the platform and decided that maybe, well, you know, f*** it, I'll be late today. It's gone 3pm. Munich Hbf. Thank f***. Laid out like kings cross so much as in some trains stop due to it literally being the end of the line. A natural border between the railway and outside. Freedom, even. The food concessions there knock the shite we get sold by BR clean out the park btw. Worth a trip just to feed yourself. Anyway. Everyone barges to get off the train first. F*** knows why, even I'd worked out what the welcoming committee would be. Angela Merkel waving a bratwhurst it was not. No one getting giddy, just yet another train full hoping it's all over and 50 coppers reminding them it ain't. Oh, and by the way, stay ze f*** there til the next train, for you, arrives. So Mia and her daughter? Twigging I'd be waved thru police lines, I dropped my email address into her bag hoping that I'll maybe hear a happy ending sometime, wished her luck, made the little one laugh again and then got the f*ck out whilst grabbing a pic of whatever the hell it was I'd just spent half a day in. Now I'm sat in the bar of the ICE train, hour or so from Frankfurt and an entire world away from all that. Best trains are in Germany, unless you go to Japan. But these have bars, food made to order, reasonable prices and, lo and behold, are on time! Job done. No idea what to make of today. No idea at all."
Post-script: "She was taken to Düsseldorf in the end, after a week or so there being fed and checked up etc, she and her daughter are free to go wherever. She says Syria has gone and as such she won't ever go back."
And by the way, I've been raising money for UNICEF's Syria appeal, I've already raised £10k and have set out to raise another £10k. If seat61 helps you, please consider contributing a pound or a dollar, whatever you can spare: www.justgiving.com/seatsixtyone
Eurostar takes action on disruption at Calais...
Eurostar's CEO Nicolas Petrovic has said: "You will have undoubtedly seen media coverage about disruption near to the Channel Tunnel in recent months, which until last week has primarily impacted Eurotunnel's lorry shuttle and freight operations. Unfortunately, on the evening of the 1st September, Eurostar services were also affected as trespassers led to the temporary closure of the high speed line in the Calais Fréthun area. Six Eurostar services were heavily delayed whilst the authorities ensured the safe removal of people from the tracks and in turn secured the infrastructure to allow the safe passage of our trains. Following this incident, we have been working very closely with our infrastructure partners to ensure that immediate measures are put in place to protect our services. These include:
SNCF and French police increasing their resources in the area of the high speed tracks we use

Having a fast track response process if trespassers are seen in the area of our tracks;

Undergrowth cleared from around our tracks making it more difficult for trespassers to hide - this work has already been undertaken;

Additional fencing being built by Eurotunnel to protect the high speed lines in this area.
Together these measures significantly reduce the risk of future disruption, and improve the speed of response should this kind of incident happen again."
Migrants close Budapest station for a while, and affect Germany-Denmark trains...
Large numbers of refugees closed Budapest station - forcing controlled access to be implemented where only passport holders could get into the station - and for several days international trains to/from western Europe had to be curtailed to start/terminate at the Hungarian border. However, things are getting back to normal now. The TV news is not a good place for real-time accurate travel information, I'd recommend checking Hungarian Railways www.mav-start.hu. Migrants have also affected Germany-Denmark trains around 9 & 10 September, check this route at www.bahn.de/en.
Odds & ends this month...
Caledonian Sleeper increased its berth supplements for passengers holding regular tickets or passes from £44 in 2nd class & £50 in 1st class to £75 in both classes. The sleeper solo supplement seems to have been abolished although you can still book a Sleeper Solo fare.

The scenic Huancayo to Huancavelica line in Peru is back in action after several years, reports by traveller Thomas Gisler. See the Peru page.
August 2015
Interviewed on BBC Breakfast, BBC1 TV...
I was interviewed on Saturday morning 29 August about security on European trains in the wake of the foiled Thalys attack. You can see some of the feedback on Twitter (@seatsixtyone) and the seat61 Facebook page.
Melbourne-Adelaide Overland saved...
For a while it has looked as if the Overland would be withdrawn permanently from December 2015, leaving no civilised transport between these two major cities - just 11 hours in a bus seat or the need to schlepp to an airport just to go a few hundred miles. It now looks as if funding has been agreed with South Australia, although talks are still in progress with Victoria. http://www.abc.net.au/news/2015-08-27/overland-deal-worth-1m-secures-jobs-for-adelaide/6730184
Migrants force bus replacement for Greek part of Belgrade-Thessaloniki journey...
Until further notice - meaning days, weeks or months, who knows - the Belgrade-Thessaloniki train will be bustituted between Gevgelija on the Greek/Macedonian border and Thessaloniki due to so many migrants trying to use the train to nip across the border. A warning has been placed on the London to Greece page and on the International journeys from Athens & Greece page,
New KTM timetable in Malaysia. Again...
Train times in Malaysia will change for the third time in as many months from 1 September. Highlight of the new timetable is combining the afternoon Johor Bahru to KL train with the KL-Hat Yai overnight train, to form one train direct from southern Malaysia to Northern Malaysia. Unfortunately, going north it now passes through KL at 1am and doesn't call at Butterworth (for Penang) at all, so no longer provides a convenient sleeper service between the two big cities of KL and Penang, and arrives very late if you're travelling from Singapore or JB to KL. Crazy! But then, I expect they'll chnage it back next month...
Cuba update...
It's reported that trains 1 & 2 and 3 & 4 will not be reinstated. Trains 11 & 12 are now using the Tren Frances ex-Trans-Europe Express cars, but the air-con systems are being removed and opening windows fitted. Havana Estación Central closed on 24 June for renovations lasting until summer 2018 and most trains are now using the nearby Havana La Coubre station instead, with those to Cienfuegos and Pinar del Rio using Havana's 19 Noviembre station. The Cuba page has now been updated with the new details, as much as is possible!
Odds & ends this month...
An unconfirmed report (but from a usually reliable source) says that the Sofia/Bucharest to Istanbul train will resume running all the way to/from a suburban station in Istanbul itself as from late August or early September, rather than being replaced by a bus between the Bulgarian border and Istanbul as at present. When this happens, it regain its usual couchettes and sleeping-car. Details on the London to Istanbul page.

There's a new timetable for the Hanoi-Lao Cai trains, the Vietnam page has been updated.

India will extend it's far easier e-visa process to UK, Irish and a number of other nationalities from 15 August.

Tangier Ville station in Morocco reopened on 10 August after being closed since January for work in connection with the Tangier-Casablanca high-speed line. Timetable on the Morocco page now updated.

I've now added both Nong Khai to Thanaleng shuttle trains to the timetable on the Laos page so you can see what the options are more clearly.

I've added a Paris to Dublin and Brussels to Dublin section on the pages about international routes from Paris and from Brussels. believe it or not, loco2.com can now book these journeys, combining a Eurostar ticket with a London-Dublin SailRail ticket!
July 2015
Hanoi-Nanning restored to running daily...
Having been reduced to twice a week in December 2014, it seems the Hanoi-Nanning sleeper is running every day again, and twice-weekly through sleeping-car to Beijing has been restored. Details here.
London-Paris by overnight 'sleeper' ferry?
Inspired by an article in the New York Times (oddly enough) I've added London to Paris via Portsmouth-Le Havre to the London to Paris by train and ferry page. It allows you to leave central London around 18:30, have a full 8 hours sleep in a comfortable en suite cabin (and if you stay up late, a lovely exit from Portsmouth Ferry Terminal past HMS Victory, HMS Warrior and the Spinnaker Tower), and be in central Paris at 12:10 next day. If you need to avoid the Tunnel for some reason, it's not a bad option. I've no photos until I can check out the route myself, but all feedback gratefully received!
Two more new videos...
I've added two new short videos showcasing (a) the Paris-Moscow Express (click here) and (b) Trenitalia's new Frecciarossa (click here).
The Best Train in Britain, the London-Fort William Caledonian Sleeper unofficially known as The Deerstalker, finally has its own page after a hugely enjoyable trip last week. Make sure you watch the video too! I have also completely revamped the Caledonian Sleeper page to reflect the new franchise on-board service, with new photos & video guide.
Upcoming trips to follow on Twitter: Scotias old & new...
I'll be taking the Caledonian Sleeper from London to Inverness on Sunday night 12 July, returning Ft William to London on the 13th. Let's see how the new franchise performs....
On 2 August I'll be in Canada, taking VIA Rail's new business class from Toronto to Montreal then the Renaissance sleeping-cars of the Ocean from Montreal to Halifax Nova Scotia. Follow my journeys on Twitter.
New timetable in Thailand from 1 July...
The Thailand page has now been updated. No major changes, but several main Bangkok-Chiang Mai trains have been speeded up by up to an hour.
Russia Railways steps in to restart Tallinn-Moscow train...
RZD will restart at Tallinn-Moscow sleeper train from 11 July. It will run via St Petersburg, so also linking Tallinn with St P. Details now on the Estonia page, although complete booking and price info will have to wait until this is loaded onto rzd.ru.
June 2015
New timetable Singapore-KL...
In Malaysia, KTM are introducing a new timetable from 1 July. All intercity trains will start/terminate at Johor Bahru Sentral, and will no longer extend to start/terminate at Woodlands on the Singapore side of the causeway. Instead, an infrequent shuttle train will run between JB Sentral & Woodlands, although not connecting very well with the intercity trains. The new timetable is now shown on the Malaysia page.
I'm speaking at the rail industry's Amadeus Conference in Barcelona on 16 June, so naturally I'll be hopping on a train from London to Spain... I'll be travelling from London to San Sebastian by Eurostar & TGV on 14/15 June and spending an afternoon and a night there. It's supposed to be a lovely city - will it live up to its glowing reputation? On the morning of the 16th I'll hop on a fast air-conditioned Alvia train from San Sebastian to Barcelona with an afternoon spare to wander along La Rambla before my after-dinner talk. And on the 17th, I'll return from Barcelona to London in a single day, this time checking out the Barcelona-Lyon-Lille-London TGV & Eurostar route which avoids having to cross Paris. You can follow my journey on Twitter.
SJ's planned Oslo-Stockholm service thwarted... But now sorted...
Incredibly, when an operator actually does plan a significant improvement in cross-border trains, this happens. Norway's infrastructure operator decide to re-wire the line for 2 years and thwart the plans. Do Europe's railways have a death wish? They certainly seem to be their own worst enemy. Update: I'm glad sanity has prevailed - Norway has postponed the work to allow the new improved service to go ahead. Thank goodness!
New Jo'burg-Mafikeng-Kimberly train...
Shosholoza Meyl are introducing a new Jo'burg-Mafikeng-Kimberley train from 5 June, see the South Africa page,
May 2015
Trains return to Durres-Tiranë - almost...
For the first time since 2012, trains are running again on the Durrës to Tiranë line, though only as far as Kashar, 7.6km short of Tiranë, from where city buses run the last bit. The Albania page has been updated with the new service.
New direct Eurostar to Lyon, Avignon & Marseille: See the new page!
I was delighted to be invited on the first direct Eurostar from London & Ashford to Lyon, Avignon & Marseille on 1 May. It's the first every direct scheduled passenger train in history from the Thames to the Mediterranean, and also the longest distance regular scheduled passenger train serving the UK, as London to Marseille is 769 miles which the train does start to stop in 6h27.
The previous London-Avignon train only ran in summer, and only once a week. This new service serves three destinations and will run all year round, weekly on Saturdays in winter, up to 5 times a week in summer.
On 1 May, the staff wore straw hats and Lyon, Avignon, Marseille polo shirts and seemed as excited as the passengers about this new service. There was a holiday atmosphere on board, and excellent service in Standard Premier: You get a light breakfast soon after departure, then a hot cooked lunch with wine later in the journey. We arrived in Marseille just 8 seconds late.
I returned on 2 May to check out the northbound journey, on which passengers must alight with their bags at Lille, go through check-in and re-board the train. It's a pragmatic solution to the twin issues of UK border controls and Channel Tunnel security - even if the UK home office could be persuaded to do passport checks on board the train or at least on arrival in London, this doesn't solve the security issue and it's simply not practical to seal off and security-clear a whole platform at three of French Railways' busiest stations, or provide staff and equipment for one train a week.
I'm glad to say the Lille shuffle worked well. Announcements were made as we approached Lille, and passengers all seemed to know what to do. The operation felt relaxed and organised. There were plenty of staff on hand at the ticket gates, at the passport checks and the security checks. I was off the train and up the escalators in a few minutes, and through check-in into the lounge in 10-15 minutes. The lounge at Lille has been improved and enlarged, with carpet and plenty of seating, vending machines, plug sockets for phone recharging and even a kiddies corner. There's no catering outlet yet, so Eurostar staff provided free tea, coffee and chocolate cake for all passengers.
The train had arrived in Lille 55 minutes late due to earlier problems on the high-speed line in France, but all passengers were checked-in quickly and we soon went down the escalator again back onto the train. The train left only 35 minutes late, actually making up 20 minutes during the stop in Lille. And unlike changing from a TGV to Eurostar at Lille, with this direct Eurostar there were no worries about a missed connection!
So overall, the Lille shuffle was not a huge deal. Imperfect, perhaps, but no huge deal. And of course, doing the check-in at Lille means there is no check-in at Marseille or Avignon or Lyon, you just board the train any time before the doors close, just like any other train. You still only check-in once!
Odds & ends this month...
The Cologne-Vienna EuroNight sleeper train has started using Vienna Hbf Autores... erm, motorail terminal instead of the main station platforms, so passengers without cars now need to alight at Vienna Meidling in the southbound direction. Northbound, the train calls at Vienna Hbf main platforms as normal, as well as coming from the motorail terminal. I've amended various pages as necessary. It will be sorted from December 2015 when extra capacity at Vienna Hbf means the train can serve the regular platforms at Vienna Hbf in both directions.

In Zambia, the smart new Golden Jubilee Express has been revised. Instead of running once a week Livingstone-Lusaka-Kapiri-Kitwe it will run three times a week overnight Livingstone-Lusaka only. See the Zambia page.

Stockholm-Oslo: From August, SJ is to replace two 5h50 IC trains with three daily SJ2000 trains taking as little as 4h33. There's a ridiculous amount of air travel between these two capitals which are only a few hundred miles apart, it would be good to see a real sensible overland alternative. Trains from Stockholm and Trains from Oslo pages updates accordingly.

You can now pay the supplement and make a Caledonian Sleeper reservation online to go with a pre-existing travel ticket, BritRail Pass or All-Line Rail Rover at www.sleeper.scot. Previously, online systems only sold complete tickets, and reservation-only bookings had to be made by phone or in person. I dare say thousands of US and Australian BritRail pass visitors were put off by that, and gave up trying the use the sleeper. It's now sorted!

Mae Khlong 'market train' in Thailand closed for line rebuilding from May until at least 8 November 2015.
April 2015
Eurostar un-simplifies fares...
Last year, Eurostar simplified its fares, a really excellent move. There's now only one fare type, all changeable but non-refundable, and tickets went sensibly single-leg where a round trip is simply two one-ways. Competing airlines and most European trains all quote single-leg fares as in 'from £34.99 each way' and this brought Eurostar into line with the way trains and planes are usually ticketed and fares quoted in the 21st century. For passengers, single-leg ticketing makes everything simple: You can go outward via Paris but back via Lille or Brussels. If your return date isn't open for booking yet, no problem, just book your outward and book the return later when booking opens. The 2014 fares were £34.50 one-way, twice this at £69 for a round trip. In March 2015 the fares went up to £36 one-way, £72 return, no big deal. But last week (a mere month later) the one-way was raised to £41 without changing the return fare at £72, upsetting the whole single-leg concept. In Standard premier (1st class) the round trip has actually reduced so it's now £110 one-way but £159 return, an even bigger penalty for those who cannot book a straight out and back return journey to a single destination all at the same time. Unfortunately, it's the one-way fares which are the headline price in today's competitive world. I hope they reconsider and restore a simple single-leg fare structure. And before you ask, yes, the UK fares structure needs to go single-leg too. In my opinion it's the biggest single problem with UK inter-city rail fares. But that's another story...
Autoslaaptrein (Dutch Motorail) folds...
Shocking news is that EETC - better known as Autoslaaptrein or Dutch Motorail, www.autoslaaptrein.nl - have thrown in the towel and ceased trading. Instead of cleaning up with all the extra passengers following their competitors DB Autozug discontinuing virtually all motorail service last year, it seems EETC has been hot by massive increases in track access fees, haulage charges and of course the rise in the Swiss Franc. From two competing motorail providers from northern Europe to Italy last year, there are now none. European motorail is now virtually dead. When will the EU act to ensure a proper track access charging regime which reflects the true marginality of running an extra train on existing tracks? It now seems that a Dusseldorf to Verona Motorail train has been saved, and will operate in summer 2015 with the Autoslaaptrein rolling stock, see www.treinreiswinkel.nl/autotrein/italie/dusseldorf-bolzano.
GoRail to end all Estonia-Russia train service...
GoRail, Estonia's long-distance train operator, is to end all train service between Tallinn and Moscow and Tallinn & St Petersburg as from mid-May 2015. They cite political tensions, the falling rouble and a drop in tourism. This leaves Estonia increasingly poorly-connected to its neighbours. A fast ferry to Helsinki (1h30) and the excellent Allegro train to St Petersburg (3h36) or the equally excellent overnight sleeper train Tolstoi to Moscow may now be the best options, unless you like spending whole days strapped to a bus seat. See www.railjournal.com/index.php/europe/estonia-%E2%80%93-russia-gorail-services-to-cease.html?channel=537. There's now a rumour that RZD (Russian Railways) will take over the Tallinn-Moscow train.
Pamukkale Express becomes a daytime train...
In Turkey, the Istanbul-Denizli Pamukkale Express was reintroduced in January as a sleeper train but from April becomes a daytime train. It seems the sleeper format wasn't a success - I doubt they gave it long enough, resuming after a break of several years. The daytime format allows it to serve smaller places along the way.
Odds and ends this month...
I've had it confirmed that Club class on Spanish AVE high-speed trains has finally disappeared completely. All AVE trains are now Turista, Turista Plus and Preferente.

India has restored the advance booking period from 60 to 120 days before departure for most long-distance trains, as of 1 April. It was 60 days until 2008, when it was experimentally extended to 90 days, then it was experimentally extended even further to 120 days in 2012, reduced again to 60 days in 2013 to make ticket 'scalping' by agencies harder.
March 2015
Jo'burg - Komatipoort reinstated...
At last some good news from South Africa. Shosholoza Meyl have reinstated the Jo'burg-Pretoria-Komatipoort train, allowing train travel from Johannesburg to Mozambique once more. And there are tourist sleepers as well as economy seats. See the Mozambique page.
Upcoming trips in April & May which you can follow on Twitter...
I've a couple of trips planned in the next few weeks, and you can follow my progress on Twitter if you like. On 11 April I'll be riding the Russian Railways Paris-Moscow train between Paris & Strasbourg. I've booked my tickets using the Russian Railways website rzd.ru, somewhat fiddly but it worked and happily accepted my UK credit card. On 1 May I'll be riding the first direct Eurostar from London (07:22) to Lyon, Avignon & Marseille, returning from Marseille on 2 May after (I hope) checking out the infamous Chateau d'If - think Count of Monte Cristo. The return journey involves the controversial hour in Lille detraining, going through security and border control and getting back on. How problematic is this really, in reality? The only way I'll know is to do it myself... Look out for more detailed information about these two trains appearing on seat61 in due course...
New pages: How to use the Hungarian, Czech & Russian websites...
I've added several new pages, centralising and expanding the tips for using the Hungarian, Czech & Russian Railways websites. As always, all comments gratefully received!
Loco2.com adds connectivity to Trenitalia from 3 March...
This is a major step forward! Train booking site www.loco2.com launched direct connectivity to Trenitalia's ticketing system on 3 March, allowing them to sell all of Trenitalia's cheap advance-purchase prices and issue e-tickets for all Trenitalia's trains. This comes on top of Loco2's direct connectivity to UK National Rail, SNCF in France, DB in Germany and Renfe in Spain. Although other ticketing agencies such as uk.voyages-sncf can sell tickets for Italy, Spain & Germany, they can often only sell expensive 'TCV' full-price tickets which have to be sent to you by post at extra cost, they can't access the relevant operator's cheap advance-purchase fares or issue print-at-home e-tickets. Using Loco2 you'll now be able to buy all your tickets from any station in Britain to any station in Italy, at the cheapest prices, with print-at-home or collect-at-station ticket delivery for every part of the trip, all in one place as one transaction. Until now, I have recommended booking only as far as Milan or Turin using Loco2, then switching to Trenitalia.com or Italiarail.com to buy a cheap advance-purchase e-ticket for the final leg from Milan or Turin to Florence, Venice, Rome or wherever. Connection to Trenitalia completes Loco2's connection the the 'Big Four', France, Germany, Italy & Spain. Loco2 is not yet a complete one-stop shop for all European train tickets (you still need to use www.oebb.at for cheap tickets from Vienna to Prague or Budapest, www.sj.se for cheap tickets from Copenhagen to Stockholm, www.cd.cz/eshop for cheap tickets from Munich to Prague, etc etc.) but It gives them 73% coverage of western Europe train ticketing and this is as close as anyone has yet coming to being one. And no, they're not a big Expedia-style corporation. The two British entrepreneurs who have started Loco2 are regular train travellers just like us, who knew that train travel needs to become as easy as booking a flight!
Odds and ends this month...
The Prietenia overnight train from Bucharest to Chisinau in Moldova has been reduced from daily to 3 per week as of this month.
February 2015
Belgrade-Bar line finally reopened after 2014 flood damage
Flood damage has been blocking the northern part of the Belgrade-Bar line since May 2014, with the daytime train cancelled and the overnight train leaving earlier and diverted via Lapovo. I'm glad to say that as of 5 March 2015 the line seems to have been reopened and normal service has resumed, with both the daytime train and the overnight sleeper train now running as normal from Belgrade & Bar.
More bad news from the Baltics...
Major cutbacks in Latvia mean that the last 30km of the Riga-Valga rail route are replaced by a bus. In the Tallinn to Riga direction, the bus now leaves minutes before the train from Tallinn arrives. It's now impossible to travel between Riga and Tallinn by train. Is joining the EU the kiss of death to cross-border transport? I have added an update to the Latvia and Estonia pages.
Should Wroclaw be stripped of its 2016 European City of Culture status?
First the Berlin-Wroclaw-Krakow sleeper train got cut. Then the Berlin-Wroclaw-Krakow daytime EuroCity train Wawel got cut back to Berlin-Wroclaw. Then it disappeared completely in December 2014, a civilised train replaced by 5 hours strapped to a bus seat, as if Wroclaw was not a major city, but a remote village far distant from the European rail network. In a month or two, all Dresden-Wroclaw regional trains will be cut, unbelievably (a) leaving a 2km gap across the border between rail services on either side and (b) leaving Wroclaw with no direct trains whatsoever to or from Germany & the West. Can such a remote and inaccessible village possibly be European City of Culture 2016? Perhaps the title should be reallocated to a city people can actually get to... Wroclaw needs to wake up and reassert its need for proper links to the rest of Europe.
Paris-Moscow Express cut to weekly April-June, then 3 per week...
With the fall in the ruble and fewer travellers between Russia and the West, RZD has cut its flagship Paris-Moscow Express from 3-per-week winter, 5-per-week summer down to once a week April-June, then 3 times a week through the summer. The 3-times-a-week Moscow-Prague and Moscow-Vienna train has been knocked back to once a week April-June too.
Major cutbacks to Sicily train ferries from June? Update: Cuts now rescinded!
It's looking as if the Italian government will impose massive cuts in the train ferry across the Straits of Messina linking mainland Italy with Sicily. Both of the daytime InterCity trains between Rome, Naples & Palermo/Catania/Siracuse are likely to be discontinued, leaving just one overnight sleeper train running direct to and from Sicily via the train ferry. Very sad...
Update: Good news at last - it seems that this decision was rescinded yesterday, 17 February, and these trains have been saved. They'll continue to run!
Odds and ends this month...
The Thessaloniki to Belgrade train now leaves at 18:30, not 15:52, with arrival in Belgrade at 09:35 not 05:33. Pages now updated.
January 2015
New Russian sleeping-cars...
New Austrian-built sleeping-cars with 4-berth compartments went into service on the Paris-Moscow Express from 25 January (in addition to other cars) and the Warsaw-Moscow Polonez is exclusively made up of these new cars on the alternate days when it's the Russian's who provide the stock. See panorama photo inside one of these modern sleepers. I have updated the London to Moscow page and various other pages accordingly. The booking arrangements are interesting, as reported by excellent Polish booking agency www.polrail.com: Eastbound, these 4-bed sleepers only exist on the Polish reservations system as 2nd class 4-berth, so if you want dual or single occupancy you have to buy up multiple berths in one compartment. Westbound there's no problem, as the Russian reservations system is configured book these compartments as 1st class single, 1st class double or 2nd class 4-berth.
Sud Express engineering work on Sat & Sun until further notice...
The Sud Express from the French border to Lisbon is replaced by a bus between Irun and Medina del Campo on Saturday & Sunday nights westbound, Sunday and Monday mornings eastbound, due to work on the North of Spain high-speed line. Avoid those nights if you can! The Madrid-Lisbon Lusitania is unaffected. I have added a note to the London-Portugal page and sundry other pages.
The Pamukkale Express is back!
After having been suspended several years ago due to construction of the Istanbul-Ankara high-speed line, the Pamukkale Express is back from 19 January, running Eskisehir to Denizli (for the famous Pamukkale springs) overnight with sleeping-car with a high-speed connection from Istanbul. See the Train Travel in Turkey page,
Loco2 now selling Spanish train tickets online. Better than Renfe.com?
European train booking site www.loco2.com has now connected to Spanish Railways (Renfe) to sell Renfe trains at the same prices (give or take conversion into pounds) with the same print-at-home tickets as Renfe themselves, but in plain English without www.renfe.com's confusing English translations and its annoying habit of rejecting overseas credit cards. Not only does this mean it's now easier to buy Spanish train tickets for travel wholly within Spain, it means that you can now book from any station in the UK to almost any station in Spain at the cheapest prices, all in one place. It also means that journeys such as Paris to Malaga or Amsterdam to Alicante can also be booked as one transaction in one place, thanks to Loco2 also connecting to the UK, French and German ticketing systems and its ability to combine tickets sourced from each system. Previously, you had to book different parts of the journey in different places if you wanted the cheapest prices for each leg. I have updated most of the booking advice on the UK to Spain page, Train travel in Spain page, and on the 'International trains from...' pages for Barcelona & Spain, Paris, Brussels, Amsterdam, Cologne and so on. Now, if they'd just connect to Trenitalia...
Thello adding two more Milan-Genoa-Nice trains from 12 April...
Thello launched a Milan-Nice-Marseille train in December, the times for their two additional Milan-Nice trains from 12 April are now available, so I have updated the 'trains from...' pages for Nice, Milan, Venice, Florence, Rome & Naples.
New Jubilee Express train in Zambia...
A new weekly express train with sleepers has been introduced between Livingstone, Lusaka, Kapiri Mposhi and Kitwe, see the Zambia page for times, fares & photos.
Tazara international trains restored...
Direct Dar es Salaam to Kapiri Mposhi international trains are running once more, as of 30 December. The change of train at the border implemented in August is now thankfully just a short-lived failed experiment. They system then ground to a halt with a strike, but as of 18 January the route is now open and running again.
Odds and ends this month...
Eurostar will now take bikes to and from Lille, previously they didn't. Biking by train page updated.

Tallinn-St Petersburg daily train cut back to twice a week only as from 15 February. See the Estonia page.

The Paris-Moscow Express will also convey brand new Austrian-built 4-berth sleepers from 25 January. See panorama photo inside a 4-berth sleeper.

Budapest-Ljubljana trains are now bookable online from just 19 euros, International Trains from Budapest page updated accordingly.

In Burma, the recently-introduced tourist train on Saturdays from Rangoon to Kyaikto using Japanese carriages seems to have stopped running due to lack of passengers. You'll now have to use the regular daily trains.
December 2014
South Africa cuts: No more trains to Messina or Komatipoort
There have been two more casualties in the round of cuts in Shosholoza Meyl trains in South Africa. All remaining trains between Jo'burg & Komatipoort (for Maputo in Mozambique) and Messina (for the Zimbabwe border) have been cut. When is the best time for a visit to South Africa? Thirty years ago, when it all worked!
New: Two daily Istanbul-Konya high-speed trains...
From 18 December 2014, two daily high-speed YHT trains started running from Istanbul (which until the engineering work is completed, means Pendik, some 25km east of Haydarpasa) direct to Konya in 4h15. Istanbul to Konya used to mean a lengthy overnight sleeper train journey - it can now be done in just over 4 hours, as a day trip from Istanbul! Details are now on the Turkey page.
Hanoi - Beijing changes...
It seems the twice-weekly Beijing-Dong Dang through train with its Vietnamese metre-gauge connection to Hanoi has been discontinued, in favour of putting passengers on the main Beijing-Nanning domestic train then letting them use the Nanning-Hanoi sleeper train, which seems to have reduced from daily to twice a week. Details now available on the Vietnam page.
Russia cancels train to/from Ukraine, Kazakhstan, Azerbaijan...
Have a look at this report from TASS: http://itar-tass.com/en/russia/765766 . Although it now seems Kiev-Moscow trains will remain, run with Ukrainian rolling stock, and only unprofitable trains will be discontinued on other routes, with Moscow-Kazakhstan direct trains unlikely to be affected and some through cars between Moscow and Azerbaijan still provided.
Online booking for Vietnamese trains...
DSVN have launched online booking for trains in Vietnam. It's currently only in Vietnamese, but looks easy enough to use with a little help from Google Translations. It's not yet proven that it will accept overseas cards, feedback would be appreciated!
Timetable change across Europe, 14 December...
As every year, the timetable changes on the second Sunday in December. Bookings for dates after the change for German trains opened 14 Oct, bookings for French trains will open 16 Oct, many Italian high-speed trains are already open but other Italian trains and many eastern European trains may not open until early November. Highlights (and lowlights) of the new timetable include:
Withdrawal of the Paris - Berlin/Munich/Hamburg City Night Line sleeper. Major news!

Withdrawal of all City Night Line sleepers to or from Copenhagen (this in fact happened from 1 November). I have re-written all journeys to and from Scandinavia as necessary, usually with overnight stops in somewhere like Hamburg.

Amsterdam/Cologne to Warsaw/Prague CNL/EN will start at Oberhausen via Cologne, and will no longer start from Amsterdam.

Hourly direct InterCity trains will be reinstated between Brussels & Amsterdam, finally returning the situation before the Fyra fiasco. I have therefore reinstated the Eurostar+IC timetable between London & Amsterdam, in addition to the Eurostar+Thalys one.

New TGV-Lyria Lille-Geneva service starts, allowing London-Geneva in 6h18 with one easy same-station change: see the Switzerland page.

New Vienna to Belgrade daytime train starts. However, as no cheap tickets are available online, you still need to leave Vienna on an earlier train to Budapest using a cheap ticket bought at www.oebb.at, spend an hour collecting your Budapest-Belgrade ticket bought at www.mav-start.hu from the ticket collection machine in Budapest, then travel on to Belgrade.

Second Budapest-Belgrade daytime train reinstated. But it will come through from Vienna and will by-pass Budapest Keleti, calling at the secondary Budapest Kelenfold station, the Hungarian equivalent of Kensington Olympia.

New Milan - Nice - Marseille Thello train starts, with two more Milan-Nice trains in the pipeline.

Vienna-Prague EuroCity trains become new Czech Railjets with faster schedules, just 4h11 instead of 4h50.

New EuroNight sleeper train to be introduced from Budapest to Sofia, details to be confirmed.

The existing Cologne-Vienna EuroNight sleeper will start from Dusseldorf (but still serve Cologne) and carry cars as well as passengers.

The Vienna-Venice EuroNight sleeper will use Vienna Hauptbahnhof & Meidling, not the Westbahnhof and many other trains including Vienna-Prague trains, the Vienna-Venice day train and Railjets on the Salzburg-Budapest artery will use the new Vienna Hauptbahnhof.

In Romania, all the international trains between Budapest and Bucharest now seem to by-pass Sighisoara.

Budapest-Moscow Tisza withdrawn, but new Budapest-Lviv-Kiev connection, by day train between Budapest and Lviv.
Odds & ends this month...
I've just come across a couple of sites in India that claim to predict how likely it is that your WaitListed ticket will be confirmed, or indeed whether you should buy a given WL numbered ticket on a given train, based on historic data. I have added these to the India page as it's a question people ask regularly.
November 2014
Eurostar simplifies fares & cuts the one-way fare to £34.50...
Eurostar has simplified its fares. London to Paris or Brussels is no longer £69 return, but £39 one-way. Now the one-way fare is sensibly half of the round trip fare, at £34.50. And there are no longer two fares for every class, one cheap but no refunds, no changes, the other expensive but refundable. Now there's just one fare for each class on any given train, all fares can be changed for a fee plus any difference in price, and all fares (as with many budget airline fares) are non-refundable. Overall, I think this is a great step forward.
Train cutbacks in South Africa...
The excellent Premier Classe trains between J'burg and Port Elizabeth, and Jo'burg and Durban, have been discontinued, leaving just the Cape Town - Jo'burg route. Shosholoza Meyl tourist sleeper trains have been cut back to just twice a week, on Fridays and Sundays, on those routes as well. I do wonder what they're up to - in SA, it does seem as if the lunatics are in charge of the asylum.
That's all Folks! End of sleeper trains to Copenhagen...
No more City Night Line sleeper trains between Copenhagen and Cologne, Amsterdam, Switzerland or Prague. It seems Denmark isn't important any more - DFDS withdrew the ferry from the UK to Denmark in September, after almost 140 years of operation. Journeys from London to Copenhagen, Stockholm, Gothenburg, Oslo and so on all now require an overnight hotel stop somewhere like Hamburg. Journey times are extended, and the price goes up. I've edited the site as best I can to remove all references to these withdrawn sleepers, but do tell me if I've left in a reference to the sleepers to Copenhagen somewhere. After being an integral part of all long-haul overland travel to Scandinavia for so long, it's difficult to disentangle all the information for the brave new stopover-in-Hamburg world. And if you still haven't heard, the sleeper train between Paris and Berlin, Munich & Hamburg will disappear into history from the timetable change in mid-December. What's Europe coming to?
Timetable change across Europe, 14 December...
As every year, the timetable changes on the second Sunday in December. Bookings for dates after the change for German trains opened 14 Oct, bookings for French trains will open 16 Oct, many Italian high-speed trains are already open but other Italian trains and many eastern European trains may not open until early November. Highlights (and lowlights) of the new timetable include:
Withdrawal of the Paris - Berlin/Munich/Hamburg City Night Line sleeper. Major news!

Withdrawal of all City Night Line sleepers to or from Copenhagen (this is actually happening earlier, around 1 November).

Amsterdam/Cologne to Warsaw/Prague CNL/EN will start at Oberhausen via Cologne, and will no longer start from Amsterdam.

Hourly direct InterCity trains will be reinstated between Brussels & Amsterdam, finally returning the situation before the Fyra fiasco.

New TGV-Lyria Lille-Geneva service starts, allowing London-Geneva in 6h18 with one easy same-station change.

New Vienna to Belgrade daytime train starts.

Second Budapest-Belgrade daytime train reinstated.

New Milan - Nice - Marseille Thello train starts, with two more Milan-Nice trains in the pipeline.

Vienna-Prague EuroCity trains become new Czech Railjets with faster schedules, just 4h11 instead of 4h50.

New EuroNight sleeper train to be introduced from Budapest to Sofia, details to be confirmed.

The existing Cologne-Vienna EuroNight sleeper will start from Dusseldorf (but still serve Cologne) and carry cars as well as passengers.

The Vienna-Venice EuroNight sleeper will use Vienna Hauptbahnhof & Meidling, not the Westbahnhof and many other trains including Vienna-Prague trains, the Vienna-Venice day train and Railjets on the Salzburg-Budapest artery will use the new Vienna Hauptbahnhof.

In Romania, all the international trains between Budapest and Bucharest now seem to by-pass Sighisoara.

Budapest-Moscow Tisza withdrawn, but new Budapest-Lviv-Kiev connection, by day train between Budapest and Lviv.
Odds & ends this month...
In Estonia, the second Tallinn-St Petersburg train running two days a week is withdrawn, leaving just one daily train. It's reported that with passengers to Russia down 40%, GoRail are considering complete withdrawal of both the Tallinn-St Petersburg and Tallinn-Moscow trains, cutting off Estonia from Russia.

On the Trans-Siberian there have been some timetable changes. The Trans-Mongolian Express now leaves Beijing three hours later, at 11:22 vice 08:05, arrival in Moscow un changed.
October 2014
Venice Simplon Orient Express!
I'm delighted that thanks to a press trip from London to Paris on the VSOE arranged by www.railbookers.com last week, I've been able to dramatically improve, re-write and extend the Venice Simplon Orient Express page with new photos and information about this classic train.
Problems with trains from Moscow to Belgrade, Sofia, Budapest...
News just in, RZD (Russian Railways) has halted all trains to the Balkans. Details here: www.europebyrail.eu/russia-suspends-direct-rail-services-to-balkan-region.
Sri Lanka opens line all the way to Jaffna......
The line to Jaffna in northern Sri Lanka reopened this week. Times now shown on the Sri Lanka page.
New high-speed trains link Beijing with Guilin & Nanning in a single day.
The opening of the Hengyang - Liuzhou high-speed line has allowed two direct high-speed G-category trains to link Beijing with Guilin & Nanning in a single day for the first time ever. The classic sleeper trains take over 24 hours! Details on the China page.
Odds 'n ends this month...
New photos of the Moscow-Vladivostok 'Rossiya'... This train seems to have had not one but now two makeovers since I used it in 1998. I'm indebted to Hilary Onno, David Smith and Yves Goovaerts for the photos which have allowed me to illustrate the exterior, 1st class 2-berth, 2nd class 4-berth and restaurant car as they are now.

Russia goes back an hour from 26 Oct 2014. Moscow is now GMT+3 all year, they changed their minds about GMT+4 after some dark winter mornings.
September 2014
I've added a Paris to Nice by train page, as this is a popular route, with much airline competition and I thought it was overdue for its own page! As ever, comments welcome.
End of the DFDS Harwich-Esbjerg ferry after 140 years...
As previously reported, after 140 years, DFDS ended all ferry service between the UK and Denmark on 29 September, see the Denmark page. Ironically, the EU's new low-sulphur fuel laws for ferries have helped kill it, part of their apparent shift2air policy. A sad loss. Incredibly, there are now no passenger ferries at all between the UK and anywhere in Scandinavia.
Bookings for dates after the European timetable change on 14 Dec...
A new timetable starts all across Europe from 14 December. As usual, the 90-day booking horizon will be squeezed to as little as 60 days. Bookings for dates after 14 Dec for trains to, from or within France are expected to open 16 October, for trains to, from or within Germany probably 14 October. 80% of Italian high-speed trains are already open until January (isn't it amazing what a little competition from Italo can do!) but the rest (based on previous years) probably won't open until early November.
Russia switching from GMT+4 to GMT+3 in October...
Russia abolished Daylight Saving Time on 2011 and switched to GMT+4 all year. They have now changed their minds as they don't like the dark mornings, and will switch again, to GMT+3 all year, as from 26 October.
New Thello Milan-Nice-Marseille train from 14 December...
At last some good news. Thello (a consortium of Trenitalia and whoever Veolia are calling themselves this week) will start a daily direct Milan-Genoa-San Remo - Monte Carlo - Nice - Cannes - Marseille train using Frecciabianca stock from the timetable change on 14 December. It offers a connection out of Eurostar's planned London-Marseille train. London to Monte Carlo, San Remo or Genoa with 1 change and no need to cross Paris, anyone?
Eurostar's new direct London-Lyon-Avignon-Marseille service from May 2015...
Provisional details of the days of running and timings for Eurostar's new London-Marseille service are now shown here.
New video tutorials...
You'll start seeing various video tutorials around the site, helping people use booking sites such as Renfe, Loco2, Trenitalia and Bahn.de/en to buy tickets. You can see the full set on the Seat61 YouTube Channel. I was undecided whether these were helpful reassurance, or an unnecessary sledgehammer to crack a nut. However, feedback so far suggests people find them a useful reassurance.
New video: Beijing to Shanghai by high-speed sleeper train
The second of two new videos from China is now live on the Beijing to Shanghai page.
Latest on major City Night Line cutbacks planned for Nov/Dec...
It still looks certain that all German City Night Line sleepers trains to and from Copenhagen will cease from 1 November. The Paris to Berlin/Hamburg/Munich sleeper train will also be cut from December, and the Amsterdam to Prague and Warsaw sleeper will be cut back to run Cologne-Warsaw/Prague only, with separate connections from Amsterdam. Amsterdam to Munich/Zurich will remain, as will other CNL sleeper trains between Germany and Switzerland & Italy.
Odds 'n ends this month...
Revised timetable in Vietnam. They tweaked their Reunification timetable in Vietnam on 4 September, page now updated with the new times. There are no major changes, just times shifted slightly, including less eye-wateringly early arrivals in Saigon and in Hanoi for the SE1/2/3/4.

Vienna to Prague: I've spotted that tickets bought at the Czech Railways website www.cd.cz/eshop can now be used in either direction to or from Austria, as well as Germany. This is important, as Vienna to Prague starts at €29 booked with the Austrians but only €19 booked with the Czechs. So now it's a no-brainer to book in either direction with the Czechs. Booking instructions on the International Trains from Vienna page updated accordingly.

Nice-Italy: I've added instructions for buying the Nice-Ventimiglia part of a Nice-Italy or Italy-Nice journey online at the Paca TER website and printing it out. It's not necessary, as you can always buy a ticket at the station on the day, but it saves time at the ticket office and saves a euro fifty, as it's 6 euros online, 7.50 euros at the station. With Ventimiglia to Venice (for example) costing as little as 28 euros with a super-economy advance-purchase fare from trenitalia.com, it's a very inexpensive (and scenic) way to travel between Nice and Italy. It's just a shame that in today's fragmented rail industry you have to split the booking!
August 2014
New video: Shanghai to Beijing, 824 miles in 4h55
As promised, the first of two videos is now live on the new Beijing to Shanghai page.
I've added a page explaining the train times, prices, classes, boarding procedures of the Beijing-Shanghai train journey, both by sleeper and high-speed train. Videos will follow... I've also updated and extended the general Train Travel in China page considerably.
Reprieve for Tazara - sort of...
They are still going to cut the Tazara service in half, but there will no longer be a 121km gap between Tanzanian and Zambian trains. Both trains will at least now connect at Nakondé. Details in the Tazara section.
Major City Night Line cutbacks planned for November/December...
It now looks certain that all German City Night Line sleepers trains to and from Copenhagen will cease from the timetable change in mid-December (update - now probably 1 November). The Paris to Berlin/Hamburg/Munich sleeper train will also be cut from December, and the Amsterdam to Prague and Warsaw sleeper will be cut back to run Cologne-Warsaw/Prague only, with separate connections from Amsterdam.
A seat61 trip to China...
I visited Beijing and Shanghai in early August, so watch out for an improved China page and videos of the Beijing-Shanghai sleeper journey and a Shanghai to Beijing journey by G-category high-speed train. 819 miles in 4h55!
Odds 'n ends this month...
Burma/Myanmar: New e-visa service launched from 1 September, Burma page country info updated accordingly.

South Africa: From October, if you are entering SA with children under 18, you may need to show their full birth certificate under new entry rules. Warning placed in country info section on South Africa page.

Lithuania page: I've added an account & photos of travel to Lithuania by ferry thanks to traveller Lewis Baston.

Trans-Siberian: Sakaiminato in Japan, where the ferry from Vladivostok arrives, is now a Japan Rail Pass exchange station. So Trans-Siberian Travellers can start using their pass at the town where the ferry arrives, without having to buy a ticket to the nearest big city. I never thought that would happen!

Cornwall by sleeper: It seems that the Volo on-demand TVs have been removed from the single-berth sleepers, page updated accordingly.

Munich to Ljubljana & Zagreb: Annoyingly, when you de-select 'bus' as a means of transport, DB's new IC Buses still show up in the search results. Took me a while to have a brainwave - buy putting 'Kranj' in the 'via' box it eliminates all the buses from the search results, making the proper trains much easier to see. Links to bahn.de on the Slovenia and Croatia page have been revised accordingly.
July 2014
Istanbul-Ankara high-speed trains from 26 July...
They said 29 May, but cable theft delayed things. Then it seemed high-speed trains may start running from Pendik, 25km east of Istanbul, to Ankara from 5 July. But now it's been delayed again until 11 July, due to the Minister's ill health, or so they say. NOW it looks as if the formal opening will be 25 July, with public service of 6 trains a day each way starting next day. Details of this proposed service are now posted on the Train Travel in Turkey page.
Tazara train service to be cut in two?
In a press release issued on 4 July 2014, Tazara officials appear to announce that Tazara's Dar es Salaam to Kapiri Mposhi passenger service will be cut in two either side of the Tanzania/Zambia border, with one service operating between Dar es Salaam & Mbeya and a separate Zambian service running between Nakonde & Kapiri Mposhi, with a trainless gap of some 121 km between them across the border where passengers will have to find alternative transport. Further details are not yet available, but the Tanzania & Zambia page will be updated when the situation becomes clearer.
Alcohol restriction on Thai stations and trains from 11 July....
A beer in the restaurant car or bought from a vendor on a 3rd class train from the Cambodian border - another of life's small pleasures gone. State Railways of Thailand have banned the sale & consumption of alcohol from 11 July as a knee-jerk reaction to a specific incident. A private 1st class sleeper and locked door may be the answer!
The Trieste tram is back in action!
The wonderful historic tram from Trieste to Villa Opicina on the Slovenian border is back in action after a long period of closure for refurbishment. The formal reopening was on the 11 July, with public service due to resume some days later. It's the only tram in the world to become a funicular as it climbs the steep escarpment out of Trieste. It forms part of an excellent way to get from Venice & Trieste to Ljubljana and Zagreb without using a bus, see this page for details & photos of the tram. It's just unfortunate that the Sezana-Ljubljana line in Slovenia is currently STILL bus-replaced following extensive damage to the line and its overhead wires last winter.
Kazakhstan visa-free for trial period, 15 July 2014 to 15 July 2015...
Kazakhstan no longer requires UK nationals to get a visa for stays of up to 15 days, at least for a trial period from 15 July 2014 to 15 July 2015.
Mongolia goes visa-free for UK citizens, at least until Dec 2015.
UK & many EU citizens can now enter Mongolia visa-free for up to 30 days for business or tourism from now until 31 December 2015, under a trial arrangement agreed by the Mongolian government.
Odds 'n ends this month...
Lithuania: With the Warsaw-Vilnius rail line blocked until 2015, and a 9-hour bus journey the only obvious alternative, I've added to less-obvious alternatives to avoid that! Warsaw-Vilnius using train to Bialystok, overnight stop, bus to Kaunas for the frequent trains to Vilnius; and London to Vilnius by train to Germany then the Kiel-Klaipeda ferry. See the Lithuania page.

Copenhagen, Stockholm, Oslo: I've added daytime train options with overnight stops where necessary between all major European cities and these Scandinavian cities, in preparation for the likely withdrawal of the City Night Line sleeper service to Copenhagen.
June 2014
New video: Vienna to London by train in a single day...
Well, the title says it all - check out the new video here. Taken on my return from the Amadeus Rail conference in Vienna. More videos have now been added as well, see my YouTube channel...
End of City Night Line sleepers to Copenhagen in December?
It now looks almost certain that all CNL sleeper trains between Copenhagen and Amsterdam/Cologne, Basel & Prague will cease from the timetable change in mid-December. Coupled with the end of the century-old Harwich-Esbjerg DFDS ferry in September, Scandinavia will become (like Madrid & Andalusia last December) a place you can only reach with an overnight stop, negating the saving of the Channel Tunnel and high-speed rail.
Odds 'n ends this month...
Malaysia: It seems that a large part of the Jungle Line (Gemas to Gua Musang, en route to Khota Bahru) will be closed for repairs for an uncertain period as from August. I have placed a warning in the Jungle Line section of the Malaysia page.

Montenegro: The scenic Belgrade-Podgorica-Bar line is still blocked by flood damage. The daytime train is cancelled, and the night train diverted via Lapovo adding several hours to the journey. I have no idea if normality will return tomorrow or next week or next year, although I've been trying to avoid having to provide 'real time' information when it's frankly more than one person can manage, after several emails about it I've added a warning to the Serbia & Montenegro page. The warning will probably still be there in two years' time, long after the line has reopened - putting up warnings is one thing, knowing when they can come down again is actually far more difficult! Do please email me if you hear that there has been any progress!

UK-Ireland page overhauled. I've revised the London to Dublin page to make things clearer and reduce duplication.

Paris-Barcelona TGVs: It seems two of the four Paris-Barcelona TGVs are not going to run all year round, but will cease after 1 September. The London-Spain and Paris-Barcelona pages have been amended accordingly.

Bosnia: Some good news, the Zagreb-Sarajevo line has been reopened after flooding, contrary to initial reports that it could take months.

Indonesia: A new timetable was introduced from 1 June, which is now reflected on the Indonesia page.
May 2014
Eurostar to offer all-year direct train London-Lyon-Avignon-Marseille from 2015...
It's reported that after a successful trial in 2013, Eurostar will expand their long-standing summer-Saturdays London-Avignon train, offering an all-year-round direct Eurostar from London to Lyon, Avignon & Marseilles. Timings are likely to allow a weekend away in Lyon or even Avignon.
New Caledonian Sleeper franchise: New carriages, new classes...
Serco has been awarded the 15-year franchise to run and revitalise the Caledonian Sleeper franchise, running sleeper trains between London and Scotland. They will order 72 new cars from CAF to equip the two nightly 16-car trains in each direction from summer 2018, and the new trains will include business class sleepers with en suite toilet and shower, flatbed pods, and cradle seats. One report refers in passing to standard sleepers without the en suite. There will also be a 'brasserie-style' lounge car. See www.bbc.co.uk/news/uk-scotland-scotland-business-27599963.
Flooding in Bosnia & Serbia
Floods have damaged the routes between Belgrade & Bar, Zagreb & Sarajevo, Belgrade and Nis/Sofia /Thessaloniki. I expect the Zegreb-Sarajevo line will be out of action for some time, as Bosnian Railways have appealed for help to fix it, they haven't the resources to do it on their own. Last week, Belgrade-Bar trains were getting through, but diverted via Lapovo, taking several hours longer! As always, it's easy to find news that flooding has happened, less easy to find news of what's currently happening and difficult to find news that the flooding is over, as this isn't considered news. I won't try and keep up with 'real time' issues on seat61, but check on the relevant railway operator websites if you're heading that way.
International trains to Greece are back!
All international trains to and from Greece were cancelled in February 2011 due to the Greek government's dire financial straits. I'm pleased to say that from today, 10 May, two international trains resume, and overnight one from Belgrade to Thessaloniki and a daytime one between Sofia and Thessaloniki. The London & Paris to Greece page has details as do the trains from Greece, trains from Sofia and trains from Belgrade pages.
End of the DFDS Harwich-Esbjerg ferry after 140 years...
After 140 years, DFDS have announced that all ferry service between the UK and Denmark will end in September, see the Denmark page. Ironically, environmental laws for ferries have helped kill it. A sad loss.
Odds 'n ends this month...
London-Geneva with 1 easy change in Lille from December: TGV-Lyria plan a direct Lille-Geneva TGV on Mon, Thurs, Sat & Sun from 14 December 2014, with easy same-station connection from London. No need to cross Paris! Details are on the Switzerland page.

Indonesia: Train booking appears to have been extended from 30 days ahead to 90 days ahead.

Bikes on trains in France: Captaintrain.com will now book the €10 bike spaces on those TGVs and Intercités which allow it. Previously bikes had to be booked by phone, see the Bikes by train page.

Prague-Krakow sleeper train online booking: CD & PKP have decided not to offer any cheap advance-purchase fares for this train in June, July, August & part of September 2014, as they can fill it at the (still inexpensive) regular full-price. Unfortunately, as the CD website can only sell the special cheap fares, not regular full-price fares, this means you won't be able to book online for departures in this period. So book by phone instead or in person at the station. I've put a note on the relevant sections.

Cameroon: Reports of a new improved InterCity train service between Douala and Yaoundé from May 2014, www.railwaygazette.com/news/passenger/single-view/view/camrail-launches-yaounde-douala-intercity-express.html
April 2014
Save money on British train fares by split-ticketing...
Independent UK train ticket retailer www.raileasy.com has created a new journey planner to see if buying multiple tickets will save you money over buying one through ticket ('split-ticketing) - just click 'split ticketing' top right. The system shows what the saving is, and allows you to click and buy all the suggested tickets as one transaction, just as easily as buying one ticket. It works very well with off-peak and anytime fares, ideal to save money over expensive long-distance train fares if you have to travel at short notice, although it doesn't seem to show up as many split-ticket options with cheaper advance-purchase fares. Give it a go! See the 'Split-ticketing' section on the Train Travel in Britain page.
Ankara-Istanbul high-speed trains from 29 May?
It's possible that YHT high-speed trains will finally start running between Ankara and Pendik, a suburban station 25km east of Istanbul, from 29 May.
Cheaper locals-rate train fares in Burma?
It's reported by several travellers - but not, it seems, confirmed anywhere online - that the Burmese government has stopped charging higher US dollar train fares to foreigners. Visitors can now pay the same rate as locals, and in local currency (in other words, kyat). A Rangoon-Mandalay ticket which was $30 might now be the local-currency equivalent of $17. Feedback would be appreciated if you're heading to Burma!
Update on restored trains to/from Greece...
The Greek government ended all international rail service to or from Greece in 2011. However, it's now looking as if two trains will be restored from 10 May 2014, an overnight Belgrade-Skopje-Thessaloniki and a Sofia-Thessaloniki, both with train connections to/from Athens. Proposed fares and times are on the relevant parts of the London-Greece page and the International trains from Sofia, Belgrade and Athens pages. See this news report (you can translate from Greek using Google Chrome): www.imerisia.gr/article.asp?catid=26510&subid=2&pubid=113250552.
Restored European Rail Timetable sells out in its first month...
It seems that copies of the first edition of the reborn ex-Thomas Cook European Rail Timetable sold out in March, its first month. Order your April edition now! www.europeanrailtimetable.eu.
Odds 'n ends this month...
March 2014
Problems with online booking, SailRail tickets via Stena Line's Belfast-Birkenhead ferry...
Stena Line used to offer online booking for the excellent SailRail tickets between Belfast and cities such as London, Birmingham & Manchester, using their own ferry reservation system on their own website, where it was easy to add the necessary cabin reservation. I booked my family & I from Belfast to London that way myself last year. But now, if you go to www.stenaline.co.uk/ferries-to-ireland/rail-sail it tries to farm you out to thetrainline.com, a rail industry retailer without access to the Stena Line reservation system and unable to reserve the necessary cabin. Several seat61 correspondents have tried to call Stena Line after buying a ticket at thetrainline.com to add a cabin, but it seems Stena cannot add a cabin to a booking which has been made on the rail industry reservations system to which they don't have access. One traveller complained, and to their credit Stena's customer car department did eventually sort him out with a cabin. Since most people want a cabin on this route, certainly on the overnight crossing, this has effectively rendered online sales useless for the overnight Belfast-Birkenhead route. Worse, the phone number given on that page of the Stena Line website is thetrainline's number, which is equally useless for booking a SailRail ticket with a cabin on this route. The solution is to ignore what the Stena Line website says and call Stena Line's 'real' SailRail telesales number instead (08445 762 762) which is not mentioned on that page of their site at all, but on which the helpful Stena Line staff will sort you out with a great value SailRail ticket between Belfast and London or any other rail station in Britain via their Belfast-Liverpool (Birkenhead) ferry, complete with that mission-critical cabin reservation! This up to date advice about booking this route is now at www.seat61.com/NorthernIreland.htm#How_to_buy_tickets.
Greece to be reconnected to mainland Europe at Easter?
If it happens, it's wonderful news. The Greek government discontinued all international trains to and from Greece back in 2011, leaving Greece cut off. But there are now credible rumours that a Belgrade-Thessaloniki train will resume, at least June-September or possibly daily all year from 25 April onwards. The recently-discontinued Budapest-Sarajevo train and two Zagreb-Belgrade trains may also resume from the timetable change in December 2014. I'll keep this post updated, as well as showing details on the London to Greece page.
Thomas Cook Timetable reborn...
The first edition of a reborn European Rail Timetable is now on sale, www.europeanrailtimetable.eu.
Odds & ends this month...
Channel Islands: I've had a report that combined train & ferry tickets from any station in Britain to the Channel islands are no longer available. The fares are still in the rail ticketing system, according to station staff, but Condor Ferries are allegedly refusing to continue making reservations. I am investigating...

France pulled out of being one of the Eurail Selectpass countries in January 2013 (so France couldn't be one of the 2 or 3 chosen countries on a Eurail Selectpass, even though it remained included in the Europe-wide Eurail Global Pass) but it'll once more be a Selectpass option country from April 2014.

No more bistro cars on City Night Line sleeper trains from 1 April CNL will cease providing bistro cars on those relatively few trains that still have them, from 1 April 2014. The sleeper train from Paris to Berlin & Munich swapped its bistro car for an extra sleeping-car and couchette car to reinstate a Paris-Hamburg connection a couple of years ago. From memory the only sleeper train on an ex-UK route that had a bistro car (and then only on the Hamburg-Copenhagen section) was the one to and from Copenhagen. I have not yet seen this report confirmed, but I'm 90% sure it's true, and have removed reference to the bistro car on the Amsterdam/Cologne - Copenhagen sleeper.

Warsaw-Vilnius: Looks like the trackwork which is blocking this route could go on until July 2015, in spite of hopes that trains would resume in April 2014. Updates will be posted on the Lithuania page.

Bikes & London-Amsterdam Dutch Flyer: Stena Line will no longer let people using Dutch Flyer combined train & ferry tickets add a bike to the booking, neither online nor in a phone call - allegedly, train companies complained about too many people taking bikes. You now need to buy separate ferry and train tickets, instructions for taking your bike on the Dutch Flyer service are now updated here.
February 2014
Barcelona-Granada trenhotel to continue running...
Bookings for this train suddenly stopped in late February, and it was assumed this sleeper train was being discontinued. Bookings have now suddenly opened until late April. A reprieve, or wasn't it really threatened in the first place, just Renfe being appalling at opening reservations far enough in advance? Who knows? However, with an earlier 20:00 rather than 22:00 departure from Barcelona, it no longer connects off the afternoon TGV from Paris.
Voucher code: 10% off Eurostar fares from 31 Jan to 28 Feb...
I have access to a voucher code that'll get you 10% off any class of Eurostar ticket booked between 31 January and 28 February 2014 at the Belgian Railways site www.b-europe.co.uk. For details see the Seat 61 Eurostar page.
Eurostar starts selling through tickets to 6 German cities...
At www.eurostar.com you can now buy through tickets from London to Aachen, Cologne, Bonn or Dusseldorf from £49.50, London to Frankfurt from £79.50 and London to Munich from £97.50. Tickets are valid on the specific Eurostar you book, but are then valid on any onward ICE train from Brussels to Germany that same day. Seat reservation is not possible on the ICE if you book with Eurostar this way, but on the plus side you can stop off in Brussels and simply take a later ICE if you like, sitting in any empty unreserved seat. I'd still recommend checking prices for London Spezials at www.bahn.de (which can in theory get you to Frankfurt or Munich from €59) but when there are no cheap Spezials available these new Eurostar through fares could be just the ticket.
Paris-Barcelona TGVs from 31 March onwards...
Booking is now open for Paris-Barcelona TGVs from 31 March onwards, at least on Loco2 & Renfe as at 17 Feb, it should open on captaintrain & voyages-sncf.com on 25 Feb. It was hoped that the two daily services would increase to four from 31 March, but it now seems that it will become just 3 per day at this stage, as shown on the Paris to Barcelona TGV page.
December 2013
I've now added a video guide to French overnight couchette trains, see the Intercités de Nuit page.
I've now added a video to showcase the Barcelona-Paris journey by high-speed train, past the Pyrenees, along the Mediterranean and up the Rhone Valley, see the video on the Paris to Barcelona TGV page.
I travelled from Barcelona to Paris on the new direct TGV Duplex service on Monday 16 December, only the second day of operation. Spanish TV news crews were everywhere at Barcelona Sants! It was a remarkably interesting journey, arriving in Paris 3 minutes ahead of schedule. I've now improved the London to Spain page and the Paris-Barcelona TGV page with photos of the journey, showing what there is to see. I travelled out by Intercité de Nuit couchette train on the scenic route via Latour de Carol. Full details of overnight alternatives have now been added to the London to Spain page with photo of the scenic Latour route. It's also allowed a significant revamp of the Intercités de Nuit French overnight trains page.
Rail Europe Ltd (the UK Rail Europe, not to be confused with Rail Europe Inc in North America or Rail Europe 4A operating in Australia, Asia, Africa & S America) has re-branded as Voyages-sncf.com, uk.voyages-sncf.com. Is it now the same as www.voyages-sncf.com? Erm, no, not exactly. Although uk.voyages-sncf.com and www.voyages-sncf.com now appear identical (other than prices on the former being in pounds, of course), uk.voyages-sncf.com is powered by the original raileurope.co.uk booking engine, not by the main voyages-sncf.com engine. That means that there are small but significant functionality differences between them, although in theory prices are the same. For example www.voyages-sncf.com allows you to specify a 'via' station, very useful for finding journeys via Lille rather than Paris, it gives you a range of seating options including upper or lower deck on a TGV Duplex, table for four or table for two, and so on, and it sells the cheaper iDTGV trains on certain routes in France, whereas uk.voyages-sncf.com does not, it assigns your seat and you get what you're given. Click here for a comparison of features of each site selling French train tickets. If you want to use the main SNCF voyages-sncf.com website with prices in euros, you need to follow the advice here.
Direct Paris-Barcelona TGVs are GO from 15 December, with 4 trains per day from March!
It's now definite. The two daily Paris-Figueres TGVs will be extended to/from Barcelona as from 15 December, with fares from €59 each way. Southbound departures from Paris at 07:15 & 14:07 from 15 December to 30 March, from 31 March there will be 4 per day, at 07:15, 10:07, 14:07 & 16:07, see the Paris to Barcelona TGV page. Northbound departures from Barcelona will initially be 09:20 and 16:20, saving a few minutes over the current time. From 31 March there will be four departures from Barcelona to Paris, at 06:15, 09:20, 13:20 & 16:20. The new trains will go on sale by the end of November, for travel from 15 December onwards. The Elipsos trenhotels now seem certain to cease running from 15 December.
Timetable change on 15 December: The significant changes...
Major changes from 15 December include:
At last, a direct Vienna-Venice daytime train has been reinstated, via the direct and highly-scenic Semmering route, without the need to switch to an ÖBB-run bus at Villach. It will be a comfortable Austrian EuroCity train, although won't have a restaurant, just a minibar.

Direct TGVs have finally started between Paris and Barcelona, see the news item above. Direct AVEs between Barcelona and Lyon, Marseille, Toulouse have also started. More TGVs/AVEs are due to begin running from 31 March, including a direct TGV from Barcelona to Geneva.

Russian Railways have withdrawn direct sleeping-cars between Western Europe and Moscow, including Basel-Frankfurt-Moscow, leaving them to concentrate on their complete trains Paris-Berlin-Moscow and Nice-Moscow. Warsaw-Moscow is not affected. Vienna-Moscow & Prague-Moscow remain, and are speeded up, but reduced from daily to 3 times a week.

Thello Paris-Florence-Rome sleeper has been discontinued. The Paris-Milan-Verona-Venice sleeper remains, with connections at Milan for Florence & Rome.

Paris-Bern direct TGV-Lyria is diverted via Basel, saving 15 minutes. But Neuchatel loses it's direct train to Paris.

The Paris-Berlin/Munich/Hamburg City Night Line sleeper train has been re-routed via Strasbourg instead of Metz, not that this makes much difference.

Amsterdam/Cologne/Basel to Warsaw Jan Kiepura EuroNight sleeper train is now attached to a Berlin-Warsaw Express between Berlin and Warsaw, instead of running as a separate train. This means an hour or more later arrival in Warsaw eastbound, an hour earlier departure westbound, but at least it keeps it running.
Odds and ends this month...
Thalys have introduced luggage limits. Very generous ones, it's true, but the thin end of the wedge? Trains simply don't need such limits, they don't have to take off, no-one will weigh or measure your bags, and as access to the train is free, you just need to dodge the staff to take what you like. Why do they feel the need to do it?? Have they appointed a manager from the airline industry who really doesn't understand trains?

New section on facilities at Barcelona Sants station added to the London to Spain page, given that with the elimination of the Elipsos trainhotels and introduction of direct Paris-Barcelona TGVs, the whole axis for London-Spain or Paris-Spain journeys has shifted from via Madrid to via Barcelona, even when travelling to Seville or Malaga or Granada.

Turkey has announced that e-visas will become compulsory from April 2014. You'll no longer be able to buy a visa at the border.
November 2013
Sud Express & Lusitania lose their restaurant cars?
According to www.cp.pt, the Madrid-Lisbon and Irun-Lisbon trainhotels will lose their restaurant cars, relying on a cafe bar only. Preferente and Gran Clase fares will be reduced, and will no longer include dinner or breakfast.
Ice axes now OK on Eurostar.
In a welcome policy change, Eurostar now officially (as well as unofficially) allows ice axes on its trains: https://www.thebmc.co.uk/eurostar-confirms-change-of-policy-on-ice-axes
Details of new high-speed service to/from Barcelona now emerging...
It now seems that the France-Barcelona high-speed service will indeed start in earnest on 15 December. It now seems that the initial two trains a day between Paris & Barcelona will become 4 from the end of March 2014, see the newly-updated Paris to Barcelona by train page, and that the Spanish AVE high-speed trains between Barcelona and French cities will indeed also start running. From 15 December 2013, departures from Barcelona will look like this:
09:20 Perpignan, Narbonne, Montpelier, Paris 15:53.
10:28 Perpignan, Narbonne, Carcassonne, Toulouse 13:31
16:20 Perpignan, Narbonne, Montpelier, Paris 22:45
17:33 Perpignan, Narbonne, Montpelier, Lyon 22:24
18:32 Perpignan, Narbonne, Montpelier, Marseille 22:58
From 31 March 2014:
06:15 Perpignan, Narbonne, Montpelier, Paris 12:45.
07:29 Perpignan, Narbonne, Montpelier, Lyon 12:24
09:20 Perpignan, Narbonne, Montpelier, Paris 15:53
10:28 Perpignan, Narbonne, Carcassonne, Toulouse 13:31, with portion for Montpelier, Marseille 14:50, change for Nice.
13:29 Perpignan, Narbonne, Montpelier, Paris 19:53
14:29 Perpignan, Narbonne, Montpelier, Geneva 21:16, change for Bern, Zurich 00:33.
16:20 Perpignan, Narbonne, Montpelier, Paris 22:45
17:33 Perpignan, Narbonne, Montpelier, Lyon 22:24
18:32 Perpignan, Narbonne, Montpelier, Marseille 22:58, portion for Carcassonne, Toulouse.
Seat61.com now faster to load...
I've enabled Gzip compression (no, I didn't know what that was either, until a week ago) which compresses large html files for download by web browsers, I've switched various page components to asynchronous loading (so they don't hold up the loading of the main page info), I've removed a couple of slow-loading javascript items from every page. The result should be a website that's significantly faster to load, handy when many pages are necessarily larger than the average site. Will anyone notice other than subconsciously? I think I can tell the difference, but do let me know if you notice anything..
www.loco2.com have achieved a major step forward for train booking from the UK into Europe. On 12 November, they enabled booking from any British rail station, not just London. You can now book from any local British station to most European cities as one transaction. Their website combines a ticket to London International CIV (the type of ticket described here) with an onward ticket from London to western European destinations booked through the French or German ticketing systems. All your train times are worked out, with sufficient time to connect across London. And if your UK train is delayed, you're covered by the CIV International Conditions of Carriage, and are entitled to be carried forward on later train at no extra cost to you.
New Spirit of Queensland train starts, Brisbane-Cairns...
A new 100mph tilt train with innovative 'railbed' flatbed seats started running in Queensland from 28 October, see here for details & photos. It will replace the long-serving Sunlander from early in 2014.
Thomas Cook confirms agreement for European Timetable to continue...
See the Thomas Cook press release at www.thomascook.com/press-centre/thomas-cook-european-rail-timetable-lives-on. The first edition of the reborn European Rail Timetable is likely to be out in February 2014. The space to watch is www.europeanrailtimetable.eu.
October 2013
I've added a new Train Travel in Germany page to pull together the various bits of advice, including a central place for info on the various special regional train tickets such as the Schone-wockenende ticket and Lander tickets.
Raileurope.co.uk to be re-branded voyages-sncf.com in November...
In November, Rail Europe Limited (the UK Rail Europe, raileurope.co.uk) will be rebranded as voyages-sncf.com and amalgamated with the other European versions of voyages-sncf.com. However, at least initially it will be a re-branding rather than anything more. The UK version of voyages-sncf.com will still feature the same booking engine, and you'll need to use another version of voyages-sncf.com if you want to pay in euros and be offered seating options.
Expanding the site: European train info for non-UK journeys...
When I started seat61 10 years ago, I was primarily trying to fill the information gap for train journeys between the UK and mainland Europe. I've now decided to improve coverage of train travel between major European cities not involving the UK, for example, Amsterdam to key European cities, Paris to key European cities, Vienna to key European cities, and so on. I've now launched these new pages, and revised the site structure accordingly - see the new site map, and the revised Train Travel in Europe general page. Just bear with me, as the new city-by-city pages themselves are still a work in progress. You'll get an idea of what each should look like in the end by looking at the train departures from Amsterdam page which I think I've already got to a reasonable stage of completeness. On these pages, I won't be spoon-feeding detailed train times as I do on the UK-based pages, as the update workload would be too much, but I'll outline train train service with approximate times, and explain where to check current exact times and buy tickets. Which is really what's needed, I think.
Direct TGVs Paris-Barcelona at last, from 15 December???
If you run an enquiry on the French version of voyages-sncf.com, you'll see direct TGVs between Paris and Barcelona have been loaded on dates after the timetable change on 15 December, although they are not yet bookable. Assuming this isn't some test or glitch, it looks as if that's the date when these services will finally start. Fastest journey seems to be just 6h16 - compared to a total of 4 hours or more by air. It's not yet known what will happen to Elipsos after 15 December.
Paris-Florence-Rome Thello sleeper train withdrawn from December...
Thello have announced that with only 30% occupancy, they will withdraw their Paris-Florence-Rome sleeper from the December timetable change. I'm sure if they hadn't mis-managed it so badly, it wouldn't have got such bad reviews, and more people would have used it. They will instead offer integrated ticketing with high-speed daytime train connections to and from Milan - but do you really want to get up for a 05:38 arrival? The daytime Paris to Milan TGV trains get far better reviews (in fact, almost always very good ones!).
Timetable change on 15 December: When will booking open?
The winter timetable starts on 15 December 2013. Bookings for French trains for 15 Dec 2013 until 16 January 2014 opened on 17 October. Bookings for German trains appear to have opened on 14 October. Italian & Spanish trains probably won't open until late October or early November. The Jan Kiepura to Warsaw is always a problem train when timetable changes are concerned, as are Spanish trains. Just sit tight!
September 2013
Eurostar London to Amsterdam direct from Dec 2016...
Great news is that Eurostar is taking the plunge and will start 2 daily London-Antwerp-Rotterdam-Amsterdam trains from December 2016. Arrangements for border controls have not yet been decided, but the basic agreement with NS (Dutch Railways) has been signed and Eurostar will use its new e320 trains on this run. If DB start their three around the same time, there could be 5 trains daily. Journey time could be as little as 3 hours 55 minutes, centre to centre with a 30-minute check-in.
Elipsos & direct TGVs Paris-Barcelona, latest update....
Elipsos trains and the Paris-Figueres TGVs are now only open for sale up until 17 November, and indeed it's now confirmed that Elipsos sleeper trains to Madrid 7 Barcelona will run 3 times a week at least up to the 14 December timetable change. No, there's no more news on when exactly direct TGVs will start between Paris and Barcelona (and the direct Spanish AVEs between Barcelona and Lyon, Marseille, Toulouse), however, a report in this month's Today's Railways magazine suggests the delay could be as much political as technical, and direct TGVs may not now start until 2014. I'll post and tweet any news when I get it!
Regular visitors will notice I've switched to recommending Captaintrain instead of French Railways own site voyages-sncf.com. www.trainline.eu is a private website that has been allowed to connect to SNCF's ticketing system after SNCF lost an (unrelated) court case about anti-competitive behaviour. They sell the same tickets at the same prices as voyages-sncf, with the same lack of any fee and the same seating options. Captaintrain has started gaining popularity in France, but until recently their site was only in French. It's now been translated into English (indeed, I've helped them a bit with the translation!) and they've even started an affiliate scheme. As Captaintrain has no Machiavellian redirects to the various Rail Europes, and as voyages-sncf has started generating a string of 'it's rejected my credit card' emails from Americans and Australians, I've simply switched to Captaintrain - same prices as voyages-sncf, same e-tickets, same lack of any fee, no redirects, no need to select your country, no credit card problems, at least none so far except for iDTGV which is a separate issue. You need to register before using Captaintrain, but once registered it's faster to use than voyages-sncf. You'll find a table assessing the features and fees on each of the possible websites for booking French train tickets here.
I've teamed up with local quality T-shirt retailer More T Vicar to offer a range of seat61 T-shirts, see the initial range here. I'm donating commissions to the Unicef Syria appeal, www.unicef.org.uk/UNICEFs-Work/Emergencies/syrian-arab-republic-syria.
"Are budget airlines bad?" A 5-minute interview at The Guardian...
A 5-minute interview between me and transport correspondent Gwyn Topham of The Guardian: www.theguardian.com/commentisfree/video/2013/sep/02/budget-airlines-train-ferry-debate-video?CMP=twt_gu
Odds & ends this month...
Munich to Prague: I've added a Munich to Prague by train page not so much because this is a major branded train service, but because so (a) many people want to use this route yet (b) the information online is so poor, with many sites pushing people towards the competing (nastier but admittedly a bit faster) long-distance bus. DB's website won't sell the cheap Munich-Prague fares from €19, you need the Czech website for this (but of course it doesn't tell you this!) and it tries to put you on the Munich-Prague bus it runs in conjunction with Student Agency. So I thought I would try and do something about it.

Spain: I've made the Brittany Ferries section into a separate page, by cruise ferry to Spain. This will make it easier to find in searches and it will make the Spain page faster to load.

South Africa: Good news, it's reported that the Johannesburg-Komatipoort (-Maputo, Mozambique) and Johannesburg-Messina (Zim border) Shosholoza Meyl economy sitter trains have regained a sleeping-car, sleeper fare R250, see the South Africa train travel page.

Thailand: Trains replaced by buses between Uttaradit (485km from Bangkok) and Chiang Mai (751km from Bangkok) from 16 September to 31 October while 2.8bn baht of track improvement work is carried out. This will prevent any further derailments. Warning placed on the Thailand page.

Albania: It seems Tirana's rail station has been closed, and buses are temporarily replacing trains between Vorë and Tiranë, possibly until November or maybe longer, who knows? A new multi-modal station is being built, but so far no-one knows where... I've placed a warning on the Albania page. Feedback would be appreciated! Unbelievably the Albanian Railways website is now working again, www.hsh.com.al but obviously no current info on this situation, that would be far too much to hope for!

Trans-Siberian: I have been revamping the Trans-Siberian page, with extra photos of train 19/20, train 362, dining-car food, the Eastern Dream ferry from Vladivostok to Korea and Japan and more, thanks to seat61 correspondent David Smith. I have simplified and combined the how to book eastbound and how to book westbound sections into one how to buy tickets section, to reduce duplication.

China: I've been able to improve info about boarding trains in Beijing, thanks to seat61 correspondent Sunil Mehta - see the China page.

Portugal: Sud Express to Lisbon... In spite of it being a news item in the editorial of the Thomas Cook Timetable, and mentioned as a change in forums, and verified by timetable data at both renfe.com and bahn.de, feedback from travellers means I'm almost 99% certain that the Sud Express Irun to Lisbon was not in fact extended to start back in Hendaye, and so connect with the 12:27 TGV from Paris. However, it seems the 12:27 has been extended to Irun, so still making this connection, at least on dates when this 12:27 runs. The latest situation will be shown on the London to Portugal page.

Liechtenstein: A long-standing omission has been rectified, a Liechtenstein section has been added to the Switzerland page.

Ukraine: The London to Ukraine and Train Travel in Ukraine pages have been merged.
August 2013
New video! Belfast to London overnight!
I've now added a video guide to the Belfast-London overnight journey via Stena Line's Belfast-Liverpool ferry, on the Northern Ireland page.
New videos! London to Dublin, the civilised way...
After a recent trip I've added a video guide to the London to Dublin SailRail journey, on the London to Ireland page.
I've also added a video guide to the Dublin-Belfast Enterprise train, on the Northern Ireland page.
New timetable in Vietnam...
The Vietnam page now shows the new timetable which came in in June. The best SE1/2/3/4 trains are little changed, although good news is that the SE1/2 now calls at Binh Thuan, the mainline station for hopping in a taxi to/from the resorts of Mui Ne and Phan Thiet. The secondary trains SE5/6 and 7/8 have changed their times significantly.
Diré-Dawa to Djibouti train resumes?
It's reported that the Djibouti-Diré Dawa train has resumed running in the last few days, having been suspended since August 2010. Still no trains to/from Addis Ababa, though.
New page: Train travel in Cameroon...
Thanks to information supplied by traveller Iain Bisset, I've been able to add a Cameroon page. As ever, all feedback gratefully received!
Odds & ends this month...
Track work cancels Warsaw-Vilnius train service from 3rd September until the end of October. A warning has been put on the Lithuania page.

Accompanied children under 15 go free with tickets booked with German Railways at bahn.de. Someone suggested I should better highlight this amazing deal. So I've added this info to the relevant fares sections for journeys such as Munich-Vienna, Munich-Budapest, Munich-Verona, Berlin-Warsaw. Doesn't seem to apply to London Spezials though!

Left luggage page expanded with much more detail, with instructions on how to check left luggage facilities, costs and opening hours in various countries. Left Luggage page.

Trans-Siberian: Updated restaurant car meal and beer costs added for Russia, Mongolia and China, in the travel tips section.

Spain page: Suggested hotels in Barcelona added. This will become important if and when the sleeper trains to Spain are discontinued, as journeys to Seville, Malaga and so on will then require an overnight stop in Barcelona.

London-Moscow via Budapest: I've added this route to the London to Russia page, as many people want to avoid the hassle and cost of a Belarus transit visa by travelling south via Ukraine - as you no longer need a visa for Ukraine - and this whole journey can easily be booked online. I've left the London-Warsaw-Kiev-Moscow details, as this is still the better option if you want to stop off in Kiev (or in Warsaw, obviously!)

Australia: The Ausrail pass has been discontinued. This covered all operators, so you now need to buy a pass for the relevant operator, or regular tickets. More fragmentation!
July 2013
Flood aftermath causing re-timings & diversions for trains to Berlin...
If you're heading to or via Berlin, specifically on the Paris-Berlin City Night Line sleeper, Cologne-Berlin ICEs or Amsterdam-Berlin ICs, check times online at bahn.de/en. The City Night Line sleeper appears to be leaving Paris earlier, at 18:44 on weekdays (which obviously also affects carriages on the same train to Hamburg and Munich), and it seems to be diverted until further notice to Berlin Gesundbrunnen. I can't keep up with short-notice changes on this site, so do please check online before booking critical connections.
Seat61 recommended on US breakfast TV, CBS This Morning...
I was delighted that CBS This Morning recommended seat61.com all across America on US breakfast TV, see http://www.cbsnews.com/video/watch/?id=50150832n.
Paris-Barcelona direct TGVs in October, and end of the Elipsos trainhotels?
This report - http://www.altavelocidad.org/index.php/alta-velocidad/item/1466-renfe-y-sncf-pactan-un-nuevo-calendario-para-el-despliegue-de-los-servicios-internacionales - suggests that Renfe and SNCF have set a new date at the end of October for the start of direct high-speed trains between Paris and Barcelona, and the new trains between Barcelona and Lyon and Toulouse. It also suggests that both the Paris-Barcelona and Paris-Madrid sleeper trains will disappear at that time.
End of the Thomas Cook European Timetable...
Or not?
It's devastating news for regular European train travellers and booking agents. Thomas Cook are closing down their entire timetable and guidebook publishing division, which means the closure of the Thomas Cook European Rail Timetable, which recently celebrated 140 years of publication since its first edition in 1873. The August 2013 edition will be the last. Can any other publishing house take it over? I hear the Timetable covered its costs, so this is presumably a 'strategic' 'business' decision, to heck with people. Forgive Them For They Know Not What They Do... Can anyone out there take this august publication over?
Update 12 July: I hear this morning that the timetable compilers are trying to set up a private venture to take it over. I wish them every success!
Interactive maps...
I have added 'image maps' to the existing route maps on various European pages such as Italy, France, Spain, Austria, Germany, Switzerland, Portugal and the Canada page - in other words, you can now click on a destination or route on the map and be taken directly to the relevant section for train times and information for that destination or route. Please do email me with any comments about how the maps work, and do let me know if I have made any errors!
New Timetable in Malaysia from 1 July...
The Malaysia page now shows the new timetable for Malaysia from 1 July. Journey times are eased out, allegedly to improve punctuality.
Sudan: Wadi Halfa - Khartoum train resumes!
Thanks to a report from an ex-pat in the Sudan, it's reported that the Wadi Halfa to Khartoum train has resumed, with changed operating days. The Sudan page is now being updated.
Where to buy Dutch train tickets? At the Belgian website www.b-europe.com, of course!
An annoying problem for visitors to the Netherlands is that Dutch ticket offices and ticket machines, and indeed the Dutch Railways website www.ns.nl, generally don't accept any normal credit card, only strange Dutch bank cards that only Dutch people have. The ticket machines don't even accept banknotes, only coins! I'm pleased to say that there's now a solution, because the Belgian railways website www.b-europe.com has resumed selling Dutch domestic train tickets, at the same prices as NS, but happily accepting Visa and MasterCard. You simply buy online and print your own ticket.
Odds & ends this month...
How to use voyages-sncf.com: I've completely overhauled the instructions for using the French Railways website, both to make it easier and reduce duplication between the Train Travel in France page and the page I use to warn people how to avoid diversion to Rail Europe when using voyages-sncf.com. There's now one page on How to use voyages-sncf.com.

How to buy train tickets online and by phone. I've re-written the general tips for buying European train tickets to make this clearer, and to reduce duplication. I've separated the agency phone numbers section into a separate page, How to buy train tickets by phone.

Indonesia: Has the Indonesian railway website been changed so it no longer accepts non-Indonesian credit cards? Two reports suggest so, further feedback would be appreciated.

Russia: Have spotted that www.raileurope.co.uk will now book Paris-Moscow and Warsaw-Moscow trains online, so booking instructions amended accordingly.
June 2013
Direct Vienn
a-Venice daytime Railjet from December?
Sanity at last... Some years ago, the Italians pulled out of running the two daily daytime EuroCity trains between Vienna and Venice via Villach and Udine. That left just the overnight sleeper train between Vienna and Venice. Austrian Railways laid on buses (ugh!) between Villach and Venice in connection with their trains to and from Vienna, parallel with a perfectly serviceable railway. I'm delighted to say that sanity has broken out, and from the timetable change in December a direct daytime train will link Vienna and Venice Santa Lucia once again, with a second round trip due to be added from December 2014. Initially it's likely to be a conventional Austrian InterCity train, but it's planned to introduce smart modern Railjets complete with restaurant car and those lovely cradling business class leather seats (my favourite!). Rumours suggest the train is likely to leave Vienna bright and early at 06:37, so it would reach Venice around 13:40, with a return train from Venice around 16:15 arriving Vienna at 23:47. It's just a shame that the wonderful Semmering scenery will be in darkness on the northbound run, and in darkness in winter southbound.
Vigo-Porto improvements
......
And more sanity... Two fast trains will be introduced between Vigo in Spain and Porto in Portugal, a first step towards a 90-minute electric service which the two countries hope to introduce by 2016. Already, the daft arrangement where you had to buy two tickets, one as far as the border, then another one after you crossed the border, have been replaced with proper through tickets which you can buy for the whole trip at either end.
Sud Express
to Lisbon extended to start in Hendaye......
And yet more sanity? With French Railways refusing to extend their 12:27 Paris-Hendaye TGV to Irun (on the Spanish side of the Franco-Spanish border) to connect with the re-timed Sud Express, the Spanish have done the decent thing, and extended the Sud to start in Hendaye. That's a complete break from the arrangement that's been in place for 100 years, with interchange between French and Spanish trains at Irun in Spain going south, Hendaye in France going north. But it now means an easier, faster connection between TGV and Sud Express, and it means easy same-day connections are once again possible from London, see the Portugal page.
Rail link to Tangier Med Port opens......
It's reported that the new station at Tangier Med Port opened on 15 June 2013, with local electric trains linking Tangier Ville with Tangier Med Port in 50-60 minutes. The trains aren't shown in the main journey planner on www.oncf.ma (indeed, Tanger Med Port isn't listed as a station!), but there's a timetable with connections to Casablanca, Marrakesh at http://www.oncf.ma/InfosPratiques/Documents/Telechargement/horaires/KsarSghir-Tanger-Casa.pdf. This only shows 4 trains per day, although this could be a temporary/start-up or partial timetable as another reference on the ONCF website refers to a train running every 2 hours. Feedback would be appreciated!
New videos...
You'll find new videos of the Danube Express, Vienna-Cologne sleeper train, Zurich-Zagreb sleeper train, and the London to Istanbul train journey, at the seat61 YouTube channel.
After a recent jaunt from London to Istanbul and back by train (naturally!), I've added a page to showcase the excellent Danube Express hotel train.
New Timetable in Europe from 9 June...
All Seat61 European pages should now be up to date for the new Europe-wide timetable starting 9 June. If you find any typos or errors, do let me know.
Odds & ends this month...
Trans-Siberian: Trans-Siberian page has been updated to reflect timetable changes. The Moscow-Vladivostok Rossiya has been retimed by many hours to leave Moscow 13:50 rather than in the evening. No major changes to the Moscow-Beijing trains.

Sudan: There is a rumour (in fact, one post on Tripadvisor by someone in the Sudan) that the weekly Wadi Halfa to Khartoum train has resumed, once more linking Cairo and Khartoum by train, ferry & train. I'm sceptical, but am trying to investigate...
May 2013
Latest updates on Twitter: Follow my trip to Istanbul from 21 May...
Just a reminder that I'm on Twitter as @seatsixtyone, and will be tweeting updates and notable news as it happens, as well as updates as and when I travel... I shall be travelling from London to Istanbul from 21 May, tweeting on the way, to make a press trip on the Danube Express from Istanbul to Budapest via Bulgaria & Transylvania. These will be the 5th and 6th train journeys between London & Istanbul that I have made since 1995!
Crazy! Deutsche Bahn to stop selling Thalys tickets.
News just in, DB in Germany is to stop selling Thalys tickets, prior to withdrawing from its minority stake in Thalys. That means that if you call DB, you'll be told there are only 4 trains per day between Germany and Brussels! This may or may not affect DB's UK office.
European timetable change on 8 June...
All European railways change their timetables on the 2nd Sunday in June & December. Reservations are often late opening for booking for dates after the timetable change, and Spain and Italy are key culprits. I'm pleased to say that French Railways actually extended their booking period over the summer. I'm not expecting any major changes after 9 June, so use the information on this site on the assumption that little will change.
Latest on international trains to/from Istanbul...
As of 6 May, it's reported that the Bucharest/Sofia to Istanbul train will be terminating at Cerkezköy, 115km short of Istanbul, with a replacement bus laid on to Istanbul Sirkeci. This comes after a period when the train was running as far as Halkali, 27km short of Istanbul, with passengers travelling by scheduled bus into Istanbul, but it's better than the situation from March to December 2012, when the train terminated at the Bulgarian/Turkish border at Kapikule at 01:25 for a bus all the way to Istanbul. With a scheduled arrival in Cerkezköy of 05:44 (plus an inevitable delay, no doubt) you'll at least get some sleep in your couchette or sleeper!
New page, new video: Tito's deluxe private train, click here.
Following a trip last month on Tito's private train from Belgrade to Bar, the first of 6 trips being organised this year by Montenegro Holidays, I've added a page about this unique train, complete with video guide - see the new Tito page.
New video: Bar to Belgrade by train, click here.
One of Europe's most scenic routes linking Montenegro on the Adriatic with the Serbian capital Belgrade, I've been able to improve the Serbia & Montenegro page and add a video guide to this remarkable journey. The video features an unfortunate incident at 00:02:40, when the train hit and killed a horse (in fact, two horses if you look closely) which a local man was leading across the line. See the Serbia & Montenegro page.
Direct Paris-Barcelona TGVs put off until Autumn?
Problems with certifying the TGV Duplex sets to run into Barcelona Sants seem to have postponed the start of direct Paris-Barcelona TGVs until later this year, see www.railjournal.com/index.php/high-speed/technical-problems-delay-paris-%E2%80%93-barcelona-tgv-launch.html. In the meantime, bookings for the current Paris-Figueres service have opened for the summer.
Odds & ends this month...
New e-visa for Turkey: As of April 2013, you can buy your Turkish visa online at www.evisa.gov.tr. You'll still have to get off the train at the border at Kapikule for passport control, but now you won't have to queue at the separate visa window first!

Australia: With the Victorian government fussing about subsidy, the Melbourne-Adelaide Overland is being cut to just twice a week in winter, details on the Australia page. The worst ever service between these two cities?

New video clips added, showing a Hungarian sleeping-car from Munich to Budapest, and the elderly Serbian sleeper from Belgrade to Budapest, see the seat61 Youtube channel at www.youtube.com/user/markgideonsmith/videos?view=0&sort=dd&tag_id=.

New deluxe Premier Classe train linking Johannesburg & Port Elizabeth twice a week. See the South Africa page. This is great news, as Premier Classe is both affordable and gets rave reviews from those you use it.

Following the trip to Montenegro I've been able to make numerous improvements to the Hungary, Romania, Serbia & Montenegro, Bulgaria pages with extra photos and info, including details of Budapest & Belgrade station facilities.
April 2013
Latest updates on Twitter...
Just a reminder that I'm on Twitter as @seatsixtyone, and will be tweeting updates and notable news as it happens, as well as updates as and when I travel...
Operation Tito
17-23 April...
Follow the Man in Seat 61 on a train journey from London to Montenegro 17-23 April, follow on https://twitter.com/seatsixtyone.
Amsterdam-Warsaw Jan Kiepura reprieved!
It looked almost certain that the Amsterdam/Cologne to Warsaw Jan Kiepura would be discontinued at the end of June, knocking a big hole in east-west rail travel via Poland. The good news is that is seems to have been reprieved.
New Zealand closed for business between May & October?
New Zealand appears to be closing for business in winter, as it's just sadly been announced that the Coastal Pacific (linking the ferry from Wellington with Christchurch) will not run at all from 7 May 2013 until early October, leaving no civilised transport link at all between Wellington and Christchurch in a supposedly developed country. This follows a drop in visitor numbers after the Earthquake. You may wish to postpone your visit until things sort themselves out!
High-speed trains start Eskisehir-Konya in Turkey...
Ankara-Konya & Eskisehir-Ankara high-speed trains are already operating at up to 250km/h. A new curve linking these two lines has now allowed two daily Eskisehir to Konya trains to start. Regular trains take 7 hours, buses take 5, these new trains take just 2 hours. Ultimately, by perhaps 2015, these high-speed trains witll link Istanbul & Ankara, Istanbul and Konya, revolutionising train travel in Turkey. See the Train Travel in Turkey page.
Latest update on start of direct Paris-Barcelona TGVs...
The high-speed Perpignan-Barcelona line is complete, and documents leaked to the Spanish press suggested that the two daily Paris-Figueres TGV Duplexes were going to be extended to Barcelona as from 28 April. This seemed confirmed by the fact that bookings for the existing Paris-Figueres service were only open up to 27 April. Unfortunately, it looks as if this date has slipped, as bookings for the existing service terminating at Figueres (with Spanish connection to Barcelona) were subsequently opened as far as 10 May, and now until 29 May. An unconfirmed source within SNCF did indeed suggest that direct Paris-Barcelona TGVs will not now run before the end of May 2013. See the London to Spain page.
Odds & ends this month...
Australia page revised to recognise that there's now no Red Service (economy) sleepers, or lounge car, on the Indian Pacific or Ghan. If you do Red service (economy) there's now just seats and the Matilda cafe. Or you go Gold or Platinum sleepers with lounge and restaurant, meals included. No economy sleeper-with-lounge option!

Rail Europe UK change their prices slightly again, recognising changes in the pound-euro exchange rate so £ prices on the Elipsos trainhotels and Paris0-Italy trains revised again, this time slightly upwards.
March 2013
SailRail fares now available via Liverpool, London to Belfast from £57...
Stena Line have now launched combined train & ferry SailRail tickets from any rail station in Britain to Belfast via their Liverpool-Belfast ferry route. The time-effective overnight service means you can leave central London after 5pm, Birmingham or Manchester after 6pm, sleep in a comfortable private cabin with shower & toilet on the luxurious ferry and arrive in Belfast 06:30! This makes eco-friendly business trips or weekends away feasible without the pain of the plane. At this stage, they can only be bought from Stena Line, not rail stations or train company websites. See the Northern Ireland page.
Win a 6-day escorted holiday for two to Belgrade & Montenegro...
In April, I'm travelling aboard Tito's luxurious special train on its inaugural departure from Belgrade. The Belgrade-Montenegro line is renowned for its spectacular mountain scenery, and I've jumped at the chance to travel this route in comfort on such a historic train. Now you've a chance to come along too (or on one of their other April or May departures if you prefer), as www.montenegroholidays.com are kindly giving away a holiday for two as the prize in Seat61.com's first-ever competition.
The end of the Jan Kiepura from 1 July...
It now looks almost certain that the Amsterdam/Cologne to Warsaw Jan Kiepura will be discontinued from 1 July 2013, the last in a series of cuts by Polish Railways. This makes a hole in the journeys to Poland, Ukraine and Russia, especially as it may also affect the Frankfurt to Moscow sleeping-car run by the Russian Railways. I've put a warning on the relevant pages, and will work out alternatives in due course. The Jan Kipeura's last westbound departure from Warsaw will be 29 June, it's last eastbound from Amsterdam will be 30 June.
Direct Paris-Barcelona TGVs to start from 28 April? Or the end of May?
It now looks likely (but not yet officially confirmed) that the first direct Paris-Barcelona TGVs will start running from 28 April. These will be an extension of the current two daily Paris-Figueres TGV Duplexes, so departure from Paris will still be at 07:15 & 14:07 daily southbound, 09:29 and 16:29 northbound from Barcelona as shown on the London to Spain page. In fact, it now looks as if there will be a third daily departure on Fridays, Saturdays and Sundays northbound, Saturdays, Sundays & Mondays northbound. Reservations for the new service will open in due course, but nobody yet knows exactly when.
Latest news 29 March: Bookings for the existing Paris-Figueres TGVs have just opened until 10 May. That clearly means direct TGVs won't now start on 28 April. Maybe 11 May? I now believe a report originating within SNCF that suggests direct Paris-Barcelona TGVVs won't start until the end of May.
Just remember that back in January, tickets for the new Madrid-Barcelona-Figueres trains only went on sale 7 days (not the usual 92 days, just 7 days!!) before the first train ran, so just sit tight, stay calm, keep an eye each day on the booking websites, when booking opens and you can actually see trains, then you can book.
Summer train bookings with French Railways...
Just a heads-up! SNCF is extending its summer booking horizon, and travel dates 4 July to 25 August will open on 4 April, travel dates from 26 August to 2nd September will open on 14 May.
Odds & ends this month...
Crossing Paris. On recent trips with family & luggage I've found myself using taxis more to cross Paris. I've improved the information on this option on the How to cross Paris page.

Netherlands: It's reported that from 1 April Stena Line will stop refunding the cost of Dutch train tickets to passengers arriving at Hoek van Holland, who have bought an Any Dutch Station to London Dutch Flyer ticket but who have not received their tickets by post so have had to buy additional NS train tickets to reach Hoek. Basically, this means that if you don't have a Dutch address, you can only book westbound Dutch Flyer tickets starting in Hoek van Holland to London (so the ticket can be emailed to you in pdf format), not from Any Dutch station to London, which requires Stena to send tickets by post, which they will now only do to Dutch addresses. Which in turn means that you'll need to buy a separate NS train ticket to reach Hoek. And yes, this costs a few euros more.
February 2013
New video guide: London to Cornwall by sleeper...
After a recent trip at the invitation of First great Western, I've added new photos and a short video guide to the London to Cornwall sleeper train page.
Istanbul's classic Sirkeci station closed to long-distance trains from 1 March 2013...
If you've been following the story, since March 2012 the Bucharest/Sofia to Istanbul train has been terminating at Kapikule on the Bulgaria/Turkey border with a rail replacement bus onwards to Istanbul, due to engineering work to rebuild the rail line into Turkey. The good news is that while the weather is poor in January/February/March 2013, the engineering work is suspended and the train is again running through to Istanbul. The not-so-good news is that from1 March 2013, Sirkeci station is closing to allow lines to be rebuilt in connection with the Marmara Tunnel project. That means that even though the train is currently running through to Istanbul, from 1 March it will terminate at a suburban station called Halkali, some 27km short of Istanbul city centre. You can hop on the regular railway-replacement buses from there for the last bit to Istanbul, these are buses that are replacing the Istanbul suburban service. Bus replacement Kapikule to Istanbul Sirkeci may resume some time in March, but there is no set date yet. Sirkeci station itself is still open, serving just a short remnant of suburban train service.
Fyra fiasco update, Brussels-Amsterdam...
Fyra high-speed trains were introduced from 9 December 2012 between Brussels, Antwerp, Rotterdam & Amsterdam, then withdrawn indefinitely due to serious technical problems. You can now travel Brussels-Amsterdam by high-speed Thalys train, or on the frequent non-high-speed InterCity service Brussels-Antwerp, followed by the hourly local train Antwerp-Roosendaal, then by frequent Dutch InterCity trains Roosendaal-Amsterdam. However, very shortly two daily direct InterCity trains will be reintroduced between Brussels-Antwerp-Roosendaal-Rotterdam-Den Haag, increased to 8 per day from 11 March. Not quite the old hourly Brussels-Amsterdam pre-Fyra InterCity service, but they are trying to extend them to Amsterdam. This may or may not be possible in due course. However, it may be months before Fyra resumes.
Odds & ends this month...
Australia: On the Sydney-Adelaide-Perth Indian Pacific and Adelaide-Alice-Darwin Ghan, Red Service sleeper is being discontinued on all departures from 1 April onwards, so that Gold Sleeper capacity can be boosted. This leaves a Red Service reclining seat, Gold or Platinum sleepers as the only options. No more economy berth option!

Portugal: Whilst in the past the 'web' & 'estrella' fares which appeared for the Irun-Lisbon Sud Express and Madrid-Lisbon Lusitania sleeper trains appeared to be a glitch - they refused to book when selected, and weren't shown on official fare pages - the new Promo and Promo+ fares which appear for Turista seats and Turista 4-berth sleepers on these trains now appear to be real, so I've added these cheap fares to the Portugal page. Madrid to Lisbon with a bed for the night for just €33!

Gabon: Train times revised, now 4 trains per week Libreville to Franceville, down from 6.

Spain: Web & Estrella fares have been replaced by Promo and Promo+ fares. Some promo fares are now cheaper than web fares used to be!

The Prague-Krakow sleeper train can now be booked online at the Czech Railways website, London to Poland and How to buy European train tickets pages updated.

Armenia no longer requires visas for EU & UK citizens, Caucasus page updated.

Night Riviera sleeper train to Cornwall: The Night Riviera page has been updated following a recent trip, with extra photos including photos of the compartments showing the excellent new duvets which have replaced the blankets.

Switzerland: As from December, Lyria now has a dedicated fleet of double-decker TGV Duplex and single-deck TGV POS with the funky Christian Lacroix interiors. The old jaded TGV-Sud-Est units have been retired. The first trains are also starting to appear in a bright new Lyria colour scheme. The photos and text on the London to Switzerland and TGV-Lyria pages have now been revised to reflect this.

Egypt: It now seems that foreigners are not allowed to book sleeper train 86 from Cairo to Luxor & Aswan, so can only book sleeper train 84 which leaves from Giza to Luxor and Aswan. The Egypt page has been updated with this info. Annoying, as it's far more convenient to leave from Cairo than to have to take the metro to Giza.
January 2013
Fyra kaput...
The new Brussels-Amsterdam high-speed Fyra service has fallen victim to poor construction of its V250 trains by Italian firm Ansaldo Breda. One expects a few faults when any new train first comes into service, but it seems these trains have had more than usual, can't cope with the snow, and when a part fell off a train's underside, the Belgians banned them from their network until further notice. That leaves Thalys as the only train directly linking Brussels and Amsterdam, unless you take the IC Brussels-Antwerp, all-stations local train Antwerp-Roosendaal and Dutch domestic IC Roosendaal-Amsterdam. Which many people are now doing! Belgian Railways will shortly be extending their Brussels-Antwerp IC to Roosendaal, and work is progressing on reinstating the old hourly Brussels-Amsterdam IC.
Italy improves its child age limit for children, sort of...
From 9 December 2012, Trenitalia increased the age limit for child fares from 'under 12' to 'under 15', but only for national trains, meaning the high-speed Frecciarossa/Frecciargento/Frecciabianca services and long-distance InterCity, ICN and sleeper trains. Regional trains retain the long-standing 'under 12' age limit. This will no doubt cause confusion on journeys such as Rome to Siena, where one leg is on a Frecciarossa or Frecciargento, the other on a regional train, with differing age limits.
Turista Plus & lack of Club class in Spain...
In Spain, Renfe have introduced Turista Plus on many but not all AVE trains, which appears to mean Preferente (1st class) seats but without the at-seat meal & wine. Furthermore, some AVEs are being sold without Club class, and on these you may end up in a Club class seat with a Preferente ticket. Indeed, when booking a Preferente ticket on these trains it will pay to use the 'select exact seat' option and make sure you choose a seat in the endmost car with the Club class seating.
Bus replacement between Bulgarian border & Istanbul temporarily over.
The Bucharest/Sofia to Istanbul train has been temporarily replaced by a bus between Kapikule & Istanbul since March 2012 until October 2013 due to major railway engineering work related to the Bosporus Tunnel Project. Trains seem to be running direct to and from Istanbul, but it now seems that the work is not over, this is just a temporary respite while the weather is too bad to work. The bus replacement will resume in mid-March.
UK versus Europe train fares comparison...
Just for fun, with all the fuss over UK having the highest rail fares in Europe (yawn) I thought I'd actually do a test myself. The results surprised even me. It seems that in 10-15% of cases we have the highest train fares in Europe. In the other 85%-90% we have the lowest! See the UK & Continental Europe train fares comparison. Update 9 January: It's nice to be recognised - This page was quoted in the House of Commons this evening, by both Iain Stewart MP and in his summing up by Norman Baker, Under Secretary of State for Transport.
London to Madrid in one day, without flying!
The final section of the Perpignan-Barcelona high-speed line now seems set to open on 8 January 2013 (although they are very late opening bookings!). Several Madrid-Barcelona AVE high-speed trains will be extended to Figueres Vilafant, two with TGV connections to and from Paris. For the first time in history it will become possible to travel from London to Madrid in a single day, see the London to Spain page.
Odds & ends this month...
Denmark It seems DFDS has reduced winter sailings Harwich-Esbjerg from 3 to just 2 per week.

Poland: Thanks to seat61 correspondent Ivor Morgan, I've added photos of the popular Prague to Krakow sleeper train.

Netherlands & other pages: The Dutch Flyer fare has risen from £39 to £45, but still great value.

Bosnia: Amidst all the cutbacks in Croatia, one bit of good news was that the Zagreb to Sarajevo train was due to become a swish modern air-con Talgo train from 20 December. Days later, a second report said it would be delayed a bit. It's now not known whether the Talgos are in service or not.

London-Provence: Links to fares and timetable for Eurostar's trial London-Lyon-Avignon-Aix service on summer Saturdays 4 May to 29 June have now been added to the France and Eurostar pages.

Finland: Train Travel in Finland section added, with photos of Helsinki station & the night train to Lapland, thanks to seat61 correspondent Michael Banbrook.

Burma: A section added on the luxury Orient Express river cruiser from Mandalay to Bagan Road to Mandalay. I'm pleased that I've been able to fill many gaps in the original information thanks to feedback from a number of travellers.
December 2012
Eurostar's new (well, 2008) bike service, where you can book a bike space on the same Eurostar departure as yourself for £30, has been a great success. But as an alternative, you've always been able to take bikes free of charge as ordinary luggage, semi-dismantled in a zip-up bike bag not exceeding 120cm long, which you are allowed to do on almost all European trains right across Europe. Eurostar has now removed the ability to take bikes in bags up to 120cm and is sticking to its general '85cm maximum length' policy for any luggage at all, which pretty much rules out taking anything except folding Bromptons and children's bikes. This is totally at odds with the policy of onwards train operators such as Thalys, Elipsos and most TGV, where you can ONLY take your bike if you put it in a bike bag, semi-dismantled, max 120cm long. And this is in spite of Eurostar and Thalys both being 85% owned by SNCF (French Railways), TGV is of course 100% SNCF, so even train companies within the same group aren't working or thinking together as a team. Does Eurostar expect you to pay £30 to take your bike undismantled to Brussels, and in the 18 minutes connecting time, take it to pieces, stick it in a bike bag that you've brought with you, to take onwards to Cologne or Amsterdam?
On the plus side, I have now improved the bike by train page to make the options for taking bikes to mainland Europe clearer, with better coverage of the Dutch Flyer train and ferry option.
The St Petersburg to Irkutsk Baikal to disappear (almost) in May?
Train 9/10 from St Petersburg to Irkutsk, originally Moscow-Irkutsk, has been a mainstay of the Trans-Siberian route for years. Decades! It's now reported that it will be downgraded to run only Novosibirsk-Irkutsk, a shadow of its old self.
It's on! Fyra Brussels-Amsterdam is go from 9 December!
The new high-speed Fyra service between Brussels & Amsterdam will indeed now start on 9 December with 10 trains a day, rising to an hourly service a few months later. Bookings were due to open on 29 October. They didn't, but finally opened on 3 December just days before the new service starts, after a last-minute political deal between the Belgians and the Dutch allowed the new service to start as planned.
Highlights & lowlights of the new timetable across Europe from 9 December 2012...
The new timetable starts from 9 December all across Europe. Pages are slowly being updated to reflect the new times now. Here are some of the key changes expected in the new timetable.
NEW HIGH-SPEED FYRA TRAINS BRUSSELS TO AMSTERDAM. They may be a few years late being delivered, but it's now going to happen (probably). 250km/h (155mph) Fyra trains will link Brussels Midi, Brussels Central, Antwerp, Rotterdam, Schiphol and Amsterdam Centraal every hour from 9 December, replacing the current 'Benelux' InterCity trains which use the classic route taking 2 hours 55 minutes, cutting Brussels-Amsterdam journey time to 2 hours by using the high-speed line. However, as at 1 December bookings still haven't opened, so who knows what's going on!

NEW PARIS-FLORENCE-ROME THELLO SLEEPER TRAIN. Thello will start a second sleeper train to Italy from 9 December, this one from Paris to Bologna, Florence and Rome. It will serve Florence Campo di Marte rather than the central SMN station, unfortunately. It is expected to be similar to Thello's existing Paris-Milan-Verona-Venice train, see the Thello page.

MORE HIGH-SPEED TGVs FROM PARIS TO FIGUERES for BARCELONA from April. From April 1, the two daily Paris-Figueres (-Barcelona) TGVs will be increased to three per day. From April, you'll be able to leave central Paris after 4pm, arriving Barcelona in late evening the same day.

NEW DAILY GENEVA-FIGUERES TGV with connections for BARCELONA. Though it now looks as if this train won't materialise until later, perhaps April or possible July.

NEW SKI TRAIN on winter Saturdays from London to the Swiss Alps by Eurostar + Lyria with an easy change at Lille, see details here.

NEW DAILY DIRECT PARIS-INTERLAKEN TGV-LYRIA. You'll be able to catch an afternoon Eurostar to Paris any day of the week, change in Paris and take the 17:57 TGV direct to Interlaken arriving 23:43.

NEW MUNICH-MILAN SLEEPER TRAIN. City Night Line have reinstated a connection lost some years ago, good for them!

Three daily direct Nice-Genoa-Milan InterCity trains are on the cards, run by Thello, with no need to change at Ventimiglia. Update: It now seems these will start perhaps in Summer 2013.

Barcelona-Zurich and Barcelona-Milan trainhotels to be withdrawn. Sadly, the three-times-a-week sleeper train on these routes is being discontinued. However, a daily direct TGV from Geneva to Figueres (for Barcelona) will be introduced from December 9.

Paris-Barcelona trainhotel sleeper train will be cut to 5 times per week in winter instead of daily and will leave Paris two hours later, around 22:44, arriving Barcelona just after 10:00. This will allow a later departure from London, but onward connections in Spain will be affected. It will still run every day from 15 March onwards.

Berlin-Krakow EuroCity cut back to Berlin-Wroclaw. The morning EuroCity train 'Wawel' will terminate at Wroclaw. Presumably it will lose the name! This is due to major track rebuilding - a new faster service may resume in a year or two's time.

AMSTERDAM/COLOGNE-MOSCOW through Russian sleeping-car withdrawn. A last minute change without warning! You'll now need to change cars in Warsaw.

Paris-Toulouse and Paris-l'Hospitalet (Andorra)-Latour de Carol overnight trains appear to no longer run every day.
Odds & ends this month...
The London Spezial fares from London to Germany (and Basel Bad Bahnhof and Salzburg) have increased from 'From €49' to 'From €59' - but still great value.

Burma: It's reported that the direct overnight Rangoon to Bagan train will no longer have a sleeping-car from November 2012 onwards, just Upper Class seats. If true, it's a great shame, just when tourism to Burma is surging. I've been sent photos of the departure timetables at Rangoon, enabling me to update most mainline train times in Burma, as well as fares for foreigners.

Italy: I've added Como as a separate destination, as it's so popular. You can get there in a day using a morning Eurostar and afternoon Paris-Milan TGV then a local train; Or you can use an afternoon Eurostar, evening TGV-Lyria to Zurich, overnight there, then take a spectacular ride through the Gotthard Pass by EuroCity train direct to Como.

Cuba: Mainline timetable updated, thanks to seat61 correspondent sending in a new photo of the Havana departures board, plus some internet research.

Turkey: Train travel in Turkey page overhauled. New route Istanbul-Bursa-Ankara added, with ferry-bus-high-speed-train travel, thanks to new info from seat61 correspondent Malte Furhrmann.

Indonesia: Jakarta to Sumatra information re-worked using trains Jakarta-Merak and the every-20-minute ferry to Bakauheni, for taxi or bus to Bandar Lampung. I hadn't been able to prove that the twice-daily direct ferries Merak-Panjang actually ran!

New Zealand: TranzAlpine train page revised, with more and larger photos, and photos showing the new AK carriages which now operate this train.

Dogs by train: P&O Ferries have stopped allowing foot passengers to take dogs, so I've had to re-work the dogs by train page twice, once to remove this option, then to reinstate a ferry to France option as a seat61 correspondent helpfully pointed out that LD Lines allow foot passengers to take dogs.

The Spain page has been re-worked, to reduce duplication and make it easier to maintain, also to reduce page size, and highlight the emerging possibilities of the new high-speed daytime service between Paris and Spain.

Egypt page: Photo sections for the Cairo-Luxor sleeper and day trains improved, thanks to photos sent by a seat61 correspondent.
November 2012
Seat 61 wins 'Favourite Travel Website' in the Telegraph Travel Awards 2012...
I'm absolutely delighted (not to mention still a little stunned) that seat61.com has won the 'Favourite Travel Website' category in the prestigious Telegraph Travel Awards 2012. 17,000 readers voted on their favourite travel companies, destinations and websites, and seat61 beat tough competition such as Tripadvisor and i-escape.com. The award ceremony was held on 13 November at the very swish ME Hotel in London (which isn't yet open to the public - as ceremony host Clive Anderson put it, what better place to hold a travel awards ceremony than a half-finished hotel?). I'd like to thank everyone who voted for seat61 as their favourite site. For a full list of the winners and runners-up, see www.telegraph.co.uk/travel/travelnews/9675436/Telegraph-Travel-Awards-2012-the-winners.html.
New motorail route to Slovenia for summer 2013...
Dutch Motorail (Auto Slaap Trein) will be operating a new weekly motorail from the Netherlands to Koper in Slovenia, handy for Trieste, Venice & Croatia, every weekend in July & August 2013. Meanwhile DB Autozug have discontinued their motorail to Verona and Trieste for 2013. See the Motorail page.
Odds & ends this month...
It seems the Tbilisi-Baku train has been modernised. New 2-berth and 4-berth air-conditioned sleepers, the first class 2-berths even have a flat screen TV. Photos on the Georgia/Armenia/Azerbaijan page.

Peru: At last, photos now show what the Lima to Huancayo train is like, thanks to traveller Lynne Quayle. And wow, what a journey it looks! Thanks Lynne...

Spain & Portugal: I've added some all-daytime journey options, with overnight hotel in Irun, for London to Santiago de Compostela/Vigo/A Coruna, and also a daytime option from London to Portugal with hotel stops in Irun and Vigo. Feedback would be appreciated!

Romania, Poland: I've added some daytime options with overnight stops, for those who prefer scenery and hotels to sleeper trains. Funnily enough, these turn out to be the cheapest option, apart from the cost of the hotel, with some amazing fares available. London to Warsaw for €88!
October 2012
When will bookings open for dates after the European timetable change on 9 December?
Reservations for dates from 9 December onwards always open late, as train operators are always late loading the new data. Expect bookings for most trains to open from mid-October, the usual 90 day booking period squeezed to 60. Just sit tight until reservations open.
French Railways opened bookings for dates from 9 December onwards on 11 October. This also applies to many international trains to or from France.

German Railways will open bookings for dates from 9 December onwards on 16 October. This applies to international routes to, from and through Germany, including many City Night Line sleeper trains, too.

Paris-Berlin & Paris-Munich City Night Line sleepers won't open until 26 Oct, the EuroNight to Warsaw will also open late.

Thello (Paris-Italy sleeper trains) hope to open bookings on 30 October.

Italian Railways are also now open for reservations for dates after 9 December.

Eurostar & Thalys appear immune from these problems, and seem able to maintain their normal booking horizons across the timetable change date.
Italo start their new Venice-Florence-Rome route from 3 October...
...in competition with State-run Trenitalia. See www.italotreno.it. Initially, there'll be 3 trains a day.
The demise of the Berlin-Kiev 'Kashtan' from 1 October 2012
Without warning, with just weeks to go, UZ (Ukrainian Railways) announced that the long-standing 'Kashtan' sleeper train between Berlin and Kiev will be discontinued permanently as from 2 October 2012. That leaves all passengers having to travel to Warsaw then take the daily 'Kiev Express' to Kiev. A great shame.
Odds & ends this month...
Search fixed! I've finally managed to fix a problem with the site search displaying correctly on the search results page in Firefox and Chrome.

In Vietnam, I now have a photo of the Golden Trains private sleeper between Saigon and Nha Trang.
September 2012
New videos: Morocco to Madrid, Madrid to London via Brittany ferries
I've added two new videos following a recent holiday - Morocco to Madrid on the Morocco page and Madrid to London via Brittany ferries Santander-Portsmouth on the Spain page. The videos show the ferries, trains and scenery on these routes.
London to Vienna, Salzburg & Switzerland
I've now added an alternative route to Switzerland via Brussels and Cologne, as this avoids the need to cross Paris, and with clever use of German Railway's 'London Spezials' from €49 can actually be the cheapest way to Switzerland. Thanks to tweaks made recently by Eurostar and DB, the 06:50 Eurostar from London once again officially connects with the 10:25 ICE to Cologne, so it's once more possible to travel from London to Vienna in a day. I've added this option to the Austria page. And as Salzburg is classed as a German station even though it's in Austria, you can buy a 'London Spezial' all the way from London to Salzburg from €49, making this the cheapest way to reach Austria, so I've added this option to the Austria page too.
Odds & ends this month...
Photos of journey by Grimaldi Lines ferry Barcelona to Tangier added to the Morocco page.

Details and photos of Twin City Lines Danube express ferry Vienna-Bratislava added to Slovakia page.

Various tweaks aimed at making the new design iPad-friendly, as an increasing number of visitors use iPads to surf.
August 2012
New seat61 site design...
I hope you like the new design - using the word 'design' loosely, of course, as the emphasis has always been on content rather than swish graphics. But the new design should solve the one regular piece of negative feedback I get, that the small white text on a dark background is hard to read. The new design:
uses very dark grey text on a white background;

uses proportionate font that appears the right size even on large-resolution monitors;

uses fixed-width pages so are easier to read on widescreen monitors as they will no longer spread right across the page.
In addition:
There's now a site search box on all main pages;

There are now Twitter/Facebook/Print/YouTube follow and share buttons on each page.
Currently, all the UK, European, train type and great journeys pages use the new design, but the 'worldwide' country pages still use the old design and will be switched over in stages. I simply can't keep two sets of European pages updated (one old and 'live', one new and waiting in the wings) while I finish transmogrifying all the pages, so please excuse the site being 65% new design and 35% old design while I finish the job. Do let me know what you think! Also, do let me know of any glitches, it's highly likely that a few things won't have been carried across to the new pages correctly.
'Overlander' page becomes 'Northern Explorer' page...
This month, many thanks must go to Seat61 correspondent James Chuang who recently tried out the new Kiwi Rail 'Northern Explorer' train from Auckland to Wellington. Thanks to James I've been able to update the Overlander page, replacing the old Overlander photos from my own trip a few years ago with photos of the new Northern Explorer train which replaced it in June.
Odds & ends this month...
Turkey: Izmir to Bandirma trains (for ferry to Istanbul) seem to have switched back to using Basmane station again, not Alsancak, at least until November. I wish they'd make up their minds!!

Burma: new ferry operator Bagan-Mandalay? ferry section tweaked, but info still inconsistent and difficult to get.

New Amtrak baggage policy from 10 September. Only 2 (formerly 3) bags can now be checked in, and maximum bag 'linear dimension' (height + width + length) falls to 75" from 36" x 36" x 36". Oversize bags $20 extra.

Online booking for Indonesian trains? Allegedly, you can now book trains in Indonesia at http://www.kereta-api.co.id/ - but only in Indonesian, not English. Worth a try with Google Chrome's built in translator, but I haven't had a chance to test it myself yet. feedback would be welcome!

Zimbabwe & Botswana: The 3 times weekly Bulawayo-Francistown train is reportedly been cut to twice-weekly, with no Wednesday departure from Bulawayo. The 'dropped' day from Francistown isn't known.

Eurostar French Alps ski train: Ski page now updated with new times and dates of running for 2012-2013 season. Ski train booking opened on 31 July.
July 2012
Greece reconnected? But only once a week, July until September!
Greece cancelled all its international passenger trains in February 2011, cutting itself off from the rest of Europe other than by ferry. However, there's now a glimmer of hope, as they have just reinstated a weekly train between Skopje and Thessaloniki, at least until September. It departs Skopje at 05:05 every Saturday from 14 July to 30 September, arriving Thessaloniki 10:24. Northbound, it departs Thessaloniki every Sunday at 20:11 arriving Skopje at 23:11. For trains between London/Paris/Munich and Skopje, see the Serbia & Macedonia page. You will need to stay overnight in Skopje. The fare is 756 dinars one-way, about €10.
Online booking from Budapest enabled: Budapest to Warsaw or Krakow from €49 with sleeper
Hungarian Railways have enabled online booking of couchettes and sleepers on direct international trains from Budapest to places such as Bucharest, Belgrade, Krakow or Warsaw, with all the local cheap book-ahead prices such as 'sparnight' available, making it far, far cheaper than using any agency based in the UK, USA or Australia. Budapest to Krakow starts at just €49 per person including a bed in a 2-bed sleeper if you pre-book at www.mav-start.hu. It's a little fiddly, and switches back to Hungarian half way through, but using the Google Chrome browser with built-in translation sorts that! Read the tips for using it on the How to buy cheap European train tickets page.
Canada to cut back trains...
VIA Rail Canada has announced that the three-times-per-week 'Canadian' from Toronto to Vancouver will be trimmed to twice weekly off-season, and the 6-times-weekly 'Ocean' from Montreal to Halifax is to be cut to 3 times per week.
June 2012
New video added showing the interior and exterior of a Eurostar Italia Frecciarossa, refurbished with four (yes, four!) classes of accommodation instead of the normal 1st and 2nd, http://youtu.be/Xp3A59Xh-ZE.
New video added showing the interior and exterior of a double-deck TGV Duplex, http://youtu.be/KrXUqOPU9wc.
New video added showing the Bernina Express and the superb scenery, see http://www.youtube.com/watch?v=p5AyEe5xWkQ. Information about the Milan-Tirano train connection is totally absent from the Bernina Express website or brochures (which keep mentioning some Lugano bus link or other, forgetting the major train connection to Italy!), so this video puts that right, showing how to combine a Milan-Tirano regional train with the Bernina Express with a connecting train to Zurich, to travel from Italy to Zurich and even Paris or the UK this way. More info on the Bernina Express page.
New video added showing the train itself, on board food and scenery, see http://www.youtube.com/watch?v=B09t_WJz_mM. I've also updated the Eurostar video guide with shots showing first class seating and food.
European timetable change from 9 June...
As always, all European timetables change on the second Sunday in June. No major changes are expected, some pages have already been updated, others will be updated shortly.
Zurich-Milan Gotthard route closed by landslide, at least until July...
A major landslide has completely blocked the Gotthard route for at least a month, blocking both the Basel-Milan and Zurich-Milan train routes. Buses are replacing trains for the part of the Milan-Zurich/Basel journey. I travelled from Milan to Zurich myself last Saturday, but fortunately had chosen to come up via the spectacular Bernina Route and so avoided the problem. Geneva-Lausanne-Milan route is OK, as is the Milan-Tirano-Chur-Zurich slow but scenic Bernina Route, see the Bernina page.
Direct Paris-Barcelona TGVs delayed again, until 3rd quarter 2013...
Completion of the Figueres-Barcelona section of the high-speed standard-gauge line from France to Barcelona has been delayed again. High-speed TGVs were due to start running direct from Paris to Barcelona from December 2012, this has been put back to the third quarter of 2013. Until then the connecting service of Paris-Figueres TGV and connecting Figueres-Barcelona Spanish-gauge train will continue, see the Spain page.
Eurostar to introduce Quiet Coaches in September...
From 11 September 2012, Eurostar will designate a 'Quiet Coach' in Business Premier and Standard Premier classes (but not Standard class) with a quiet working environment, no noisy kids and no mobile phones. This will normally be cars 8 & 11, and you'll be able to select this when you book, at least if you book direct with Eurostar.
Odds & ends this month...
South Africa: Gautrain was extended to Johannesburg Park Station from 7 June. You can now travel by safe modern air-conditioned Gautrain service between Pretoria, Sandton and Jo'burg Park station to connect with Shosholoza Meyl and Premier Classe long-distance trains to and from Durban, Cape Town, Port Elizabeth.

Greece: It looks as if Minoan Lines have dropped their Venice-Patras route, leaving only Anek Lines operating this route.

Spain: I've added links to Petrabax.com, a US-based Spanish holiday specialist which sells Spanish train tickets online through a direct link to Renfe (Spanish Railways) own system. Naturally, Petrabax mark up the prices slightly, but given that Renfe's own site occasionally has credit card acceptance problems, and other sites do not necessarily offer the full range of Spanish trains and prices, Petrabax could come in handy.

Poland: www.intercity.com.pl has become www.intercity.pl - bad practice for them not to have the old address forwarded, though!
May 2012
New Thello sleeper train from Paris to Florence & Rome will now start in December...
It was due to start in June, then this slipped to July. Thello, a consortium of Trenitalia and Veolia who run the current Paris-Milan-Verona-Venice sleeper train, now plan to start their second service, a sleeper train from Paris to Bologna, Florence and Rome, from the timetable change on 9 December 2012 (although a more recent official Trenitalia news release simply says 'after the summer').
Estonia-Russia: Tallinn to St Petersburg train relaunched from 27 May...
After a 4-year gap when the only way between Tallinn and St Petersburg was to endure a 7 hour bus journey, a train is finally set to resume. GoRail will restart a daily morning train from Tallinn to St Petersburg, returning in the late afternoon/early evening. See the Estonia page.
Odds & ends this month...
Italy: Fully-illustrated instructions for using Trenitalia's self-service ticket machines have been added to the Train Travel in Italy page.

Sri Lanka: A new privately-operated carriage has been added to certain Colombo-Kandy, Colombo-Badulla and Colombo-Batticaloa, the Rajadhani Express. This is in addition to the 'Exporail' carriage already in operation on the Kandy route. See the Sri Lanka page. It's also now reported that the bus replacement/track work on the Matara and Galle route is over, and trains are once more running all the way from Colombo to Galle ad Matara.

Albania: There have been a few changes to trains times, and it seems there are now no more trains to Pogradec, Elbasan and Librazhd is now as far as they go.

Eurostar 'any Dutch station' fare now once more available online, London to Any Dutch Station from £50 one way, £89 return. The Netherlands page booking instructions have been updated to reflect this.

Turkey: Details of the Istanbul-Izmir train and ferry service via Bandirma updated and improved.

Philippines: new trains introduced to Ligao, not far short of Legazpi. Info on the Philippines page updated.
April 2012
Italo is go! Milan-Florence-Rome-Naples...
As of 28 April 2012, private operator Italo is now running its first trains between Milan, Bologna, Florence, Rome and Naples, in competition with State operator Trenitalia. You can check times and buy tickets at www.italotreno.it/EN/. In Milan, Italo uses the less-known but still central Porto Garibaldi station. It uses the main stations in Bologna, Florence and Naples, but a secondary (less than central) one in Rome, Tiburtina. It has three classes all with free WiFi and leather seats, see the virtual tour at www.italotreno.it/EN/NTV Tour/classic/intro.html.
Big changes to the Auckland-Wellington Overlander from 26 June 2012
KiwiRail have announced that from 26 June 2012, the Overlander will be replaced by a new train, to be called the Northern Explorer, intended to become a more upmarket tourist experience. It will run 3 times a week all year round, using smart new air-conditioned panoramic 'AK' carriages. It will be speeded up, only calling at Hamilton, National Park, Ohakune and Palmerston North - all the smaller places will be missed out. I sincerely hope it will not become so 'tourist-orientated' that only wrinklies aged 70+ on £10k holidays can afford it, with families, backpackers and New Zealanders themselves priced off. See KiwiRail press release.
I've added two new videos, one showcasing a ride through the Arlberg Pass between Zurich and Innsbruck on a Railjet train en route to Vienna and Budapest, the other a ride through the Brenner Pass from Innsbruck to Verona on a Munich-Verona EuroCity train. the scenery on both routes is excellent!
It seems that Trenitalia (Italian Railways) are switching to a new IT platform, but are having problems. www.trenitalia.com and www.fsitaliane.it should be alternative addresses for exactly the same Italian Railways website, but the web address 'Trenitalia.com' has been switched to the new computer system, and for some reason the search results now open on Trenitalia's high-speed train mini-site www.lefrecce.it, which won't show regional trains or InterCity trains or international trains, and it won't recognise English place names such as 'Florence' or 'Venice' even though you switched it to English. So it's now as much use as a chocolate teapot, as my Grandmother would say. However, www.fsitaliane.it is still using the old platform (which works!) so I have temporarily switched all the links to Trenitalia.com (the address which most people know) on Seat61 to open at www.fsitaliane.it, so you can buy all the tickets, in English.
Buy your Dutch train tickets online ... But at the Belgian Railways website!
I wasted 15 minutes trying to buy a Dutch train ticket at www.ns.nl before discovering that it only accepts obscure Dutch bank cards, rendering it useless. I then had a brainwave. I tried the Belgian Railways site, www.b-europe.com, and hey presto, a Hengelo to Arnhem ticket for 15 euros (which is actually €0.20 less than NS quoted) with 21st century payment options including Visa, MasterCard and Amex, and in this case no fees. I simply printed out my own ticket at home. There's no need to pre-book Dutch domestic train tickets, of course, as prices are fixed and reservation isn't necessary on Dutch domestic trains, but it saves time at the ticket office, allows you to pay with a card not cash and saves €0.50 (as Dutch ticket offices only accept cash and charge a €0.50 fee). This tip has now been placed at the top of the Netherlands page, and on the European train tickets page.
Odds & ends this month...
New Zealand: Sadly, with visitor numbers still down after last year's earthquakes, the Picton-Christchurch 'Coastal Pacific' will be reduced to running only Fri, Sat, Sun, Mon from 11 May to 11 September 2012. It used to run daily all year.

Bulgaria: It now seems Bulgaria's sleeping-car shortage (and BDZ's dire financial straits) means that the direct Bulgarian sleeping-car Budapest-Sofia has been discontinued. You can still take other sleepers on the same train from Budapest to Belgrade, though it also seems the daytime connection from Belgrade to Sofia isn't running at the moment, allegedly because of engineering work. That leaves the Belgrade-Sofia sleeper train, which may or may not have a sleeper. The route via Bucharest may now be better, and details have been added.

Italy: Photos of Trenitalia's Frecciargento 125 mph tilting trains have now been added to the Train Travel in Italy page. These trains now run an hourly high-speed service between Venice, Florence and Rome.

Kenya: Nairobi-Mombasa train now confirmed as running again. However, as from 4 May, the Nairobi-Kisumu train is reported as cancelled again.

Italy, Austria, Hungary pages: Photos of the scenery added, through the Brenner pass from Munich to Italy and Arlberg Pass from Zurich to Austria and Hungary.

Transatlantic: 2013 Southampton-New York sailing dates for Cunard's Queen Mary 2 added.

Netherlands: After a recent research trip on P&O Ferries superb Hull-Rotterdam route, the Scotland & North of England to Amsterdam section on the Netherlands page has been made into two separate sections, North of England to Amsterdam via P&O from Hull and Scotland & Newcastle to Amsterdam via DFDS Seaways, each with its own info and photos.

Egypt: Cairo-Alexandria and Cairo-Luxor-Aswan timetables updated. Unfortunately, intermediate times at Isna, Kom Ombo and Edfu are now guesstimated, as the Egyptian Railways website isn't working, most agency sites have simply copied my own timetables(!) and the Egyptian online ticket system doesn't cover these smaller stations.

Morocco: Ferrimaroc seems to have disappeared without trace, but details of two other cruise ferry operators from Barcelona to Tangier have been added, Grandi Navi Veloci and Grimaldi Lines.

USA: Amtrak's 'Sunset Limited' between New Orleans & Los Angeles gets a new schedule from 7 May, which will reduce wasted layover time in San Antonio, and restore connections in LA with the 'Coast Starlight' to and from San Francisco, Portland and Seattle. The United States page now shows the new times and days of running.

Thailand: SRT have announced a revised timetable on the Bangkok to Chiang Mai route as from 1 June. Thailand page now updated.

Silk Route - Central Asia: Times and days updated. It seems the weekly Astana-Urumqi train has been dropped, in favour of returning the weekly Almaty-Urumqi to twice-weekly. The Moscow-Tashkent train now runs 4 times a week, not 3.
March 2012
Sunday Telegraph Vietnam article...
I'm delighted that an article by me made the front page of the Sunday telegraph on 4 March, see www.telegraph.co.uk/travel/destinations/asia/vietnam/9118732/Vietnam-a-view-from-the-train.html.
Latest situation with trains to Istanbul... See the Turkey page for latest info.
It now seems the flood damage in Bulgaria has been repaired and the Bosfor Bucharest-Istanbul and Balkan Express Belgrade/Sofia-Istanbul will resume on or shortly after 3 March. However, the long-term engineering work in Turkey on the line into Istanbul has now started as from 19 March, and both these trains now terminate at the Turkish border at Kapikule with a replacement bus into Istanbul.
How to buy train tickets for India online... See the India page for info.
Cleartrip.com has until recently been the only way for foreign visitors to buy Indian train tickets online. They are a private website which provides a user-friendly front end to the official irctc.co.in online booking service. Unlike irctc.co.in itself, Cleartrip accepts non-Indian credit cards, and originally did not require you to have an Indian mobile phone like irctc.co.in. However, IRCTC recently forced Cleartrip to require its users to sign up for an account with irctc.co.in. This requires an Indian mobile phone number to which the account activation code is sent. The good news is that there's a workaround for this, involving emailing irctc's customer care department with a scan of your passport, and this works, giving you an activated irctc.co.in account on the Cleartrip website. A step-by-step guide with all necessary workarounds has been put on the train travel in India page. Indian Railways now quite possibly qualifies as the Most Bureaucratic Online Train Ticket Sales in the World.
Odds & ends this month...
France: 'Lunéa' rebranded as 'Intercités de Nuit'. 'Téoz' rebranded as 'Intercités' along with other non-TGV daytime long-distance trains, but as it's then impossible to distinguish trains with the smart Téoz coaches from other run-of-the-mill Intercités I will continue to use the term Téoz!
February 2012
New page: Train travel in the Philippines...
A new Philippines page has been added to show the Manila to Naga City 'Bicol Express' that has resumed operation.
New video: London to Scotland by Caledonian Sleeper...
You'll now find this on the Caledonian Sleeper page.
Indian train booking problems for foreign visitors...
In 2011, IRCTC.co.in (Indian Railways' own online booking service) rendered its train booking website useless for foreign visitors by insisting that your account activation code is sent to an Indian mobile phone number. Until now, I have suggested using Cleartrip.com which allowed registration without an Indian number. Unfortunately, it seems IRCTC has now forced Cleartrip to require an Indian mobile phone number too, which means foreigners cannot book Indian trains online anywhere unless they use this workaround: If you register online at www.irctc.co.in, then email their customer care department (care@irctc.co.in) they can help you activate your registration without an Indian mobile number. They will ask you to email them a scan of your passport and then they will email you the activation code, allowing you to activate your account.
Thanks to traveller Clive Leatherdale, I've been able to add a Gabon page, with details of the SETRAG train service from Libreville (Owendo) to Franceville.
Videos added to the site...
I've been able to add some video guides to the site: - Paris to Venice by Thello sleeper train; - How to cross Paris by metro, Paris Nord to Paris Lyon; - inside a Christian Lacroix TGV
Engineering work affects trains to Istanbul on the European side...
According to a normally well-informed German rail website, the 'Bosfor' from Bucharest will be replaced by a bus between Kapikule and Istanbul in both directions from 1 February until the end of 2012. There is nothing yet shown on the official TCDD website, but that is sadly not unusual. Feedback would be appreciated if you go this way! This is in connection with line rebuilding, which will ultimately link Europe with Asia through the new Bosphorus rail tunnel. Latest update 2 February: It now looks as if the work will start on 22 February, with the Bosfor terminating at either Kapikule or Cerkezköy (it hasn't yet been decided which) and a bus will take passengers on to Istanbul. This will apply in both directions from 22 February 2012, for up to two years. This is while railways in Istanbul are transformed with the new Bosphorus rail tunnel, and a new underground station in European Istanbul, serving train to both Europe and Asia.
..and on the Asian side
Istanbul's Haydarpasa station closes down for all long-distance trains from 31 January until 2013. This is while the high-speed line and Bosphorus Tunnel projects are completed, that will ultimately link Istanbul (European side) to Ankara in just 3 hours. Some trains will start from Arifiye, including the Bogazici Express to Eskisehir with high-speed connection to Ankara, and a re-timed 'Içanadolou Express' to Konya and Adana. The Istanbul-Konya 'Meram Express' is cancelled. Trains to/from eastern Turkey will start in Ankara.
Odds & ends this month...
UK: Rail Europe's Travel Centre on Regent Street has closed. It will reopen in late February at 193 Piccadilly.

India: Looms like the booking horizon for Indian trains will be experimentally extended from 90 days to 120 days as from 10 March. See http://timesofindia.indiatimes.com/india/Now-book-railway-tickets-4-months-in-advance/articleshow/11800198.cms.

Indonesia: It's reported that the Medan-Penang ferry has ceased running. A forwarded email from www.langkawi-ferry.com confirms this, although their site still shows it as running.

Railjet trains, Germany/Switzerland-Austria-Hungary: These trains have three classes, economy, first and premium. Premium is a 25 euros supplement over normal first class, with free drinks and meals. From 1 April 2012 it will be replaced by Business class, with just a 15 euro supplement over normal first class, with free drinks but without the free meals. There is also an ongoing programme to replace the bistro with a 14-seat restaurant area.
January 2012
SailRail problems seem to be sorted...
From 31 January, SailRail tickets once again can be bought online at least at Raileasy, London to Dublin from £38, see the Ireland page. Tickets can be bought from any station in Britain to any station in Ireland, covering both train to Holyhead, ferry to Dublin, and onward trains within Ireland. A bargain!
Slow travel? Italy late morning, Switzerland late afternoon, Aylesbury late evening. Who needs planes?!
Returning from the Thello trip to Italy (see the item below), we left Milan's magnificent Centrale station at 11:25, with lunch and superb Swiss red wine in the dining-car as we passed Lake Maggiore, trundled through the Simplon and Lötschberg Tunnels, past Lake Thun in Switzerland to arrive in Basel at 15:29. We left Basel at 16:34 by TGV to Paris, arriving on time at 19:37, in plenty of time for the 21:13 Eurostar arriving in time at London St Pancras at 22:36. Hurling myself into a taxi, I just made the 22:57 from Marylebone to Aylesbury Vale Parkway, arriving 23:59. Who needs planes?!
In a lightening trip to Italy a few days ago I checked out the 'new' Thello sleeper train from Paris to Italy and have already posted new information and photos on the Paris to Venice by Thello sleeper train page. Although it uses the same fairly old sleeping and couchette cars as its lacklustre predecessor Artesia, I'm glad to say everything else is significantly improved. Staff were friendly, beds comfortable, the ride smooth, and we had an excellent dinner in the restaurant car washed down with some great Chianti. The train now leaves from the historic Gare de Lyon not the awful Gare de Bercy, and we left and arrived spot on time. The sleepers lacked carpet and had been cheaply refurbished by Trenitalia a few years ago before being inherited by Thello, that is where Thello needs to concentrate its efforts next.
Kenya: Nairobi-Mombasa train cancelled until April...
News just in, it seems the famous Lunatic Express between Nairobi and Mombasa in Kenya has been cancelled from 30 January until at least April 2012. This is while Kenya Port Authority works to clear massive freight congestion at the Mombasa Port. The line will be used to haul cargo away from the port to inland dry ports on the outskirts of Nairobi. See the Kenya page to see what you're missing...
Major problems booking SailRail tickets to Ireland...
It's been two weeks since the new range of SailRail fares were introduced on 2nd January, and the requirement for seat reservations seems to have totally stuffed anyone's ability to buy these tickets! Online systems are failing to find the London-Dublin £38 'Advance' fare, they are picking up the walk-up £43 fare, but even this fails to book, producing an error message saying that there are insufficient reservations available! (Update: The new tickets apparently make use of the rail industry booking system's 'sleeper' functionality, requiring capture of names and phone numbers for the ferry company, and as Raileasy.com can't do sleepers they cannot now sell SailRail to Dublin at all. Thetrainline.com can do sleepers, but they haven't modified their system so they can't sell these new SailRail tickets either. It's a shambles). Phoning a railway telesales line is no good, as the staff seem to have the same problem. I hope they sort this out soon. In the meantime, if you have a UK postal address, tickets from London and a few other key cities such as Leeds, Manchester, Liverpool & Birmingham to Dublin can be booked with no reservation problems at www.stenaline.co.uk instead.
City Night Line sleeper fares...
After several years at the same price level, these have risen a bit this year, the starting price for a couchette from Paris to Berlin or Munich is now 59 euros rather than 49 euros, a bed in a 2-bed sleeper 99 euros rather than 79. However, the task of compiling one consistent coherent table of fares for these CNL trains is driving me up the wall. A man with one booking system knows the fare, a man who checks several alternative booking systems is never quite sure... The cheap 'Savings' fares in my fares tables are now all taken from the German website bahn.de, which shows Paris-Munich in a couchette from 59 euros, as Rail Europe shows £63 so bahn.de is cheaper. Yet full price in a couchette seems to be £129 on Rail Europe but 196 euros (£170) on bahn.de, so for the full price part of the tables I've taken the Rail Europe prices as for these, Rail Europe is for some strange reason significantly cheaper. Although Rail Europe seems to show £63 as the full price for a seat, which is presumably a glitch as full price is really 180 euros, so I've had to use the German price for the first box in the full-price row of fares that are otherwise taken from Rail Europe. Oh, by 'otherwise' I mean apart from the full-price fare for 4-berth couchettes which I always have to take from the German system, as Rail Europe can't book 4-berth couchettes on these trains for some reason. Simple, eh? And there's a senior and youth discount on the full price, too. Or is there? A lower full price fare appears in the search results if 'senior' or 'youth' is selected instead of adult at Rail Europe, clearly indicating the existence of such fares (in fact, it's confirmed in the Rail Europe trade fares tables), but the age of the passenger makes absolutely no difference to the price when using bahn.de. So do senior and youth fares exist, or not on the CNLs? Then we have the Cologne-Vienna Austrian EuroNight. DB seems to have applied their own new prices to this, so a couchette starts at 59 euros, yet on the Austrian railways website oebb.at the same train still starts at 39 euros with a couchette. I've decided to show two rows of 'savings' fares for this particular train, one if booked at bahn.de, one if booked at oebb.at! Finally, it seems a couchette supplement is no longer one simple fixed price whatever type of ticket or railpass is held. A higher supplement is charged if you have a railpass than if you have a normal ticket. So even DB and ÖBB now think a railpass is worth less than a regular ticket! Aargh!
Long-term engineering work affects trains into and out of Istanbul from 2012...
It's been threatened for a year or two, with many false starts, but this time it looks like it's really going ahead. The line from Istanbul Haydarpasa to Izmit (on the line to Eskisehir and Ankara) will close for long-term rebuilding in January 2012, affecting all trains from Istanbul Haydarpasa station into Asian Turkey until June 2015. Work is also being carried out in 2012 affecting trains into Sirkeci station on the European side. Details will be shown on the London to Turkey page and Train Travel in Turkey page, being progressively updated as more info becomes available.
Rail staff 'priv' travel in Europe...
I've now added a page on 'priv' travel in Europe for rail staff. Feedback to help add to this page would be very welcome. It's now some time since I lost my own free and reduced rate travel facilities!
Odds & ends this month...
UK: Rail Europe's Travel Centre on Regent Street closes on 31 January. It will reopen in late February in a new location on Piccadilly.

Malaysia: A new sleeper train, the Malay Tiger, has started running 3 times a week between Johor Bahru and Tumpat, details on the Malaysia page, Jungle Line section.

France: It seems idTGV trains can indeed now be booked with non-French credit cards. Warning removed.

Kenya: Nairobi-Mombasa fares have gone up, from $50 to $75 for a first class sleeper, but details of actual fare in shillings are not yet available. It's also now reported that the Nairobi-Kisumu train is cancelled until April 2012.

Greece: I've reinstated details of an overland option from London and Paris to Greece, using trains from London to Sofia, then a bus from Sofia to Thessaloniki, then train to Athens. This follows the withdrawal of all international trains to and from Greece by the Greek government, due to the dire economic situation in Greece.
News items from 2001 to 2011
---