Travelling by train in Ukraine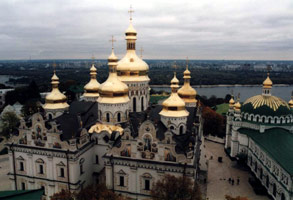 Monastery, Kiev
Travelling by train is easily the most comfortable, enjoyable, safe and affordable way to travel between Ukrainian cities, and between Ukraine and neighbouring countries. Ukrainian trains connect all the main cities and most towns, including Kyïv (spelt Kyïv in Ukrainian, Kiev in Russian), Odessa, Lviv (spelt Lvov in Russian), Sebastopol, Simferopol, and Kharkiv. There are also international trains from key Ukrainian cities to Moscow, St Petersburg, Riga, Minsk, Tallinn, Warsaw, Budapest, Berlin, Prague, Vienna, and Krakow.
On this page...
Train times & fares within Ukraine
What are Ukrainian trains like?
How to buy tickets - Buy tickets online
Hotels & accommodation in Ukraine
On other pages...
Sponsored links...
---
How to check Ukrainian train times...
It's easy to check train times for any journey within Ukraine or between Ukraine, Russia, Belarus, Uzbekistan, Kazakhstan, and the other ex-Soviet republics - just use the enquiry system below. This links to the excellent online timetable at www.poezda.net.
Search tips:

If you are unsure of the spelling, use the first two or three letters of the placename and the system will prompt you with suggestions...

Moscow = 'Moskva', St Petersburg = 'Sankt-Peterburg', Kiev = 'Kiev', Ulan Bator = 'Ulan-bator', Beijing = 'Pekin'

In the search results:

'Pass' = slow ordinary passenger train

'Fast, firm' = Fast 'firmeny' train. 'Firmeny' means 'top quality service' with modern coaches and a restaurant car. Look for a 'firmeny' train first.

Ukrainian Railways also have their own website, but in Ukrainian and Russian only, at www.uz.gov.ua.
How to check Ukrainian fares...
www.poezda.net will also give you approximate fares. Ukrainian rail fares are amazingly cheap by Western standards, and a typical long-distance overnight journey - for example Lviv to Kyïv - will cost in the region of £7 in platskartny, £10 in kupé and £20 in spalny vagon. The fares now include bedding.
Classes of accommodation...
Ukrainian trains offer the normal 'Russian' range of sleeping accommodation:
Right: Platskartny car. There are 54 bunks per coach, arranged in transverse bays of 4 (at left of photo) and longitudinal bays of 2 above and below the window (right of photo).

Far right: Kupé class 4-berth compartments on an older Ukrainian train...
Whichever class of travel you choose, each coach is looked after by a pair of attendants called a 'provodnik' (male) or 'provodnitsa' (female). The provodnik will check your ticket at the door to the sleeper when you board. Shortly after departure, the provodnik will come round to take your ticket. You may be asked if you would like a glass of black Ukrainian tea ('chai') - this costs about 3 gryvnia, or about 30p. Bedding (two sheets, pillowcase and towel) is then handed out in sealed packs - blankets and mattresses will already be stacked in your compartment. After a few journeys, you will become quite proficient at making up your bed!
A samovar with unlimited free hot water is available at the end of the corridor - pack some tea or coffee, sugar, cuppa soups or water-based drinking chocolate and bring your own mug. Most long distance trains have a restaurant car serving drinks, snacks, and inexpensive full meals - reckon on less than £6 for two courses and a couple of bottles of beer.
Security...
There is no need to worry about security on Ukrainian trains, it's the way Ukrainians themselves travel, including families and women travelling alone. Just use the same common sense that you would use anywhere, use the locks on your compartment door at night and don't leave valuables unattended. In addition to the normal lock on the compartment door, 'Spalny Wagon' and 'kupé' compartments have a security latch which stops the door opening more than an inch or two, and which cannot be released from outside. There's also a safe place for your bags at night - if you have a bottom bunk, there is a metal box underneath the bunk which you can only get to by lifting up the bunk - in other words, for anyone to get to your bags, they will have to shift you off your bunk first! Your provodniks will probably also lock the access doors at each end of the corridor at night to prevent any unwanted guests.
How to buy train tickets at the station...
Reservations are fully computerised, and you can book train tickets up to 45 days in advance for any journey within, or originating within, Ukraine at any Ukrainian railway station. If your Ukrainian or Russian isn't up to scratch, write down your requirements, using the Cyrillic (Russian) script if you can. Alternatively, to avoid the queues and any language hassles, you can book rail tickets through travel agencies, for example those located in the lobbies of certain major hotels.
How to buy train tickets from outside Ukraine...
Option 1, buy tickets from www.ukrainetrains.co.uk or Unipress or other agencies...
Normal UK European rail agencies cannot book rail travel within Ukraine, although Deutsche Bahn can book international trains from Germany or Poland into Ukraine. However, there are a number of reliable agencies who can book Ukrainian train tickets for you and either allow you to collect them or courier them to your home country.
Option 2, buy online direct from Ukrainian Railways at http://booking.uz.gov.ua/en/...
The Ukrainian Railways (UZ) website is www.uz.gov.ua and it now has an English-language online booking facility at http://booking.uz.gov.ua/en/. It has a few quirky translations, but it's the cheapest way to buy tickets as there are minimal fees. Remember that Kiev in Ukrainian is 'Kyiv'. 'Suite / First-Class Sleeper' means beds in 2-berth Spalny Vagon sleepers. 'Coupe / Coach With Compartments' means beds in 4-berth kupé sleepers. 'Berth/Third-Class Sleeper' means Platskartny open-plan bunks. At the end of the booking you get a voucher which must be exchanged for a ticket at the station before departure, for example in Kiev main station there's a collection counter at window 12, hall 4 in the old wing of the station, with a self-service collection machine installed there too. Several seat61 correspondents have successfully used this to book tickets, using UK or other non-Ukrainian credit cards. Feedback if you use this service would be appreciated!
Yalta & Balaclava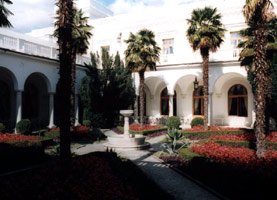 Yalta, a seaside resort and site of the 1945 Yalta Conference, has no railway station but it can be reached by trolleybus from Simferopol. These run every 20 minutes throughout the day. It's the longest trolleybus ride in the world, taking a very scenic (but bum-numbing...) 2 hours 40 minutes across the mountain range and down to the coast. The fare is just a few hryvnia.
Livadia Palace, site of the Yalta Conference 1945: Don't miss the Livadia Palace on the coast just outside Yalta town centre - the famous photographs of Roosevelt, Churchill and Stalin seated side-by-side at the 1945 conference was taken in the courtyard here. The photo on the right shows the same courtyard today. For a mass-murderer, Stalin was pretty good at choosing cool conference locations...
Balaclava, 7 miles from Sevastopol, also has no railway station. It's most easily (and very cheaply - about £2) reached by taxi, but there are also buses (with a change of bus required from trolleybus to diesel bus at the out-of-town trolleybus terminal). In recent times a submarine maintenance base, it was closed to foreigners until 1996. During the Crimean war of 1854-55 the British used it as their supply port for the siege of Sevastopol. You can climb up to the ruined fortress on the hill overlooking the harbour on one side and the Black Sea on the other.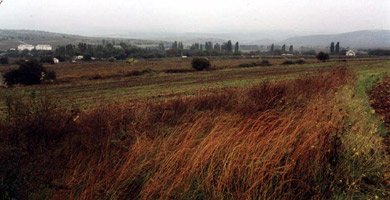 The charge of the Light Brigade, 1854: "...into the Valley of Death rode the six hundred..." wrote Alfred Lord Tennyson. Walking or taking a taxi the three miles inland from Balaclava town you can visit the site of the Battle of Balaclava, where the famous 'charge of the Light Brigade' took place during the Crimean war. The battlefield is completely unmarked, so take a good map.
The photo above shows the site of the battle and the famous charge today, when the Light Brigade would find their horses hindered by the endless vineyards. In the photo, the Light Brigade would have charged from left to right towards the line of Russian guns which were lined up across the shallow valley roughly where the line of tall pointed trees is in the distance. Only about 100 of the 600 British cavalry survived.
---
Istanbul - Odessa ferry: Option 1, Princess Elena passenger ship...
A weekly passenger ship links Istanbul with Odessa in Ukraine across the Black Sea, taking about 36 hours. For sailing times, days and fares, see www.gess-tour.com/teplohod.shtml (in Russian only, but open it in Google Chrome and use the translate facility). The ship is the 'Prinses Elena' with a full range of cabins, restaurants, bars available. Fare from US$360 including cabin berth in shared cabin. Feedback if you use this Istanbul-Odessa ferry would be appreciated. Update 2013: This ferry seems to be 'undergoing repairs' and may or may not ever resume.
Istanbul ► Odessa

Odessa ► Istanbul

m/v Prinses Elena

m/v Prinses Elena

Istanbul depart:

08:00 Mondays

Odessa depart:

20:00 Fridays

Odessa arrive:

10:00 Wednesdays

Istanbul arrive:

10:00 Sundays
Istanbul - Odessa ferry: Option 2, Sea Lines truck ferry...
This is more of a truckers ferry than a passenger ferry, but it sails twice a week and will take foot passengers. In Istanbul it sails from Haydarpasa port, which is best accessed from the Harem ferry jetty, rather than the old Haydarpasa train station jetty. It goes to Ilischevsk, a port 30km (19 miles) south of Odessa itself. The fare is about US$150, which includes a bed in a shared 4-berth cabin and all meals. You can buy tickets at the port, or try Ukrainian travel agency www.istravel.com.ua. Feedback if you use this ferry would be appreciated.
Istanbul ► Odessa

Odessa ► Istanbul

m/v Sea Partner

m/v Sea Partner

Istanbul depart:

02:00 Thursdays & Sundays

Odessa (Ilichevsk) depart:

22:00 Mondays

15:00 Fridays

Odessa (Ilichevsk) arrive:

06:30 Fridays & Mondays

Istanbul arrive:

06:00 Wednesdays

15:00 Saturdays
---
The Thomas Cook European Timetable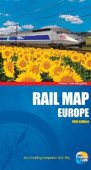 The Thomas Cook European timetable has train & ferry times for every country in Europe plus currency & climate information. Published since 1873, it costs £14.99. It's essential for any serious traveller and an inspiration for armchair travellers. Still not convinced you need one? More information on what the Thomas Cook Timetable contains. You can buy the latest monthly edition online at www.thomascookpublishing.com with worldwide delivery or buy it in person from selected UK branches of Thomas Cook (ask at the bureau de change), or from W H Smiths in Victoria station in London. Or buy the twice-yearly independent traveller's edition with laminated cover from Amazon.co.uk: Winter/Spring 2012/13 edition (Dec 2012 to June 2013) or (when available) Summer/Autumn 2013 edition (June to Dec 2013)
The Thomas Cook Rail Map of Europe is the best and most comprehensive map of train routes right across Europe, from Portugal in the west to Istanbul, Moscow & Ukraine in the east, from Finland in the north to Sicily & Crete in the south. High speed & scenic routes are highlighted. Highly recommended! Buy online at www.amazon.co.uk (worldwide delivery). See an extract from the map.
---

For the serious independent traveller easily the best guidebook to take is the Lonely Planet or Rough Guide. This Lonely Planet Ukraine guidebook is brand-new as of late 2005.

Buy Lonely Planet Ukraine online at Amazon.co.uk
---
◄◄◄◄ Search all the main hotel booking sites at once...

I'm a big fan of www.hotelscombined.com as it checks all the main hotel booking sites (Opodo, Expedia, Booking.com, Hotels.com, AsiaRooms, LateRooms etc.) to find the widest choice of hotels & the cheapest rates. Try it and see!
Other hotel sites worth trying...
Backpacker hostels...
---
Travel insurance & health card...
Get travel insurance, it's essential...
Never travel without insurance from a reliable travel insurer with at least £1m or preferably £5m medical cover. It should also cover loss of cash (up to a limit) & belongings, and cancellation. An annual multi-trip policy is usually cheapest even for just 2 or 3 trips a year (I have an annual policy myself). Don't expect travel insurance to bail you out of every missed connection, though, see the advice on missed connections here. Here are some suggested insurers, Seat61 gets a little commission if you buy through these links, and feedback from using insurance for rail & ferry travel is always welcome.

In the UK, use www.confused.com to compare prices & policy features across major insurance companies.

If you have a pre-existing medical condition or are over 65 (no age limit), see www.JustTravelCover.com.



If you live in Australia, New Zealand, Ireland or the EU, try Columbus Direct's other websites.


If you live in the USA or Canada, try Travel Guard USA.
Get an EU health card, it's free...
If you're a UK citizen travelling in Europe, you should apply for a free European Health Insurance Card, which entitles you to free or reduced rate health care if you become ill or get injured in many European countries, under a reciprocal arrangement with the NHS. This replaced the old E111 forms as from January 2006. The EHIC card is available from www.ehic.org.uk. It doesn't remove the need for travel insurance, though.
Get a spare credit card, designed for foreign travel with no currency exchange loading & low/no ATM fees
Taking out an extra credit card costs nothing, but if you keep it in a different part of your luggage you won't be left stranded if your wallet gets stolen. In addition, some credit cards are better for overseas travel than others. Martin Lewis's www.moneysavingexpert.com/travel/cheap-travel-money explains which UK credit cards have the lowest currency exchange commission loadings when you buy something overseas, and the lowest cash withdrawal fees when you use an ATM abroad.
You can avoid ATM charges and expensive exchange rates with a Caxton FX euro currency Visa Card, or their multi-currency 'Global Traveller' Visa Card, see www.caxtonfx.com for info.
Get an international SIM card to save on mobile data and phone calls...
Mobile phones can cost a fortune to use abroad, and if you're not careful you can return home to find a huge bill. Consider buying a global pre-paid SIM card for your mobile phone from www.Go-Sim.com, which can slash costs by up to 85%. Go-Sim cuts call costs in 175 countries worldwide, and you can receive incoming calls and texts for free in 75 countries. It's pay-as-you-go, so no nasty bills when you get home. It also allows cheap data access for laptops & PDAs. A Go-Sim account and any credit on it doesn't expire if it's not used between trips, unlike some others, so a Go-Sim phone number becomes your 'global phone number' for life.
---
Back to 'Rail travel to Europe' general page