Why go train+ferry?
High-speed Eurostar trains now link London and Paris in just 2¼ hours with fares from £39. But you can still travel from London to Paris by train-ferry-train if you want. There are several reasons why you might do this:
You want to re-create the classic train & ferry experience, via the White Cliffs of Dover;

You want to avoid the Channel Tunnel, for example if you suffer from claustrophobia - although in reality you'll find the Channel Tunnel is a complete anti-climax, it's just 20 short minutes out of a 2¼ hour Eurostar journey and feels like any other railway tunnel, just a bit longer;
A brief reality check...
London to Paris takes around 9 hours by train-ferry-train, far longer than Eurostar's 2¼ hours;

Train & ferry usually costs more than Eurostar, at around £80-£100 in total one-way, when Eurostar starts at just £39 if you book a month or two in advance. Only at short notice, when Eurostar fares rise like air fares to around £180, is the £80-£100 train and ferry cost likely to be cheaper;

When Eurostar started in 1994, the railway stations at Dover Western Docks and Calais Maritime closed, so you can no longer walk off the train and straight onto the ferry as you used to. The journey now involves an awkward bus or taxi transfer or long walk between the city centre rail station and the ferry terminal in both Dover and Calais, so a train-ferry-train journey that took 7 hours in the 1930s takes 9 hours today;

You'll need to buy separate tickets for the British train, the ferry, and the French train, because traditional London to Paris through tickets ceased to exist in 2007;

If you are travelling to Switzerland, Italy, the Netherlands, Germany, Austria, Eastern Europe or Scandinavia, and want an alternative to Eurostar avoiding the Channel Tunnel, I strongly recommend the vastly superior integrated train-ferry-train service from London Liverpool Street via Harwich and Hoek van Holland, with trains arriving directly at the ferry terminals and integrated ticketing, see the Netherlands page for details.
But on the plus side...
You get to travel across Kent on a more scenic and historic route at a slower pace, assuming you choose one of the two classic routes from Victoria or Charing Cross to Dover;

You get to sail across the English Channel from the White Cliffs of Dover;

You don't have to go through the Channel Tunnel if that's an issue for you;

The trains and ferries are basically a 'walk up, buy a ticket and hop on' service, with no reservation or advance booking necessary, so the cost can be less than Eurostar if you need to travel at short notice.
How to travel by train & ferry from London to Calais, Boulogne, Amiens & Paris...
The days of travelling on a non-stop 'boat train' run exclusively for international passengers from London Victoria into Dover Western docks or Folkestone Harbour right alongside the ferries are long gone. The stations at Dover Western Docks and Calais Maritime closed when Eurostar started in 1994. You now need to use ordinary domestic trains on each side of the English Channel and make your own way by bus or taxi between town centre stations and the ferry terminals in both Dover and Calais. But if you still want to travel from London to Paris by train and ferry, here's how:
Step 1: Take a train from London to Dover. There are three possible routes from London to Dover, the two classic routes leaving from Victoria and Charing Cross and the modern high-speed route leaving from St Pancras. Trains run from London Charing Cross to Dover Priory station every 30 minutes throughout the day, journey time 1 hour 50 minutes. Trains also run from London Victoria every half hour if that's a more convenient terminal for you. The high-speed trains from London St Pancras to Dover are significantly faster, but a little more expensive, less scenic, and of course less traditional as they use the modern high-speed line opened fully in 2007. See the photos below to help you choose. You can check UK train times & fares at www.nationalrail.co.uk. Allow at least 65 minutes in Dover between your train arrival and planned ferry departure, preferably a bit more, as there is a 45-minute check-in for the ferry. Just buy your London-Dover train ticket at Charing Cross station on the day of travel, no advance reservation is necessary or even possible, you buy a ticket and hop on.

Transfer from station to ferry terminal in Dover: On arrival at Dover Priory station, take a bus, taxi or walk to Dover Eastern Docks where the P&O ships leave. Walking takes 30-40 minutes. The shuttle bus run by P&O Ferries runs every 20 minutes from 07:20 to 20:40, journey time 10 minutes, fare £2 adult per trip. A taxi from Dover Priory to Dover Eastern Docks costs around £6.

Step 2: Sail from Dover to Calais by P&O ferries (www.poferries.com). Ferries sail from Dover Eastern Docks to Calais every hour or two, crossing time 1 hour 30 minutes. You can book online in advance or just buy a ticket at the port, there are always places available. It is no longer possible to cross the Channel by hovercraft, as Hoverspeed stopped all their Dover-Calais SeaCat sailings in November 2005, and hovercraft were withdrawn several years before that. SeaFrance ceased taking foot passengers in September 2009 and has now gone bust, leaving P&O with a monopoly.

Transfer from ferry terminal to station in Calais: The ferries arrive at Calais Maritime ferry terminal. If you have a backpack or other light luggage you can walk across the now-reopened footbridge into town, it's a 10 minute walk to the market place in the town centre, or a 15 minute walk to Calais Ville station. If you have heavy luggage or cannot walk far, take a shuttle bus from the ferry terminal to Calais Ville station, the bus fare is around €2 (pounds not accepted) but the buses are somewhat irregular. Make sure you allow at least 60 minutes in Calais between the ferry arrival and the departure of the train to Paris.

Step 3: Take a train from Calais or Boulogne to Paris. Coming from Calais, you normally take a local train from Calais Ville station to Boulogne and change there onto an express from Boulogne to Paris Gare du Nord. There are relatively few trains between Calais or Boulogne and Paris, so it's the timings of these few French trains that will determine which of the frequent British trains and ferries you need to catch between London, Dover & Calais or Boulogne to connect with it. You can check French train times & fares at www.raileurope.co.uk or www.tgv-europe.com. Booking online might save a few pounds if you corner a cheap non-refundable, non-changeable 'prems' fare, but it's not expensive or difficult to simply buy a ticket at the station when you get there.
Example timetable...
Here is an un-updated example timetable showing possible London-Paris connections, using the P&O ferries. Please use them as a very rough guide, and check current times carefully for your date of travel before you go!
London ► Dover / Calais ► Paris (by train+ferry)

Train:
Mondays-Fridays
Saturdays
Sundays
London Charing Cross
depart
05:30
09:13
06:00
09:10
09:08
11:08
Dover Priory
arrive
07:31
11:02
08:01
11:01
11:01
13:02

Ship: (in Dover, take bus or taxi from station to Dover Eastern Docks)

Dover Eastern Docks
depart
09:25
12:05
09:25
12:05
12:05
14:45
Calais port
arrive
11:55
14:35
11:55
14:35
14:35
17:15

Train: (at Calais, take bus, taxi or 15 minutes walk from ferry terminal to station)

Calais Ville station
depart
13:31
16:12
13:31
16:12
16:10
18:07
Boulogne
arrive
14:08
16:48
14:08
16:48
16:45
18:47

Train: (change trains in Boulogne)

Boulogne
depart
14:13
17:12
14:13
17:12
17:04
19:04
Etaples / Le Touquet
arrive
14:31
17:31
14:31
17:31
17:31
19:31
Amiens
arrive
15:36
18:36
15:36
18:36
18:36
20:36
Paris Gare de Nord
arrive
16:56
19:56
16:56
19:56
19:56
21:56
t = By direct high-speed TGV train from Paris to Calais, reservation obligatory, higher fare payable.
How to read these timetables No UK trains run on these routes on 25 or 26 December.
How to check times for your date of travel. Start by checking French train times from Calais to Paris as this is the least frequent part of the journey, using either www.raileurope.co.uk or www.tgv-europe.com (with 'Boulogne' in the 'via' box, if you want the trains shown above on the classic route). Then work backwards, looking for a ferry at www.poferries.com which arrives at Calais ferry terminal at least 1 hour before the train leaves Calais Ville. Now look for a London to Dover train at www.nationalrail.co.uk which arrives at Dover Priory at least 1 hour before the ferry sails. Unlike the integrated pre-Eurostar train+ferry services, this is not an organised service where ferries are held if trains run late, but completely separate trains and ferry. If you have important connections in Paris, bear this in mind and perhaps take an earlier train from London.
About these times: The times suggested here assume you want the cheapest route, and/or want to experience the 'traditional' route from London to Paris, using the classic London to Dover route from London Charing Cross built in the 19th century, and the classic route from Calais to Paris via Boulogne and Amiens. If cost and history aren't your prime concern, you can save some time using the hourly trains from London St Pancras to Dover via the new high-speed line (but slightly higher fares will apply, use the journey planner at www.nationalrail.co.uk), and there are other Calais-Paris options with changes at Hazebrouck or Lille using the high-speed line to Paris (again, higher fares will apply especially if you pay full-price on the day instead of pre-booking). Use either www.raileurope.co.uk or www.tgv-europe.com to find all Calais-Paris options. Please double-check all times carefully for your date of travel, these won't be updated with every tweak of the timetable, especially the French habit of running a slightly different timetable every day, or the British habit of digging up the track at weekends.
Paris ► Calais / Dover ► London (by train+ferry)

Train:
Monday-Friday
Saturdays
Sundays
Paris Nord
depart
07:01
09:46 t
10:04
14:04
07:04
09:46 t
10:04
14:04
10:04
14:04
Amiens
depart
08:23

|

11:21
15:21
08:24

|

11:21
15:21
11:21
15:21
Etaples / Le Touquet
depart
09:24
|
12:31
16:31
09:24
|
12:31
16:31
12:31
16:31
Boulogne
arrive
09:46
|
12:52
16:43
09:58
|
12:52
16:43
12:52
16:43

Train: (change trains in Boulogne)

Boulogne
depart
09:47
|
13:11
17:11
10:48
|
13:11
16:51
14:10
16:47
Calais Ville station
arrive
10:21
11:31 t
13:48
17:48
11:21
11:31 t
13:48
17:24
14:40
17:21

Ship: (in Calais, take bus, taxi or 15 minute walk from station to port)

Calais port
depart
11:35
12:35
15:20
18:50
12:35
12:35
15:20
18:50
16:05
18:50
Dover Eastern Docks
arrive
12:05
13:05
15:50
19:20
13:05
13:05
15:50
19:20
16:35
19:20

Train: (in Dover, take bus or taxi from Eastern Docks to Dover Priory station)

Dover Priory
depart
13:25
14:25
17:24
20:25
14:25
14:25
17:24
20:25
18:25
20:25
London Charing Cross
arrive
15:22
16:24
19:21
22:22
16:24
16:24
19:21
22:22
20:22
22:22
You now need to buy separate tickets for the UK train, the ferry, and the French train.
Fare:
One-way:
Return:
London to Dover by train:
£34.40 full fare, £32.20 off-peak.
£69.60 full fare, off-peak £38.80 after 09:30.
Dover to Calais by ferry:
£29.50 at www.poferries.com, £40 at the port.
£59 at www.poferries.com, £80 on the day
Calais to Paris by train:
€39 (£34) full fare or from €22 advance purchase
€78 (£68) full fare or from €44 advance purchase
Slightly higher fares apply for the high-speed London-Dover trains from St Pancras, or Calais-Paris on a high-speed TGV.
Money-saving suggestion: Buy a 'Day Trip' ticket from London to Calais, even for a one-way journey... It's very poorly publicised (it's not even mentioned on their website!) but South Eastern Trains offer a day return day tripper ticket from London to Calais for £37.40 adult, £18.70 child, or £24.65 for Senior or Young person railcard holders (2013 prices). It's valid on any 'classic' (in other words, non-high-speed) train to Dover even in the morning peak and on any P&O ferry to Calais, no reservation necessary. You can buy it at London's Charing Cross or Victoria stations on the day of travel. It's intended for day trippers, but even for one-way trips from London to Calais it's is a lot cheaper than buying a one-way train ticket to Dover plus a foot passenger ferry fare to Calais. There is no problem buying one of these day returns and not using the return leg, just throw the return half away! However, it cannot be used for one-way trips in the 'inward' direction. The ticket can also be bought starting in many other stations in Kent & South London such as Croydon, Guildford, Woking, Orpington, Canterbury or Ashford. It doesn't cover the bus between Dover Priory and Eastern Docks. You can confirm prices & details by calling South Eastern's customer services on 0845 000 2222.
Option 1, buy all your tickets together as a package from Europeanrail.com...
I've arranged for London-based train travel specialist Europeanrail.com to offer London to Paris train & ferry tickets as a package, so you can (if you want) buy your train ticket to Dover, your P&O Ferries ticket to Calais and your French train ticket to Paris all together from one source for one inclusive price. They can advise you on the best connections, and can also book onward travel to the South of France, Switzerland, Spain or Italy if you want.

Sample fares from London to Paris covering UK train, ferry and French train including Europeanrail's booking fee (but not port transfers): In 2nd class around £180 return, £160 5-day return, £110 one-way. In 1st class, around £240 return, £220 5-day return, £140 one-way. The exact price may vary slightly as French Railways charge slightly different prices for different routes and trains.

Call them to buy tickets on 020 7619 1083, lines open 08:30-18:00 Monday-Friday, 09:00-13:00 Saturdays. Their website is www.europeanrail.com.

Please quote 'Seat61' when you book, so that they know you've seen this page.
Option 2, buy UK train, P&O Ferries & French train tickets yourself, separately...
You can of course buy tickets yourself, though you'll need to buy the UK train, ferry, and French train tickets separately from different sources. This is the cheapest option.

You can easily buy the London-Dover train ticket at Charing Cross station on the day of travel. No advance reservation is necessary or even possible, you simply buy a ticket and hop on the next train to Dover. You can check times & fares at www.nationalrail.co.uk, and can buy online here if you want to save time queuing at the ticket office on the day.

It's best to buy your Dover to Calais ferry ticket online in advance at www.poferries.com as you can them pay the cheaper advance-purchase price. However, it's not usually a problem to buy the ferry ticket at the port on the day, it just costs a bit more.

You can buy a Calais to Paris train ticket either at the station in Calais on the day of travel (no advance reservation necessary, but only the full fare will be available on the day of travel) or in advance at www.raileurope.co.uk or www.tgv-europe.com (which saves time at the ticket office, and cheap 'prems' fares may be available if you book at least 14 days in advance, no refunds, no changes to travel plans).

Tips for booking Calais-Paris tickets online: (1) Select 'Calais Centre' if prompted, and make sure you buy tickets from 'Calais Ville' or 'Calais Centre' not 'Calais Fréthun' which is several miles from Calais itself. (2) Using tgv-europe.com, I recommend clicking 'More criteria' and entering 'Boulogne' in the 'via' box, otherwise it tends to route you via Lille.
Classic: If you're trying to recreate the classic pre-Eurostar 'boat train' experience, take a train from Charing Cross or Victoria stations along one of the two classic 19th century railway lines to Dover. The scenery is nicer along these classic normal-speed lines, too. Above left, an express to Dover waits to leave Charing Cross.
High-speed: If you're simply trying to avoid the Channel Tunnel, perhaps due to claustrophobia or because of some one-off short-term problem with it, then the fastest way to Dover is on the new high-speed 130mph service from London St Pancras. It's significantly less scenic and a tad more expensive, but a lot faster, with minimal stops.
Sponsored links...
---
The Thomas Cook European Timetable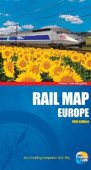 The Thomas Cook European timetable has train & ferry times for every country in Europe plus currency & climate information. Published since 1873, it costs £14.99. It's essential for any serious traveller and an inspiration for armchair travellers. Still not convinced you need one? More information on what the Thomas Cook Timetable contains. You can buy the latest monthly edition online at www.thomascookpublishing.com with worldwide delivery or buy it in person from selected UK branches of Thomas Cook (ask at the bureau de change), or from W H Smiths in Victoria station in London. Or buy the twice-yearly independent traveller's edition with laminated cover from Amazon.co.uk: Winter/Spring 2012/13 edition (Dec 2012 to June 2013) or (when available) Summer/Autumn 2013 edition (June to Dec 2013)
The Thomas Cook Rail Map of Europe is the best and most comprehensive map of train routes right across Europe, from Portugal in the west to Istanbul, Moscow & Ukraine in the east, from Finland in the north to Sicily & Crete in the south. High speed & scenic routes are highlighted. Highly recommended! Buy online at www.amazon.co.uk (worldwide delivery). See an extract from the map.
---
◄◄◄◄ Search all the main hotel booking sites at once...

I'm a big fan of www.hotelscombined.com as it checks all the main hotel booking sites (Opodo, Expedia, Booking.com, Hotels.com, AsiaRooms, LateRooms etc.) to find the widest choice of hotels & the cheapest rates. Try it and see!
Hotels near the Gare du Nord & other Paris stations:
If you need to stay over in Paris between trains, here are some hotels that are both close to the station and get good reviews:
Hotels for that romantic break in Paris...
There's the famous Paris Ritz in the Place Vendôme of course (almost €500 a night) or the similarly-priced Le Meurice, but if you want a really special hotel for a luxury break or romantic weekend and can afford to splurge around €280 a night, try the small, sumptuous and intimate L'Hotel. It's on the bohemian left bank a short distance from the Seine, the Ile de la Cité & Notre Dame. Oscar Wilde spent his last days here in room 16, and the hotel has been used by many famous people from Sinatra to Mick Jagger. Rooms are beautifully decorated and have character that other hotels lack.
Backpacker hostels...
www.hostelbookers.com: If you're on a tight budget, don't forget about backpacker hostels. Hostelbookers offers online booking of cheap private rooms or dorm beds in backpacker hostels in Paris and most other European cities at rock-bottom prices.
---
Travel insurance & health card...
Get travel insurance, it's essential...
Never travel without insurance from a reliable travel insurer with at least £1m or preferably £5m medical cover. It should also cover loss of cash (up to a limit) & belongings, and cancellation. An annual multi-trip policy is usually cheapest even for just 2 or 3 trips a year (I have an annual policy myself). Don't expect travel insurance to bail you out of every missed connection, though, see the advice on missed connections here. Here are some suggested insurers, Seat61 gets a little commission if you buy through these links, and feedback from using insurance for rail & ferry travel is always welcome.

In the UK, use www.confused.com to compare prices & policy features across major insurance companies.

If you have a pre-existing medical condition or are over 65 (no age limit), see www.JustTravelCover.com.



If you live in Australia, New Zealand, Ireland or the EU, try Columbus Direct's other websites.


If you live in the USA or Canada, try Travel Guard USA.
Get an EU health card, it's free...
If you're a UK citizen travelling in Europe, you should apply for a free European Health Insurance Card, which entitles you to free or reduced rate health care if you become ill or get injured in many European countries, under a reciprocal arrangement with the NHS. This replaced the old E111 forms as from January 2006. The EHIC card is available from www.ehic.org.uk. It doesn't remove the need for travel insurance, though.
Get a spare credit card, designed for foreign travel with no currency exchange loading & low/no ATM fees
Taking out an extra credit card costs nothing, but if you keep it in a different part of your luggage you won't be left stranded if your wallet gets stolen. In addition, some credit cards are better for overseas travel than others. Martin Lewis's www.moneysavingexpert.com/travel/cheap-travel-money explains which UK credit cards have the lowest currency exchange commission loadings when you buy something overseas, and the lowest cash withdrawal fees when you use an ATM abroad.
You can avoid ATM charges and expensive exchange rates with a Caxton FX euro currency Visa Card, or their multi-currency 'Global Traveller' Visa Card, see www.caxtonfx.com for info.
Get an international SIM card to save on mobile data and phone calls...
Mobile phones can cost a fortune to use abroad, and if you're not careful you can return home to find a huge bill. Consider buying a global pre-paid SIM card for your mobile phone from www.Go-Sim.com, which can slash costs by up to 85%. Go-Sim cuts call costs in 175 countries worldwide, and you can receive incoming calls and texts for free in 75 countries. It's pay-as-you-go, so no nasty bills when you get home. It also allows cheap data access for laptops & PDAs. A Go-Sim account and any credit on it doesn't expire if it's not used between trips, unlike some others, so a Go-Sim phone number becomes your 'global phone number' for life.
---
Back to 'Rail travel to Europe' general page